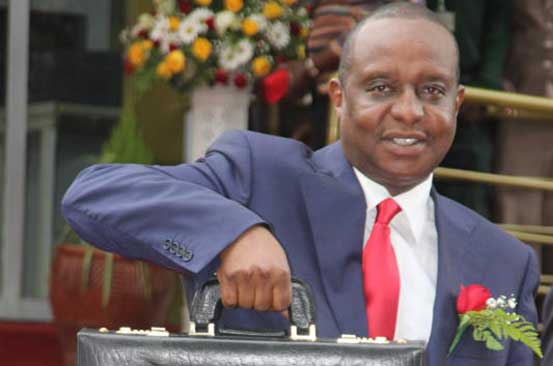 The Government has revised the country's growth target to 6 per cent down from 6.5 per cent.
Making the revelation, Treasury Cabinet Secretary Henry Rotich said the move has been occasioned by low revenue collections and allocations.
This means that the Government's earmarked development projects will either be halted or postponed to next financial year.
The CS also exonerated the Government from blame over county monies saying the counties had been allocated Sh34 billion but the governors had failed to collect it. He said Sh22 billion was lying idle in Central Bank's county revenue account.
Mr Rotich further termed the current cash crisis in the public sector a 'temporary phenomena'.
Speaking at a time when there are fears of a collapsing economy, Mr Rotich said the problem of cash flow in the public sector was because of a "mismatch" between revenues collected and the money demand from ministries.
His reaction is meant to calm fears of a collapsing economy and a broke Government. He was speaking yesterday at meeting with MPs.
While teachers on the public payroll have not been paid their September salaries, county governments have also not paid their staff because of Treasury's delay to release funds to them.
"Since revenue is collected on a daily basis, there is never a time it will be sufficient to meet all the demand and, therefore, the available resources must be prioritised," said Rotich, when he finally turned up after missing two earlier dates with members of the Budget and Appropriations Committee.
Rotich, accompanied by his Principal Secretary Kamau Thugge, sought to allay fears that the country is living way beyond her means.
"The first quarter of each financial year is usually a slow quarter in terms of revenue collections. Revenues usually pick close to the end of the financial year. It is not an unusual circumstance. This time round, things were compounded by the tightening of liquidity, the increase in the interest rates, huge carryovers of the financial year 2014-15, and that became the first charge on available resources to avoid penalties," he told the MPs.
Committee Chairman Mutava Musyimi (Mbeere South) and members Mary Emaase (Teso South), Patrick Ntutu (Narok West) and Makali Mulu (Kitui Central) were apprehensive that the huge pending bills of up to Sh103 billion and the massive public debt that was maturing had starved State departments of cash.
Rotich agreed that Treasury had failed to raise enough money from the domestic market.