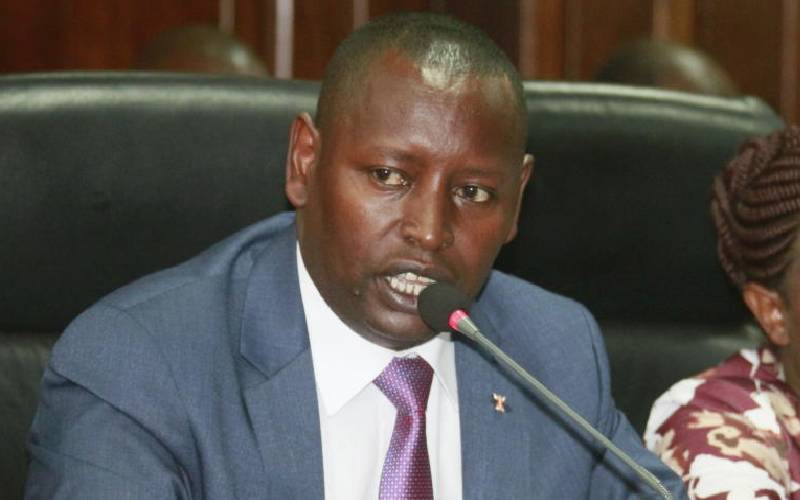 NAIROBI, KENYA:
The High Court has frozen Samburu Governor Moses Kasaine's bank accounts as the anti-graft commission stepped up efforts to recover Sh1.6 billion suspected to have been stolen from the county. Justice John Onyiego stopped the governor from operating or withdrawing millions of shillings from his five accounts registered in the names of his company, Oryx Service Station, pending determination of the suit by Ethics and Anti-Corruption Commission (EACC). EACC in its application claimed that the governor is likely to withdraw from the accounts and hide the over Sh80 million he corruptly acquired from the county government before investigations into the scandal are complete. "In light of the ongoing investigations into the Sh1.6 billion financial misappropriation in Samburu County, the commission is reasonably apprehensive that the governor will transfer, withdraw or in other way deal with the money to defeat the cause of justice," said lawyer Diana Kenduiwa.
SEE ALSO: Pray, tell me, why are we like this?
Kenduiwa argued after Kasaine was elected Samburu Governor in 2013, he incorporated and registered Oryx Service Station as a conduit for siphoning public funds from the county government. She stated that the governor's company was awarded an exclusive contract for the supply of fuel to the county government in a clear case of conflict of interest where an elected leader is using money meant for the public to pay himself. She stated that between 2013 and 2018, the governor received in excess of Sh80,763,715 in his personal account from the county coffers by purporting that his company had supplied diesel and petrol for use by the county vehicles. "We believe Kassaine accumulated substantial property and illicit wealth which must be forfeited and surrendered to the state. Analysis of his bank accounts revealed that his company would be paid the huge amounts before he transfers the money to his personal accounts," said Kenduiwa. The orders freezing Kassaine's accounts came just two weeks after he was stopped from selling or transferring four prime properties in Nairobi believed to have been acquired using proceeds from crime.
SEE ALSO: Revenue impasse needs an economic solution
According to EACC, the governor acted like a man robbing and eating from his own children through collusion with his county officials to siphon the loot using bribery, conflict of interest and blatant disregard of the poor people the devolved money was supposed to serve.