Mudavadi dismisses "Ocampo six' Afraha rally as a 'roadshow'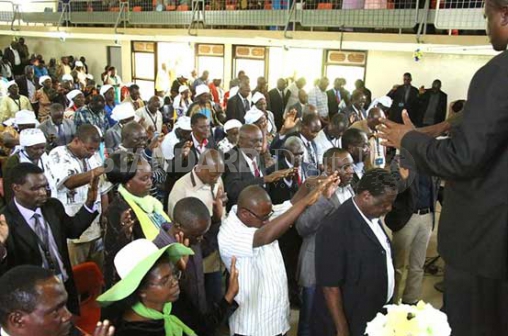 Amani National Congress (ANC) leader Musalia Mudavadi described yesterday's thanksgiving rally in Nakuru as a "chest thumping" roadshow.
He said the Afraha Stadium rally, held to celebrate termination of the ICC crimes against humanity charges against six Kenyans, would do little to solve biting problems facing the nation.
"Greatness is not attained by glorifying yourself in times of victory. It comes only when you handle victory in great humility," he said.
The former Vice President said the Afraha rally was in bad faith particularly for the 2007-08 post-election violence victims who are still in tears and despair nine years later.
"Kenya's healing lies not in holding a roadshow prayer rally. It lies in the Truth Justice and Reconciliation Commission (TJRC) report which Jubilee, with her numbers, has deliberately failed to push for adoption in Parliament. The report offers better options for healing, compensation of PEV victims, cohesion and measures of dealing with ethnicity that has crippled our state," he said.
The ANC leader was addressing about 2,000 Quaker leaders at Booker Academy in Mumias, Kakamega County during the Friends Church 6th triennial conference.
National healing
Citing tea farmers as an example of Kenyans suffering due to a "careless government that spends energies in side shows", Mudavadi termed the Afraha rally a waste of public resources.
"There is pain all over the country. Tea farmers' deposits to the tune of Sh5 billion has disappeared with the collapse of Imperial and Chase banks, but the government is saying the money will be recovered without demonstrating how," he said.
His sentiments were supported by Sabatia MP Alfred Agoi, who decried the huge debt burden facing Kenyans.
"A Kenyan child born today will be ushered to the county with a debt of Sh30,000 because of excessive borrowing by Jubilee," he said.
Quaker church chief leader, Presiding Clerk Zablon Malenge, also termed the rally a "mockery of prayers".
"The gathering in Nakuru mainly featured two tribes. Such rallies are discouraged because they flame up animosity," he said.
ACK Bishop Beneah Salala of Mumias diocese, who was a guest, asked for "genuine" prayers for national healing.