Raila doesn't need Central to win? That's dangerous talk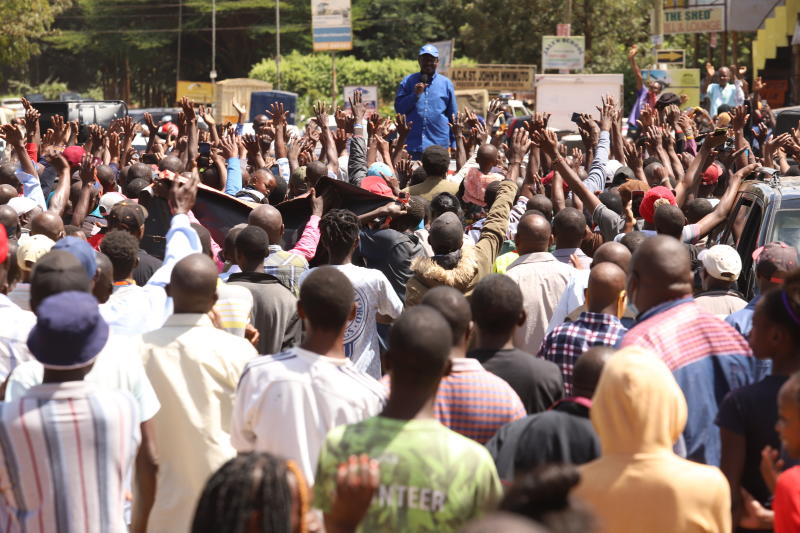 It is daring for Azimio to push a narrative that Baba does not need Central to win the August presidential election. As I have said before, Raila Odinga and William Ruto must get running mates from Mount Kenya to win this election. It is no longer about a running mate who will bring votes to either of the two—it's about the political principality that is the Mount Kenya region.
Supposedly, Azimio's dismissive narrative comes from yielding politicians and strategists who aren't ready to burn the midnight oil to get an effective response to some apparent messages from wananchi.
One such alert are the polls being carried out on social media that show Raila losing to Ruto in most cases.
Another is the feeling pushed through crowd politics and party jumping braggadocio that Kenya Kwanza is smarter.
Azimio must know how to counter such political strategies without becoming emotional, dismissive and reactive. They must put their house in order first.
A day ago, we saw a group by the name Mwanzo Mpya led by governors Alfred Mutua, Kivutha Kibwana and MP David Eseli Simiyu, complaining that they weren't consulted on various issues in Azimio.
On the other hand, Wiper party is issuing ultimatums and proclamations that it should be obvious that Kalonzo Musyoka will be Raila's running mate. From the utterances of Kalonzo, it is clear that these are planned political talks meant to mount an agenda on the Azimio secretariat and 'insider traders'. But let's go back to the narratives.
Early this year, I warned Azimio against swallowing a narrative created by Kenya Kwanza that they were quickly falling for. It was 'pop' politics of Raila's stolen past elections. It was to be fed to them so that they vomit it before Uhuru Kenyatta.
The narrative was aimed at discrediting Uhuru's election and triggering a debate that he stole elections in 2013 and 2017. It was meant to make Azimio, especially ODM, irritate the president to make him to avoid rallies to drum up support for Raila. Only brilliant minds could see the intention of this narrative which was primarily originating from UDA. Azimio quickly muted, and it has helped!
But again, they have shifted to a narrative that Raila doesn't need Mount Kenya. That's a trap! Although this is not necessarily coming from Kenya Kwanza, it is a noose some of their politicos are tightening on Azimio's neck.
Last weekend, the KTN News' Kivumbi 2022 crew camped at Dedan Kimathi University in Nyeri County. They did rounds of mock polling where Raila lost to Ruto, a political behavioural pattern that should help Azimio up their strategies.
The Kieni legislator, Kanini Kega (representing Azimio), and Speaker of the County Assembly of Nyeri John Kaguchia (representing Kenya Kwanza) were engaged as panellists during the show. However, even after explaining why Raila was trailing behind Ruto in the poll that was from a nationally constituted institution, Kega later resorted to the "we don't need Central for Raila to win the presidency" narrative. He even went ahead to say that to Azimio, it is not a must for them to get Raila's running mate from Mount Kenya.
It started with a misleading narrative of 'pride' that Raila needed a small percentage from Mount Kenya to win the presidency. It backgrounds on the same dangerous and self-destructive narrative that he has been winning before without Central.
It is a proselyte narrative of the 'stolen legacy' but an opiate for Azimio's hopeful stakeholders, such as Kalonzo. The strategy is dangerous as it could give Kenya Kwanza ammunition to fight Azimio in Central Kenya.
What's then the conclusion of this matter? First, Azimio should drop the narrative that 'Raila doesn't need Mount Kenya' as hot cake, especially in their public utterances.
Dr Ndonye Is a Lecturer in Communication and Media.