Who says presidential candidates must have Mt Kenya running mates?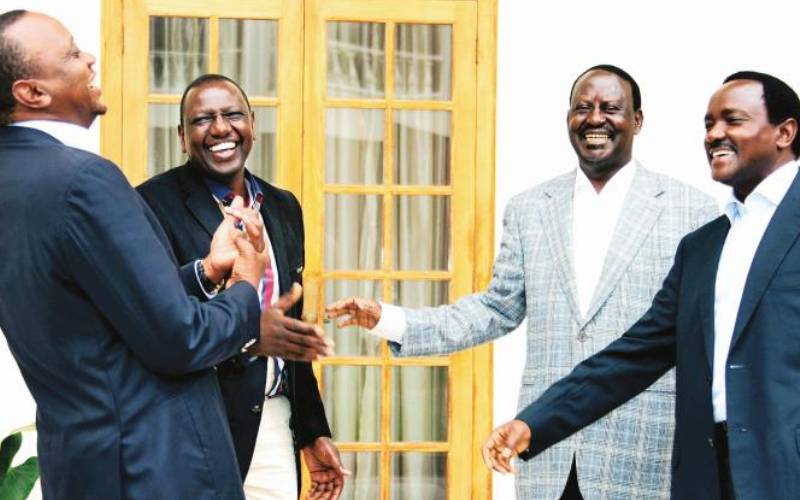 If Raila Odinga and William Ruto must woo the Mount Kenya region through a Kikuyu running mate to win the 2022 poll, then they are weak presidential candidates, so to say.
Former president Daniel arap Moi, the professor of politics, won the 1992 and 1997 presidential elections without Central, Nairobi and Nyanza provinces ceteris paribus.
So, who said that the incoming deputy president must come from Central Kenya? I dared my colleagues to give their opinions on whether Dr Ruto or Raila must have a Kikuyu running mate to win the presidency.
Other presidential hopefuls could use the responses. In my pseudo poll, it was clear that Kenyans are divided 50/50 on the issue. While some believe that Kikuyus have never voted for an outsider, almost an equal number believe that the house of Mumbi will support anyone if they decide to without strings attached.
Those who believe that Kikuyus cannot vote for an outsider belong to the 'history repeats itself' school of thought. They think that Kikuyu as a tribe always has and will always elect their own. Only history can judge them right or wrong.
Those who argue that Kikuyu will vote for any presidential candidates regardless of whether one of them is made a running mate or not belong to the pragmatic school of thought. Only the future can exonerate them.
What about the Central Kenya and Mount Kenya region? Are they the same as the Kikuyu Nation? Technically, these terms are far apart as heaven is from the earth.
Central Kenya region refers to Nyandarua, Nyeri, Kirinyaga, Murang'a and Kiambu counties. It is limited! We all know that it is referred to as a vote-rich zone. However, the Kikuyu votes outside this region are many - considering Nakuru, Laikipia and Nairobi counties.
The Kikuyu Nation is what is also called the house of Mumbi. It's a tribe. Although concentrated in the central Kenya region, they are scattered throughout the country. We have a Nyanza region within Nakuru County called Nakuru West Constituency, whose dominant tribes are Luo and Kisii. Their MP is Samuel Arama (ODM). As such, the Kikuyu Nation is larger than the central Kenya region.
The Mount Kenya region is both physical and abstract. For example, Nakuru County in the Rift Valley is part of the Mount Kenya region. That's why Lee Kinyanjui is being touted as a possible running mate for Raila.
Moreover, the Mount Kenya region is more than the Kikuyu nation and central Kenya region. It includes Embu, Tharaka Nithi and Meru counties, which are under GEMA.
That's why it is not a must that a running mate should come from the central Kenya region or the so-called Kikuyu nation. But, if the DP and Raila must get their running mates from Central to win polls, then Moi remains an unparalleled professor of politics for his fetes in 1992 and 1997.
We could argue that in 1992, Mwai Kibaki and Kenneth Matiba divided the Central region votes. So who prevents Raila and Ruto from engineering politics in their favour, anyway?
In 1997, Mwai Kibaki got close to 90 per cent of all the votes in the central province and 44 per cent in Nairobi province—the only two regions where Kibaki beat Moi, with Raila beating everyone in Nyanza province with a 60 per cent win.
So see, the professor of politics didn't require Central, Nairobi and Nyanza regions to win the 1997 presidential elections.
Therefore, that 25 years later, we are scrambling for a Kikuyu running mate to win the vote is political simping on the side of Raila and Ruto.
Explore regions rather than tribes; there are other tribes outside Kikuyu and other regions outside Mount Kenya.
Dr Ndonye is a lecturer of communication and media @Dr_Mndonye