Raila is politically stronger and closer to State House than ever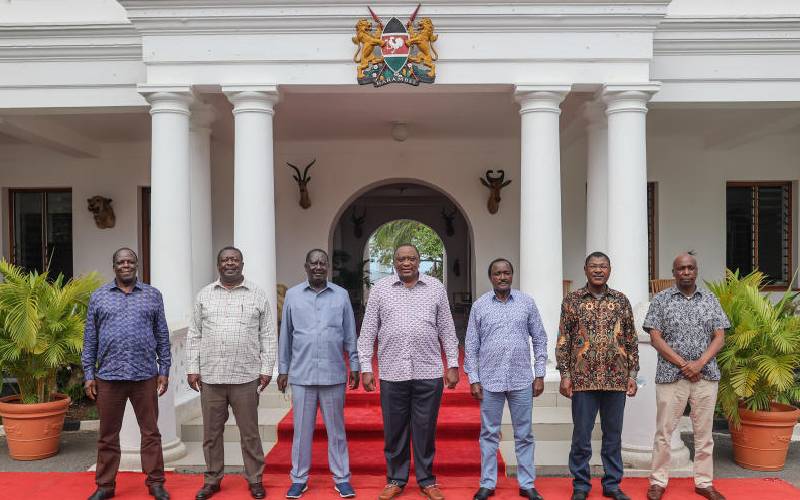 Today, we witness Raila Odinga's take off officially as 2022 presidential candidate. When we admitted Baba in January 2020, he was not where he is today. He has proved to be politically astute, graduating from an enigma to a political principality. So, the political heavens qualify him to contest in 2022 with one condition: He should read all that has been written about in this column before.
When I say that Raila is a political principality, I mean he rules our political firmaments. Thus, no one can critique politics in Kenya without mentioning him.
What can we say then? Raila has renewed his political body. Baba is soaring like an eagle, having knocked his political beak, plucked out his talons and feathers. Isn't that why we are saying that he is climbing Mount Kenya like an eaglet? The way things are going, he is closest to the presidency than any other time before.
Political pundits agree that all those who opposed Raila in the past are on his side this time around. They are right. They are also hopeful that he might become the fifth PORK. They could be right!
So what makes Raila highly competitive for the 2022 presidency? First, with the support of the incumbent and the many Kenyans who have no taste for William Ruto's hustler movement, Baba has one option—to be on the ballot.
Raila won't have to spend a lot of energy self-marketing; his soldiers are many, and his chances are high. Political heavens are satisfied that he is stronger politically now than ever.
Secondly, Raila is considered strong enough to compete with Ruto. He has so far crafted a politically copyrightable strategy and a blueprint. The Azimio la Umoja and the promise of Sh6,000 for poor Kenyans as unemployment benefits are politically unique and executable.
Thirdly, Raila has the advantage of a clean history. His political pilgrimage is not dotted with corruption and theft of public resources. He must capitalise on this history to build his Tower of Babel toward the political 'Canaan'.
Fourth is his age—going by Plato's conceptualisation of a philosopher-king, a person who should be mature, have the experience, and pursue the country's good rather than self-interest, Raila has no comparison. He is at the age when he can focus on his legacy rather than accumulating power and wealth.
On January 7, 2023, a few months after his swearing-in, if he is elected president, he will hit 78 years—younger than Joe Biden at his inauguration as the president of the United States. As such, age cannot be used to pull down Raila's dream of ruling Kenya. So far, Kibaki remains the oldest Kenyan to have been sworn in as president (at 71 years), while Uhuru was youngest at 53 years. Kibaki's track record implies that senior citizens leave long-lasting legacies and track records as presidents.
Having said that, there are minor corrections that Baba should focus on in his final State House lap. First, he must choose his running mate wisely and immediately. If Raila doesn't name one today, we must not see 2022 without knowing who it is. From now, he badly needs someone to take the gruelling campaign trails across Kenya.
Moreover, the Raila strategy team must concentrate on building Raila the brand—He should not be overworked. Baba's speeches must avoid historical narrations and the BBI. His nemeses have already weaponised the two issues against him. Aren't other suggestions recorded in the annals of this column? If you follow the advice and carefully implement all political heavens' observations, Baba Gini usekao! Raila Ee Onyal. Yes, You Can.
Finally, I call upon political astrologers, magicians and wise men and women to consider whether it would be better for his strategy team expend more resources highlighting the strengths of their king than the weaknesses of his competitors. Mark you, in athletics, when you are ahead, you don't look back at your competitor.
Dr Ndonye is a lecturer of Communication and Media. @Dr_Mndonye