Women, learn from Ngilu and Karua to fight for elective seats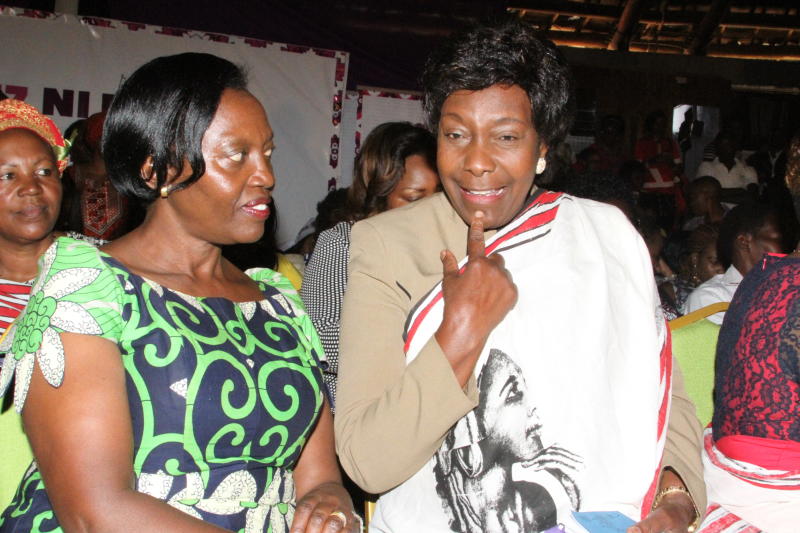 I have waited to write a column about a woman presidential candidate for 2022.
But, unfortunately, it seems it's not forthcoming. So it appears that after 2022, we'll have another round of servitude for our women politicians—courtesy of nominations, direct party tickets, and the doctrine of legislation that entreaties one-third gender rule. All power gained through the mercies of law, another person or an institution is temporary and revocable.
To begin with, let me applaud two notable women politicians of our generation; Kaluki Ngilu and Martha Karua. In 1997, Mrs Ngilu slew the Kenyan political scene with the 'Masaa ya Ngilu' slogan, when she dared to unseat the 'Professor of Politics'—then President Daniel arap Moi.
Ngilu was feted to be the first-ever woman in sub-Saharan Africa to contest for the presidency. Since then, she has been fighting; she has won battles and lost others admirably. Ngilu embodies the resilience, determination and willpower that all upcoming women politicians should embrace—her political pilgrimage has been based on election, not nomination.
Then enter Ms Karua. The 'Iron Lady', is another paragon that must capture the attention of aspiring women politicians. She has managed to push herself to the limits while maintaining her human rights activist aura. The 2013 presidential candidate and powerful former minister for Justice stands out as tough, resolute and rock-solid in her political vocation. She has been an elected woman politician.
Karua hails from Kirinyaga, where another woman, Anne Waiguru, is governor. In 2022, with Karua eyeing Waiguru's seat, the battle in Kirinyaga will be 'hot' knowing that yet another woman, Purity Ngirici, is contesting for the county leadership. Ostensibly, Kirinyaga is a hub of powerful female politicians. The county's political grace is needed everywhere.
What am I saying here? Women politicians must get rid of a bondage mindset that they are broke, weak, and vulnerable. They cannot be forever dependent variables in our political arithmetic. How rich were Ngilu and Karua when they ventured into political front-seats?
We blame it all on the social, political and cultural structures. But, until when? How long will you live under the political clemencies of men? Who has prepared their political garments enough to be suitable for the presidency? Okay, if you want to settle for less, who has placed themselves advantageously for a pick as deputy president?
Where are young women following the footsteps of Ngilu, Karua and the subsequent generation of the late Joyce Laboso and Waiguru? To rise, you will meet crocodiles and alligators on the way; but if you know that politics is a muddy game, you'll see that you must be dirtied on your way up.
Where are the female deputy governors of the 2017 elections? Where is Adelina Mwau (Makueni), Cecilia Mbuthia (Nyandarua), Delina Mlagui (Taita Taveta), Evalyn Chepkirui (Narok), Fatuma Achani (Kwale), Susan Kikwai (Kericho) and Yulita Mitei (Nandi)? They have had a chance to build themselves to the status of governors.
If you will not stage a political coup against your bosses come 2022, then you lose it. Politics is about overthrowing the king! Am I encouraging political take-overs? If you are waiting for political power to be handed to you, you are waiting for Godot!
Come on! We are waiting for the latest entrants, including acting Nairobi Governor Ann Kananu, Nyeri Deputy Governor Caroline Karugu, and Kiambu Deputy Governor Joyce Wanjiku Ngugi to aspire for higher heights.
We need women in elected positions. But, if one hasn't demonstrated zeal and ability to lead and deliver development, we will keep crying. Power belongs to the people—so, if you are elected, you have absolute power. The much-trusted doctrine of equal representation, by law, functions only to opiate our gender egos. Are our women politicians signing again into slavery, or will they come out and seek elected positions?
Dr Ndonye is a lecturer of communication and media. @Dr_Mndonye