Why 2022 election will be the toughest contest for Raila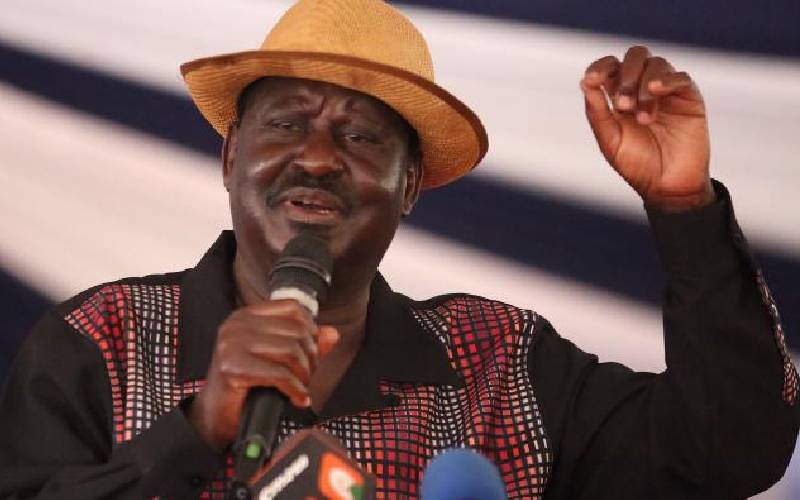 The political heavens are convinced that 2022 will be the most difficult election experiment for Raila Odinga. There is no doubt that Raila is a political principality seated above all other presidential contestants ahead of 2022. As a political principality, he rules by his mere presence. Allow me to contextualise this seemingly sensational thought.
Baba has in the past made some utterances that Kenyans are still waiting to be fulfilled. The key one was his declaration during the 2017 election campaigns that the contest was to be his 'last bullet'. This promise was reportedly first made to his NASA generals Kalonzo Musyoka, Musalia Mudavadi and Moses Wetangula. It has been a hard task for him to recant this statement. Although it is said that in politics there are no debts, this promise is making it hard for him to get support from his former comrades.
Raila also seems to have inadvertently undermined his bid while campaigning for the Building Bridges Initiative (BBI). He kept repeating that his interest wasn't in 2022 politics. This could have made some of his supporters to start looking elsewhere for a saviour. The declaration could also have made his NASA allies to repay their 2013 and 2017 'debts' by endorsing one of them. How will he win their trust again?
Further, although there are positive things to say about his Handshake with the president, it seemingly curtailed Raila's advocacy and braked his influence, now that he wielded visible power in the Jubilee government. The question is, was Raila using the 2018 Handshake to tell us that his active days in politics were over? And if so, what has changed now that he is going for the top job?
Methinks both ODM and Jubilee did not understand Raila and that's probably why he is back to the battleground. If they were keen, they could have seen Raila's two unconscious political moves that corroborated his commitment to quit politics.
Firstly, he boycotted the repeat elections of October 26, 2017 after the Supreme Court annulled the presidential results. Was he instinctively fulfilling his promise of not running again? Secondly, he left the NASA coalition and the ODM for the handshake with Uhuru. He left NASA intact and did not tug along his his ODM party. Could it be that he was creating a space for his NASA partners to get their act together and match on without him? Was he sending the same message to the ODM? I guess so.
The other reason why 2022 would be uphill task for Raila is that after he went for the handshake, ODM followed him to Uhuru's political bedroom, where he (Raila) probably sought to rest and reflect on his liberation legacy. They awakened his desire to fight again, but at a time when he was weakened. I'm not convinced he will be able to cause the kind of excitement he did during the 2007, 2013 and 2017 campaigns a few months to 2022.
But it is not only ODM that misunderstood him. A section of Jubilee Party, led by DP William Ruto, did not understand him too. Their initial reaction was to brand him an intruder in their government, a move that initiated insider party partitions.
That also scarred Raila's brand. And since both ODM and Jubilee did not understand the signs of the times, they have suffered. Jubilee has scattered, and ODM has been enfeebled. Can a weakened ODM mount the required force to catapult Baba to State House? The political earth will be hard.
Uhuru too did not understand Baba. He saw him as an arsenal, a political ombudsman as he fumigated his nemesis within Jubilee. It was Uhuru's eureka moment to stamp his authority, which his deputy had seemingly usurped. With his erstwhile arch-enemy now his bosom friend, he decided to prove that 'bado simba ananguruma'!
That way, Raila was yoked with the outgoing Jubilee government. Will he manage to disentangle himself from the Jubilee regime's baggage? Will his last bullet hit the target?
Dr Ndonye is a lecturer of Communication and Media