Aden Duale already proved he's unfit to hold public office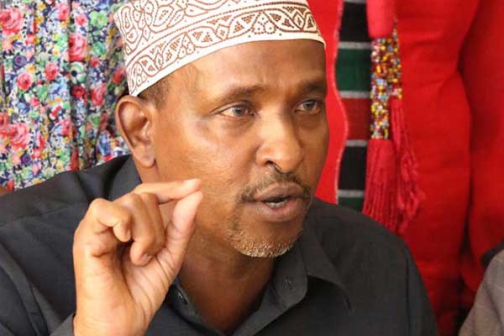 I've written about Majority Leader Aden Duale before. It's not a secret that I hold a particularly low opinion of the Garissa Town MP. His selection as Majority Leader by Uhuru Kenyatta and William Ruto is one reason — among several — that I've had trouble recognising the Jubilee regime.
Mr Duale has an ungoverned mouth. There's no other way we can account for Mr Duale's constant drivel of toxic matter from his beak. Either the man speaks before he thinks, or doesn't apply his noggin at all. There's no other plausible explanation for an audio clip of Mr Duale planning the disenfranchisement — and expulsion — of the Akamba from Garissa Town.
Make no mistake about it. Mr Duale — who has denied he's the one speaking in the audio clip — was planning and directing his Somali supporters to clear Garissa of the Akamba. This would be ethnic cleansing — a step closer to pogroms like crimes against humanity or genocide. Mr Duale lived through the near-genocidal convulsions after the 2007 elections.
It flummoxes the mind he would want Kenya to go back there — to be re-elected MP. Mr Duale is no ordinary soul in the constitutional structure of Kenya. He's one of the several officials in line to succeed to the presidency should catastrophe hit. Why a man with such a dark worldview got so close to power is a travesty.
But if Mr Duale's rise is scary, what are Kenyans to make of the deafening silence by his puppeteers? Mr Kenyatta hasn't uttered a word of condemnation, or support for those Mr Duale vilified. The last time I checked, the Akamba were still citizens of Kenya entitled to the protection of its government and laws.
Mr Ruto, who is Mr Duale's actual patron, has also gone AWOL. I guarantee you that Mr Kenyatta and Mr Ruto would've shouted themselves hoarse by now had CORD leader Raila Odinga even dreamt about what Mr Duale said. Your guess is mine whether Mr Kenyatta and Mr Ruto by their silence condone Mr Duale's hideous plans. I thought the two led from the front.
In my book, Mr Duale is nothing but a proto fascist who acts with impunity because he knows Kenya is a lawless country. Public officials loot the Treasury in broad daylight — and nothing is done. Senior figures are savagely gunned down — and nothing is done. Unqualified people are rigged into senior public offices — and nothing is done. Elections are stolen every five years — and nothing is done.
Cartels steal and sell exams — and nothing is done. Police and public officials routinely demand petty bribes from the weakest among us — and nothing is done. We live in a failed state. Kenya is a country of men, not laws. We have the most cynical elites of any state in the world.
Take a quick survey and help us improve our website!
Take a survey
I didn't know whether to laugh or cry when I saw Mr Duale denying that he was the one on the audio tape. Looking and sounding guilty — in my humble opinion — Mr Duale challenged those pinning the clip on him to name where, when, and by whom the audio was recorded. Wow — not even US President-elect Donald Trump had the audacity to deny the authenticity of the Access Hollywood tape that showed him bragging about forcibly grabbing women by their private parts. Mr Duale has been caught pants down.
The honourable thing for him to do is not to contort and wiggle. A real man accepts responsibility and takes his lumps. But Mr Duale, like a chauvinist coward, runs away squealing. It's clear that barring a miracle — or ethnic cleansing — Mr Duale is going down in Garissa Town. Methinks former Deputy Speaker Farah Maalim is going to wipe the floor with him. Never mind that Mr Maalim is running on a party aptly named Wiper.
Mr Duale has panicked because Garissa — like many urban centres — is a multi-ethnic constituency. I am told that many Garissa citizens are of Akamba extraction. Mr Duale has assumed that his goose is cooked because of Kenya ethnic-bloc voting patterns. He may be right — but the antidote to his predicament can't be ethnic cleansing. He should fight for every vote whether Kamba, Kikuyu, Somali, or Martian — provided they are registered to vote. If not, he's doomed.
We as Kenyans think we will soon be a middle income country. I applaud the dream — we should've been there a long time ago. At one point, we and South Korea were at the same level of underdevelopment. Look at South Korea now and then look at us. The key difference has been the failure of our elites to imagine a greater destiny. Mr Duale, the anti-democrat, the demagogue, the bloviator represents the elite that's held us back.