Raila and Ruto's campaign strategies have put them ahead of the pack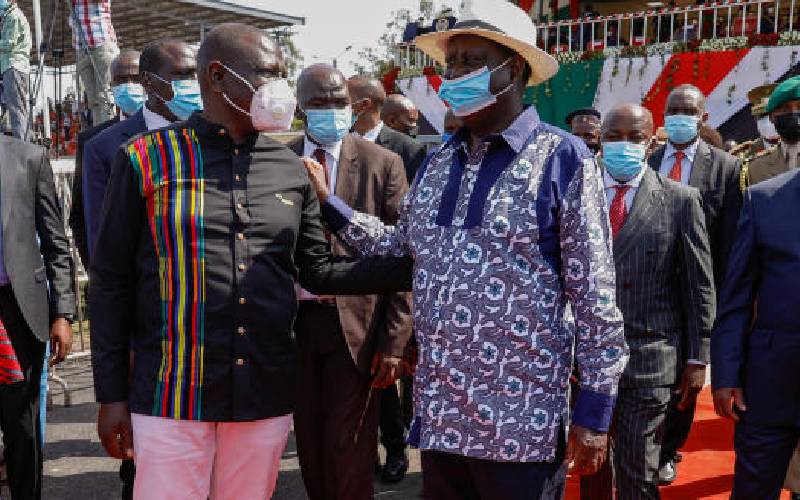 Deputy President William Ruto and former Prime Minister Raila Odinga have managed to penetrate political 'bedrooms' outside their homestead. Two factors explain this. First, a well-crafted narrative has developed around the two men, partly because each has strong personality, is hard working, and is politically crafty.
Second, the two have worked together before and know how to attract attention. Each has dedicated teams of 'true believers' who might even 'die' defending their candidate or discrediting the rival. With their 'brilliant spin-doctors', they politically out-distance other candidates, which then makes others look like political jokers.
Yet, barely below the surface, there are serious players influencing events. President Uhuru Kenyatta, the most prominent among those players, makes visible and invisible sentiments that shape the behaviour of politicians seeking different offices. He seems different, having fallen out with his deputy Ruto and then gravitating towards Raila, a former rival. With his 'presence' being felt everywhere, Uhuru's dilemma is two-fold.
One is the challenge of balancing his past statements and actions with his current political sentiments and trends; they are dissonant. Two, his seemingly preferred candidate, Raila, promises to 'liberate' Kenyans from Uhuru's Egypt into a 'Canaan' thereby portraying Uhuru as Kenya's symbolic 'pharaoh'. Is it in his interest to appear like a 21st Century pharaoh? The fact that the country is experiencing socio-economic turbulence adds to growing political anxiety, thereby generating 'rebellion', which Uhuru would like to manage. Will he?
The sense of rebellion is also evident in the ambitious and disappointed Raila's 2012 and 2017 campaign lieutenants. Musalia Mudavadi of ANC, Kalonzo Musyoka of Wiper, and Moses Wetangula of FORD-Kenya had followed Raila in unsuccessfully trying to derail the Uhuru election or to cross River Jordan into mythical Kenyan Canaan.
They then grumbled when Raila crossed Jordan alone, building a bridge to avoid crocodiles, and watched their presidential dreams disappear. For a while, it looked like they were amenable to re-joining Raila in order to stop Ruto, but memories of 2017/2018 stopped them.
They still came up with One Kenya Alliance (OKA), something that is neither Ruto nor Raila. There are two other players in OKA - Gideon Moi and Cyrus Jirongo. Within OKA, however, there are internal disagreements on who should be the presidential candidate.
Kalonzo's fortunes are on the decline with Ukambani leaders ditching him and preferring either Raila or Ruto. Kitui Governor Charity Ngilu has little time for Kalonzo. While Machakos Governor Alfred Mutua's presidential wagon failed to pick up speed, Makueni Governor Kivutha Kibwana's vehicle simply revved but never moved.
Other candidates struggle to be serious and noticeable. National Assembly Speaker JB Muturi, prompted by Captain Kungu Muigai as an ideal alternative to Ruto or Raila, needs fine-tuning to be in the race. Jimi Wanjigi has money or gives the impression of having money and, like Abduba Dida in 2012/13, entertains people with political antics. Murang'a Governor Mwangi wa Iria wants Raila as his running mate in his Usawa Kwa Wote Party.