Matiang'i report delivered a big blow to the 'hustler' narrative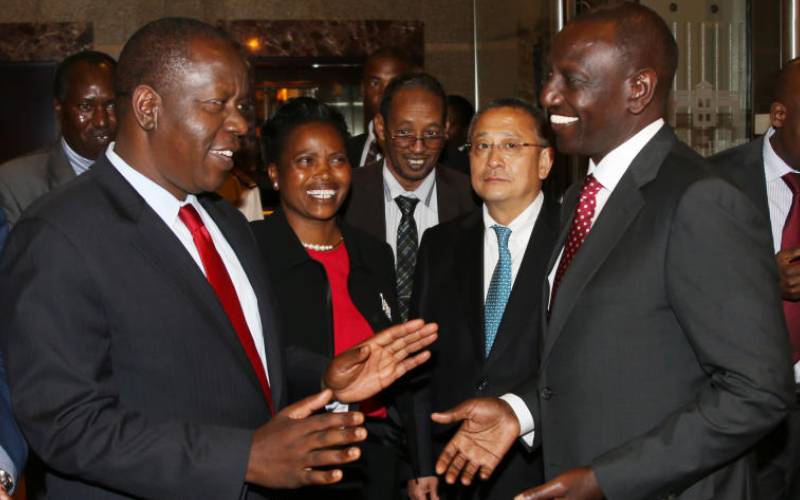 Political temperatures are on the rise as would-be 'presidents' and supporters add fuel to fire. So far, three 2007 Pentagon buddies are at each other's throats. The Pentagon trio are Raila Odinga, William Ruto and Musalia Mudavadi.
Each struggles to project a winning image while portraying others as losers. Although other would-be presidents, including Kalonzo Musyoka and Justin Muturi pale before the trio, things can change and positions switched. The current hustler tribulations are indicators.
Since for some time Ruto has seemed unassailable, his rivals tried ganging up only to realise belatedly that they were simply building Ruto by talking about him. Making it clear that they were countering Ruto, they had to cook up credible counter-arguments which then sounded like rehashed 'me-tooism'.
What seems to affect Ruto most, however, is the small issue of bodyguards. Whether by design or not, the changing of the DP bodyguards attracted public attention in that it made Ruto appear like a victim of schemes to increase his 'insecurity.'
Claims that Ruto's life was in danger led Members of Parliament to demand explanations. Despite Ruto's effort to stop Parliament from discussing his security, the CS and the PS Interior were more than willing to explain their position. In the process, they inflicted serious damage to the hustler engine and almost succeeded where rival presidential candidates could not.
Ruto probably knew that his supporters in Parliament were not ready to respond to what might come out. After some hustler supporters appeared conceptually confused on the 'bottom-up' economics, it took a lot of effort to contain the damage. And then the bodyguard grumbling fiasco eroded hustlerism.
The Ministry of Interior officials relished the opportunity to explain, through the Parliament and all the electronic media, to a waiting public. CS Fred Matiang'i introduced the concept of a malady called 'sympathy addiction' that seemingly afflicts political players.
Given that Ruto had developed expertise in playing victim, the 'sympathy addiction' reference implied him. Matiang'i proceeded to reveal the extent of Ruto's property, which the government protects by virtue of the DP's office and person.
It shows DP Ruto to be a multi-billionaire owning land in thousands of acres and other high-end properties across the country, including hotels and helicopters. Among them is what used to be former Vice President Joseph Murumbi's ranch in Trans-Mara.
The government assigned 257 police officers to guard the DP and his properties, more than what previous vice-presidents had received, and so the issue of Ruto's security does not arise.
The revelation damaged the Hustler engine and dented Ruto's image and he is fighting back. It left Ruto's men and women askance, some demanding that similar revelations be made about other high flying 'leaders'.
Ruto is politically resilient, admitted that 70 per cent of Matiangi's revelations were correct, and pointed out factual errors and omissions in Matiangi's statement. Although his self-defence is spirited, the damage to hustlerism is visible.