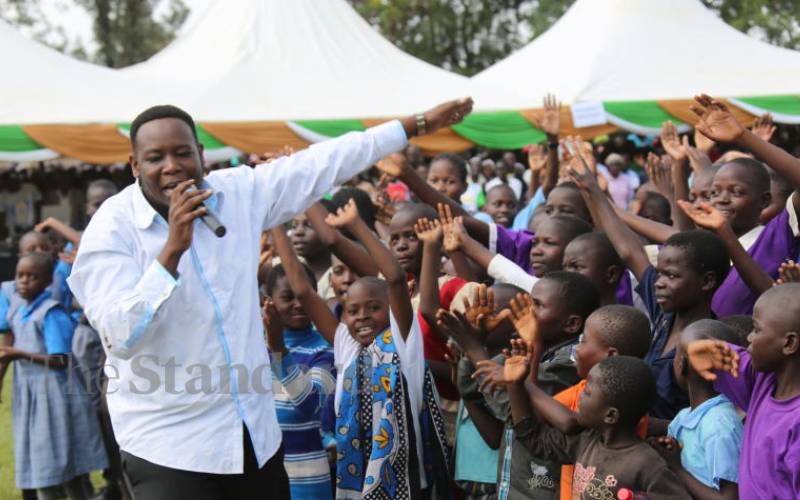 Osumba Rateng' is a frustrated man. The 75-year-old singer behind the Baba Otonglo hit has nothing to show for his work.
After decades of fame, he has nothing much to show for it.
With anguish, he recalls days back in downtown River Road, Nairobi, when musicians decided to form their society.
This was to help them collect royalties as African music started becoming popular with its consumption going into public places, radio, and TV.
This is how the Music Copyright Society of Kenya (MCSK) came into being with veteran stars among them music composers Daudi Kabaka, Laban Toto, and David Amunga becoming its first directors the same year Baba Otonglo became a hit.
"We formed MCSK with a good motive. Now, things are not the same again. Go tell those people (MCSK directors) that God will not forgive them for making us suffer," says Osumba.
Over the years, the singer has expected to benefit from his creative work as a member of the society, expectations that have eluded him and other generations of musicians that have come after.
"We have had a major issue with music pirates who have robbed us the millions we should be making from our music.
"But our big dragon is our own MCSK. It pains me to think that musicians are not making much from the royalties collected by their own society," says benga singer Musaimo wa Njeri, the man whose My Dear Kwaheri song was released the same year.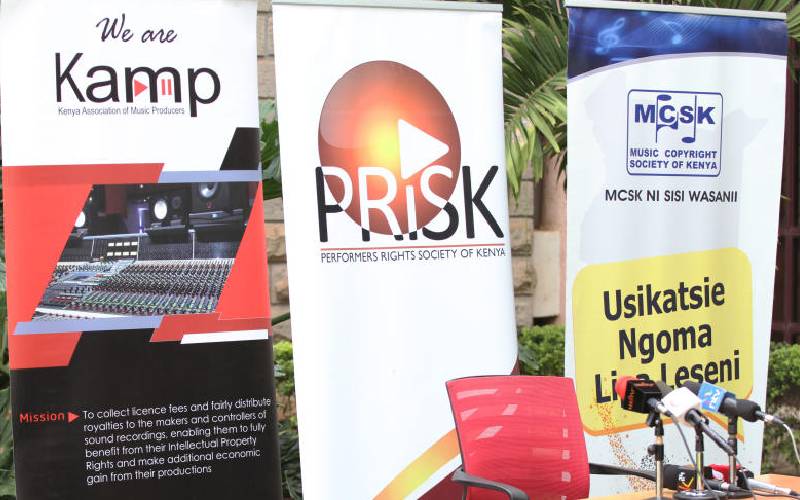 The society holds its 30th annual general meeting this coming Thursday with echoes of mismanagement, misappropriation, and irregularities - allegations from yesteryears - following it.
Some of the disgruntled members say they have had enough and now with the Collective Management Organisations (CMOs) umbrella body, the Kenya Copyright Board (Kecobo) seemingly having cracked the whip by handing over a detailed forensic audit on the same, the spotlight has now gone to the Senate.
Here, alongside two other CMOs, MCSK's misappropriation allegations issue is being discussed with the Directorate of Criminal Investigations said to be closing in on a number of society officials.
The future of CMOs, the bodies that collect and distribute creatives' royalties, hangs on the balance after some creatives suggested they be scrapped or a new approach be made in their running.
This week, during a Senate Committee meeting with relevant government agencies and stakeholders - on the creative economy – CMOs were put to task with issues of members' funds' misappropriation dominating the meeting.
Among those present in the meeting were Principal Secretary for Culture and Heritage Josephta Mukobe, Principal Secretary Broadcasting and Telecommunications Esther Koimett and Executive Director, Kecobo Edward Sigei. Others were Kenya Film Classification Board CEO Ezekiel Mutua, Kenya Film Commission CEO Timothy Owase and the Director, Permanent Presidential Music Commission (PPMC) Donald Otoyo.
Sigei revealed how a forensic audit report carried on the three CMOs; MCSK, Performance Rights Society of Kenya (Prisk), and the Kenya Association of Music Producers (Kamp) had detailed irregularities in CMOs management.
He said the office of the DCI, was closing in on the alleged culprits, with artistes' revenues worth Sh169 million in royalties from local media outlets being probed.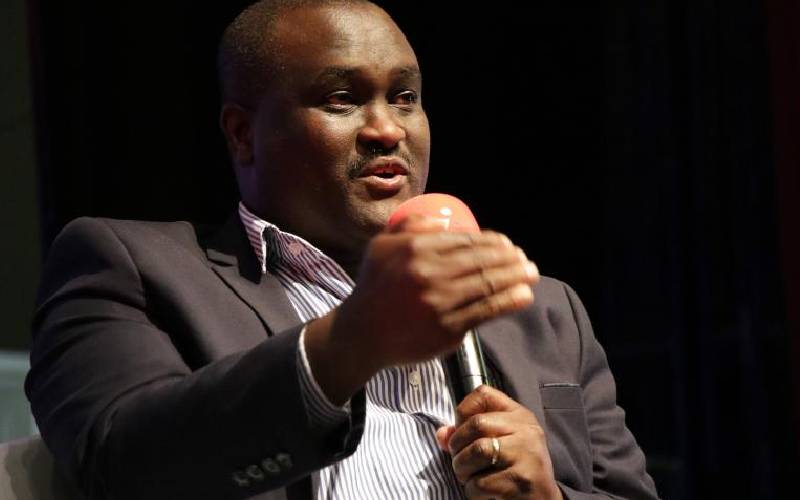 "The matter is with the DCI and we expect arrests," said Sigei, noting that some of the CMOs had failed to meet the threshold for capacity to collect revenues for artistes according to a forensic audit tabled before the committee.
"We are dissatisfied with their (CMOs) performance and have already sent them show-cause letters. We will take action according to the law after the 21-day notice elapses," Sigei added.
Sitting allowances
The Kecobo boss noted that some of the CMOs directors were illegally drawing sitting allowances amounting to over Sh1 million a year.
He said he had information that the cost per sitting for each board member had been placed at Sh7,500 yet some had been getting upto Sh45,000.
"From the forensic report, some members registered under MCSK did not have Kenya Revenue Authority PIN and payments were being done through unregistered numbers," he said.
In 2018, Kamp, which is the youngest of the three societies, allocated Sh16 million for distribution where 50 per cent was to be channeled to the royalty distributions.
The society collected Sh52 million in 2018, up from Sh45 million the previous year.
The 2018 CMO regulations require that of the total revenue collected, 70 per cent should be distributed as royalty and 30 per cent used for administrative activities.
According to records, the society distributed Sh12 million and Sh20 million to members in 2017.
Prisk collected Sh66 million in 2018 and Sh91 million in 2019. The society had collected Sh76 million in 2017, of which Sh27 million went to members.
Ephantus Kamau, the Prisk chair told the Saturday Standard his organisation would respond to any queries once it fully establishes the issues that were raised during the Senate meeting.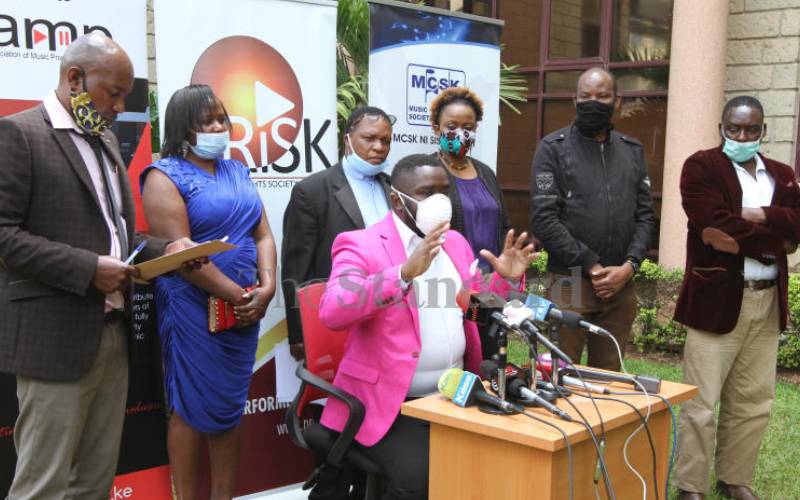 "Prisk is ready to respond to any issues that it will be required to answer. The truth is, my team came into office not so long ago and some of the matters being raised do not touch on us. However, it is good to have everything in public," said Kamau.
"Last year and this year have been very hard for CMOs as there is hardly any income that can sustain the operation of the business since just like every other sector we have been affected by the Covid-19 pandemic. There have been times when we have had to choose between staying on or closing our offices."
MCSK's license was not renewed in 2017 for failure to submit audited financial statements and list of royalties paid to members and that year, the society incurred huge financial losses.
For a while now, it has been going through a rough patch with court battles derailing every effort to redeem itself from an almost tainted image.
During this week's meeting, led by Johnson Sakaja, the Standing Committee on Labour and Social Welfare had invited stakeholders following an outcry from artistes, one that was prompted by questions of how the Sh100 million stimulus package awarded by the government to creatives last year was distributed.
"What we are hearing here are serious matters. Does it mean CMO members would wish to have CMOs get disburdened and have their issues be handled by the government?" posed Senator Sakaja.
He told the invited CMO members that they should be responsible for the problems affecting their organisations the same way they were responsible for electing them.
It was a heated session that exposed the rot in the creative sector, one that had musicians, music producers, and other content creators appearing before the committee decry the role of CMOs in collecting and distributing royalties.
The Creative Society of Kenya chair Hubert Nakitare together with the society's secretary-general Bernard Kioko sought to know why Kecobo had issued a directive regarding Blank Media Levy, a system they said appeared not to be in favour of creatives.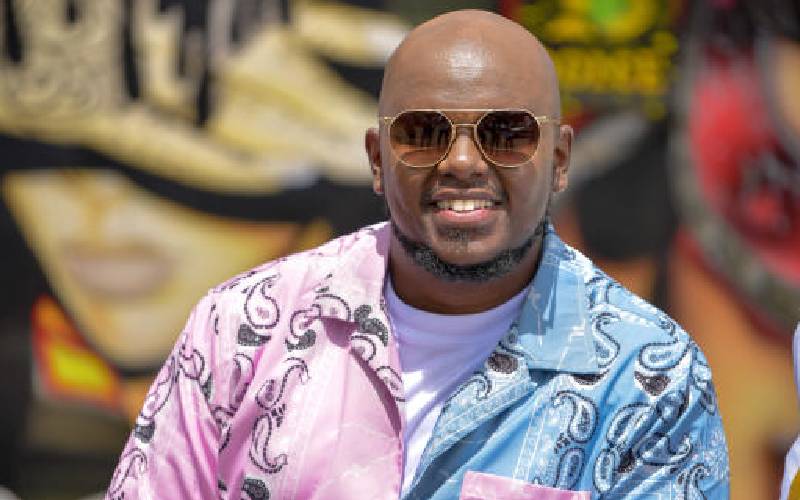 The society also questioned an alleged barter deal said to have been worked out by Kamp-Prisk and a media house without respective board approval that is said to cost rights holders Sh60 million.
"CMOs are exploiting musicians. According to the law, they are supposed to pay artistes 70 per cent of the revenues collected, but artistes end up getting less than 20 per cent," said gospel artiste Roy Smith Mwatia aka Rufftone. "I have been patient for about 15 years, I believe all these hiccups with Kecobo and CMOs is actually by design."
"The problem we have with this issue is that we have been dealing with it for the past 15 years and nothing seems to change," remarked Kioko.
Musaimo wa Njeri thought the government should dissolve CMOs and take charge of the roles they play. He said that way, systems would be aligned and discipline stamped in the industry.
"Like I said, when we started, MCSK was supposed to guard artistes rights just like unions such as the Kenya National Union of Teachers. It was supposed to fight piracy, collect royalties from media houses, matatus, and other avenues where copyrighted creatives work was used," he said.
"It was supposed to bring all artistes together. The split that created Kamp and Prisk weakened the union.It is time for the government to take over the running of artistes' affairs."