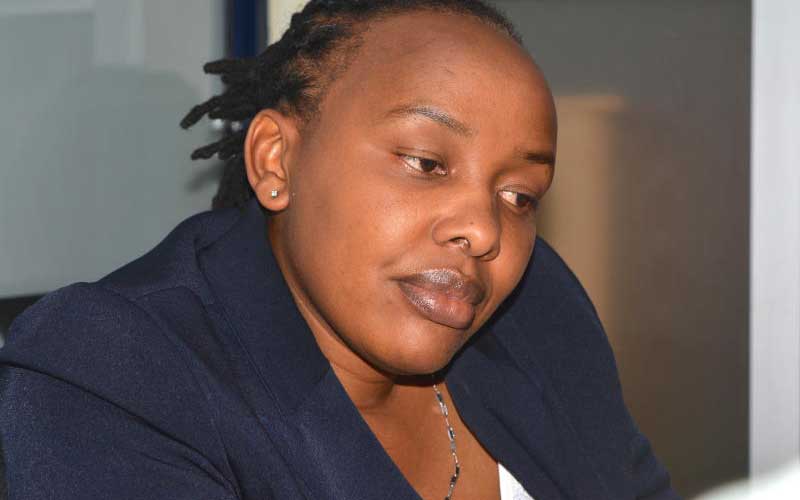 Sunday Magazine
If she knew that that Sunday about 7 years ago was the last time she would see her beautiful boys, maybe she would have done things differently
"Not knowing where my babies, Samuel and James, are for seven years has been a never-healing wound in my soul," Elizabeth Mwahu tells me, her soft voice wavering with emotion. "When your loved one dies, you get to bury them and lay flowers at their grave...you get closure. But when a loved one is missing, that door is never closed. It is pain that I wouldn't even wish on my worst enemy. It is a living hell." On October 28, 2012, Elizabeth's four-year-old twin sons – Samuel Muiruri (Sam) and James Mwahu (Jamo) - went missing. She turns the events of that fateful day over and over in her mind, searching for clues that her world was about to be upended, or even more importantly, one that could lead to finding the boys. A photo of the boys, as infants, is her phone's screensaver. That's all she has of her sons now, photographs and memories. At home, she tells me, their photos are still hung in the living room walls. Their toys are packed away in boxes and their clothes carefully folded in suitcases. She can't find it in her heart to get rid of anything that they owned, anything that they touched. These material things are a testament that her sons are real, not a figment of her imagination. On the fateful day, Elizabeth remembers that the twins had been in high spirits. It was a Sunday and they were especially elated because it was their aunt's school visiting day. "We went to visit my younger sister in school earlier in the day. We had a wonderful day together. The twins' father wanted to hang out with them, so we arranged for him to visit when we got back home. I had broken up with him when I was pregnant and at that time, he would occasionally hang out with the boys." As planned, her ex-boyfriend visited the boys later in the afternoon. Elizabeth and her sons were living in Gachoro- a village in Juja, Kiambu County. "He received a call from someone who wanted some money, which I deduced from his side of the conversation. He said he had to go to Juja town to withdraw and send some money, after which he'd head back immediately. He requested to have the boys accompany him. I used to live on the ground floor and he had parked his car just outside the door. I remember him going out to the car with the twins while I went into the kitchen." That was the last time Elizabeth saw her children. "After some time had passed, I got worried that it was getting chilly and dark and the twins hadn't worn their sweaters. I texted their dad to bring them home. He didn't reply. I was agitated but I decided to be patient." When Elizabeth's ex-boyfriend finally showed up, he was alone. "Of course, the first thing I asked was 'Where are the children?' He cryptically told me 'Si watoto wako kwa nyumba'. I thought he was joking. He wasn't. He insisted that he had left alone after the boys got fussy. He claimed he had left them playing outside." With her heart sinking deeper and deeper with every passing moment, Elizabeth and her ex-boyfriend frantically knocked on door after door in the neighbourhood. No one had seen her twin boys. Neighbours, including boda boda guys- had come out in droves to help in the search. They looked in every nook and cranny to no avail. "I was numb but was still hopeful that they were somewhere in the neighbourhood. Maybe a Good Samaritan had taken them in and was also trying to find me. Maybe they had gone back to the apartment we used to live in before. Maybe they were hiding somewhere and had fallen asleep..."
Doubts
Around midnight they finally reported the matter to the police. "We reported to Juja Police Station and later recorded a statement at Ruiru Police station, where they had a Department of Criminal Investigations (DCI) desk. But every lead was a dead-end. It was like my twins had vanished into thin air." Did she suspect her ex-boyfriend of being involved in the boys disappearance, I ask her. "Yes. It seemed the most likely explanation. The last time I saw my boys, they were with him. Why did he not tell me that he decided to leave them behind? Why didn't he respond to my text? Who was he talking on the phone with? If he had left them behind as he claimed, surely, I would have heard them playing outside. Jamo would have come looking for me and calling me 'Mum, Mum, Mum' a million time like he usually did. But investigations have cleared him. If he was responsible for their disappearance, he covered his tracks extremely well." Elizabeth spent the days and month's following the twins' disappearance in a daze. She quit her job to invest all her time into searching for her missing children. She printed posters, put up alerts on social media, did media interviews, and followed up every lead- however unlikely. "Every time I hear about twin boys around my sons' age have been found, I go there to see if it's Jamo and Sam. The police have a special unit dedicated to tracking missing children, which alerts me every time they have a lead. But so far, we have never had a solid lead. I have lost count of the number of children's homes I have visited all across the country, hoping to find Jamo and Sam. Every time my hope is raised, it immediately gets dashed into pieces. I can't even begin to describe the pain I feel. It's like I'm trapped in a nightmare I can't wake up from," she says. The search for Jamo and Sam, and the accompanying depression, has consumed every aspect of Elizabeth's life. "For a long time, I didn't want to be happy," she tells me. "I moved to a new neighbourhood and would just sit in the house and cry. How could I be happy when I didn't know where my children were? Fortunately, I received some support from the church and some non-governmental organisations such as Missing Child Kenya." Perhaps having other children would have helped assuage the pain, I pose? "Maybe," she says. "But I didn't want any other children. I wanted my boys back. I didn't even want to get married or to be in a serious relationship. I would dismiss anyone who showed interest. But after a lot of counselling, I'm eventually considering getting married and having more children." December 30th, the date of the twins birthday is always an emotional day for Elizabeth. She remembers how she'd given birth to them via CS. "That was the happiest day of my life. I had delivered them prematurely at seven months, so they were tiny. Samuel weighed on 1.7kg while James weight 2.1kg. They were the most beautiful babies I'd ever seen. I was happy that they were mine," she says. She didn't always have money to buy the twins a birthday cake and throw them a party. Now with a stable job, sometimes she daydreams about how she would spoil the twins on their birthday. "I would buy them fancy cakes, shower them with whatever gifts they wanted, and take them out to celebrate. Now their birthday only fills me with sorrow." She recalls how her now quiet house was always full of the twins' laughter. "They were such cheeky boys. They liked to play, have their childish fights, and climb everything, and invite a horde of friends over- so the house would always be a joyful mess. I didn't even bother the nanny about keeping the house tidy. But we were so happy!"
I feel that they are alive somewhere
To somehow cope with the agony of their disappearance, Elizabeth has found it necessary to detach. "I try not to think about my sons. Thinking about them too deeply usually breaks me down till I can't function. So I just keep my mind blank and operate on autopilot. But sometimes I can't help it and I take out there pictures, look at their clothes, and think about how they would look like now. I wonder if they remember me, if they have eaten, if they have nice clothes, and if they go to school." With her mother's intuition, Elizabeth feels that James and Samuel are still alive. "I know they are alive somewhere out there. I feel it deep in my heart. And I know they will come back to me someday. I live for that day. Now they are 12-year- olds. Whoever has my children, please bring them back to me. I miss them and I know they miss me. Please bring them back," she begs. *Have you seen James Mwahu and Samuel Muiruri? If you have any lead that could lead to them, please report to the nearest police station.
What to do when your child goes missing
Currently, the Kenya Police doesn't have sufficient support to help trace missing children. There is no proper comprehensive database and statistics on missing persons, including missing children. Various organisations have come up to help parents trace their missing children. One such organisation is Missing Child Kenya, which has an online platform and collaborates with external organisations, the police, and children's homes to help find missing children and offer psycho-social support to families.
Here are a few tips on what you should do immediately after your child goes missing:
· Contact everyone- neighbours, friends, relatives whom the child associates with. · Start the search in the immediate area, giving special attention to areas which pose hazard to a child such as pools, water tanks, and the street. · Go and report to the nearest police station. Don't wait for 24hours to report as is recommended in the case of missing adults. The first three hours are the most critical in locating a missing child. · When reporting, take the child's most recent clear photo and give them a description of your child. · If your child is old enough to have a phone an online presence, look through their social media accounts, their Google searches, messages, emails for any clues. · Keep your phone open in case the child, the police, or someone with a lead tries to contact you. · Every parent should take precaution to prevent their child going missing- they should always be watched by a trusted adult, teach your child your real name and make them to memorise your phone number and address, and warn them about talking to strangers. · In case you locate the child before the police, notify them so they can close the case.