Reggae music: From ghetto protest to United Nations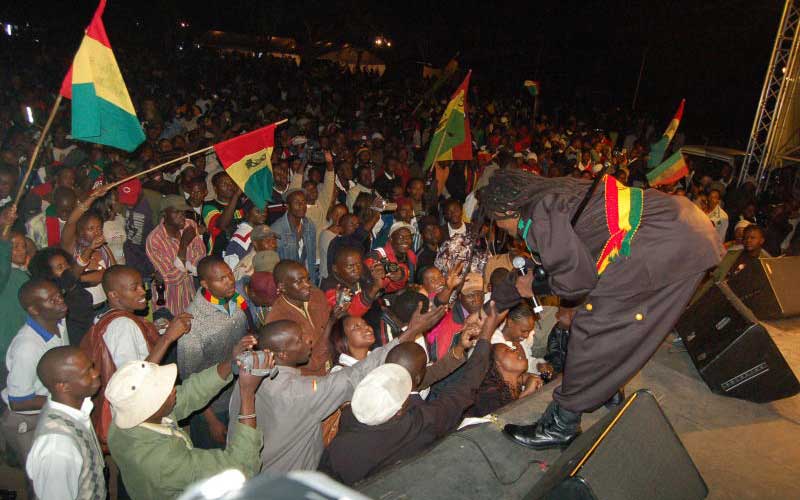 In some quarters, folks regarded the rootsy, rub-a-dub tunes of reggae as protest music, only acceptable among the downtrodden – its stinging, uplifting lyrics firing up embers of hopefulness for scores of ghetto dwellers.
Locally, reggae was formally banned in the late 1970s on the Voice of Kenya (VOK) radio stations, then sole national broadcaster owned and controlled by the State.
Even after rebranding to Kenya Broadcasting Corporation (KBC), the music was still locked out on local airwaves until late 1990s advent of multiple FM radio channels.
In the corridors of political power, conscious reggae music time and again tends to stir a sense of disquiet, often construed as a subtle form of incitement.
The mostly popular heavy bass line hooks and one-drop drumbeats are laced with hard-core lyrics, dwelling heavily on socially militant themes.
However, the acceptance of the "protest" music is irrefutably growing in leaps and bounds. Current trends indicate socio-political, advocacy-driven "riddims" no longer just appeal to only a few.
In Kenya, stakes have shifted immensely in favour of the genre. Multiple mainstream TV stations and FM channels have introduced hours-long, strictly reggae programmes on daily basis. Recently, Vybes FM, an all-reggae FM station, went on air.
Varied TV channels similarly feature on-air video clips focusing on the genre. Despite reggae's blacklisting in the 1980s and 1990s, the local scene has flourished in recent past.
"When we recorded our debut single track Freedom Struggle in 1986, reception was somewhat low-key," recalls Dave 'Mobb' Otieno, a city-based guitarist and producer. Alongside seasoned musician Markus Kamau, they comprised arguably Nairobi's pioneer reggae band, Watume.
"The scene is evolving, and the afro-rooted genre's popularity remains indisputable," says Mr Otieno.
On November 27, last year, the United Nations granted the Afro-rooted genre long-overdue official recognition, earning a coveted slot among UNESCO's growing list of global cultural treasures.
The world body's cultural and scientific agency confirmed reggae's inclusion in its collection of "intangible cultural heritage" after the music was deemed worth protection and promotion.
"Reggae's contribution to international discourse on issues of injustice, resistance, love and humanity underscores the dynamics of the element as being at once cerebral, socio-political, sensual and spiritual," reads the UNESCO statement.
More than 2,000 proposals were under consideration at the agency's annual meeting held in Mauritius, including Jamaican government's application for reggae's addition on the list.
From late 1950s, through 1960s, 1970s to early 1980s, influential global music charts ignored reggae songs in competitive rankings.
The prestigious Grammy Awards officially incorporated a reggae category in late 1980s. Thereafter, conservative radio and TV stations gradually opened airwaves and discotheque doors to the "rootsy" tunes.
In a brief account, long serving ex-Jamaican Prime Minister Micheal Manley's book, Jamaica: Struggle in the Periphery, reflects on societal pressures gave rise to reggae's evolution.
"Whereas our (colonial) predecessors banned ghetto protest music, we worked to assist in promotion of the cultural energy expressed in reggae," writes Manley.
Revolutionary Pan Africanist ideologies championed by Marcus Garvey, who fronted the Back to Africa movement, were inspirational and influential.
A subtle blend of West Indies calypso style with Ska, rock steady beats, traditional afro-Caribbean influences and rhythm and blues – evolved into roots reggae. The pioneers' hard hitting, thought-provoking, expressive songs starkly recount bitter slavery-era anger, discontent, pain and tribulations endured under abusive slave masters.
Yet hardships endured in ghettos across Third World cities inspired uplifting, conscious lyrics. This redefined reggae as music to enlighten those oppressed and articulate their misery, whilst instilling a sense of hope and optimism.
These truths or realities mirrored through, at times soulful and mellow songs, did trigger a renewed sense of rage among the underclass.
In essence, Wailin' Wailers band musical trinity – Peter Tosh, Bob Marley and Bunny Wailer – stormed into the scene and ingrained the confrontational-lyrics approach.
"I knew from the minute I heard lyrics of song Simmer Down, they had an intelligent sound, exhorting especially youths – don't slip up or else – giving rise to an era of protest and message-oriented lyrics," the producer, Coxsone Dodd, later recalled of those early days.
Close to half a century later, it is glaringly evident that the rootsy rhythms, endowed with richly distinctive African beats, stand out as 21st century's most influential genre.
"Many people never got to really listen to the music," says Nigel Reid aka DJ Ras Lyon and Nairobi's Asili Dub band vocalist, "but now it's on radio, in dance halls and online streaming – reggae is number one everywhere".