Sunday Magazine
I come from a county many associate with physical violence, a burden that I often have to bear on behalf of my kinsmen.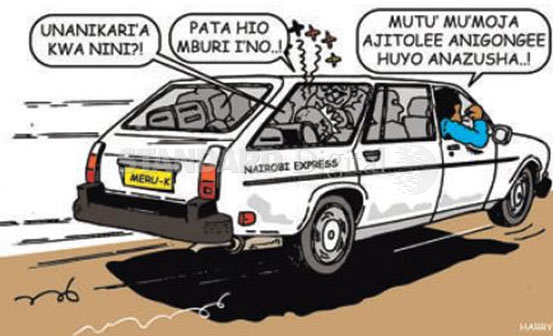 I come from a county many associate with physical violence, a burden that I often have to bear on behalf of my kinsmen. When I was a practising journalist, I remember an occasion when a judge of the High Court was giving us a lecture on libel law and upon learning my name, he paused and asked if I was from the place where people needed no excuse to cut each other up with pangas. To the delight of my colleagues and my utter discomfort, he recounted an oft-told and embellished story that is used to demonstrate just how mindlessly violent the people of Meru County can be.
SEE ALSO: Ex-MP stares at bankruptcy over Sh6 million debt
It is of a fellow who was cutting napier grass by the roadside and mainly minding his own business when two men came running down the road, one chasing the other. "Cut that person for me," the pursuer ordered the man cutting napier grass. And without pausing to ask why or consider the consequences, he did as bidden and beheaded the poor soul. The story goes that when the fellow was eventually taken to court and a perplexed judge asked why he had done it, he pointed to the back of the courtroom and said, "Bwana judge, that's the man who told me to do it. He is the one who should tell you why he wanted it done." I once had a colleague who loved needling and making fun of me regarding the so-called short temper of my kinsmen. He once visited my county, and saw, near the Kathita River bridge, just as one is entering Meru town, a garage whose entrance had a chilling message: "Usikojoe hapa. Jaribu!" That translates to, "Don't urinate here. Just try it!" To my colleague, that signage was the metaphor for all the violence that lurks behind the veneer of civility shown by the people of Meru County, just waiting to erupt.
SEE ALSO: Kileleshwa residents query fuel station building
The said short temper goes hand in hand with the assumption that everyone from that area is either an incorrigible miraa chewer or a grower of the stimulant. The truth, however, is that khat is only grown in a part of the county and as for the violence, in the area where I was born and brought up, the vast majority of the people only hurl insults. Indeed, I have had occasion to be as surprised as everyone else when I travelled to some parts of the county and fell victim to mindless, unprovoked violence. As a young man, I was passing through Meru town, some 30 kilometres from my home and decided to have a quick drink. While in the pub, I met an old schoolmate and as so often happens, we found ourselves celebrating the reunion with more drink than we could afford and still have enough money left for fare home.
SEE ALSO: Coffee farmers risk losing in wrangle
Not to worry, my former schoolmate, who hailed from Embu County but was working in Meru town, said. He lived at Katheri, a few kilometres out of town and if we went there he was credit-worthy and we could continue with our merry-making. I was game, although it was evening. I was practically broke, and Katheri is in the opposite direction from my home and I knew nobody there. For young people, hope springs eternal and there is an abiding trust in providence. In those days,, the means of transport between Meru town and Katheri market were either Land Rovers or Peugeot 404 saloon cars. By evening, there would be a scramble for the few vehicles available and following advice from my friend, I quickly got into the Peugeot that still had space and made myself comfortable. Little did I know that the vehicles to Katheri were never really full, not even after all the seats were occupied. I was outraged when a large man in a suit sat on my lap and ignoring my protests, the matatu driver drove off.
SEE ALSO: Woman stops tourist lover from selling their love nest
I was quickly silenced when the man on my lap turned and planted a large fist into the side of my head. Nowadays I am a lot more circumspect about voicing my displeasure whenever I visit that part of the country.