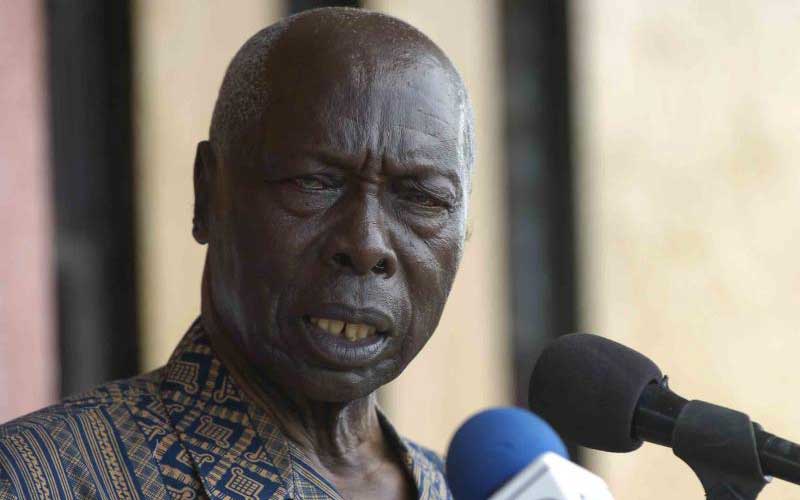 Former President Daniel Moi
(pictured)
has passed on at a critical time when the country is witnessing political tension between President Uhuru Kenyatta and Deputy William Ruto camps. However, the political life of Moi could be a reflection of what is happening in the current leadership. It became evident, since March 9, 2018, after the handshake, that President Kenyatta and his deputy have different ambitions.
SEE ALSO: Murathe pitch for Raila presidency stirs storm
Being political students of Mzee Moi, Kenyatta and Ruto can tap from their foregone mentor to achieve their diverse goals. The President is likely to honour Mzee Moi by adopting his political tactics to maintain peace, love, and unity to secure his legacy. Among the tactics, which Kenyatta has started practising include rendering critics irrelevant, recognising loyalty and building alliance with the opposition. Moi did this to secure his legacy after losing trust in allies. How the second president of Kenya rose to power offers lessons for Ruto. Just like the DP, the former President's journey to power experienced political hurdles. In 1976, Gikuyu, Embu, and Meru Association (Gema), led by Kihika Kimani, Njenga Karume and Mbiyu Koinange, worked to ensure Moi does not succeed the founding father Jomo Kenyatta. Since the Gema were interested in preserving the presidency to their region, they attempted to change the Constitution to bar Moi from automatically taking over as President for 90 days after Mzee Kenyatta dies.
SEE ALSO: Uhuru in surprise city tour
However, Moi got reprieve when then Attorney General Charles Njonjo declared that it was treason to imagine the death of the president. In 2018, Jubilee vice chairman, David Murathe, declared that he will block Ruto from succeeding Uhuru come 2022. In honouring Moi, Ruto is likely to take low-key in politics to ensure good relations with the president. While at it the DP can align himself with a strong leader from Central, like Moi did with Njonjo, to ensure the referendum does not upset the political dispensation. James Mwalimu
SEE ALSO: Irony as Mt Kenya differs on new cash sharing formula