East African countries should join hands to fight locusts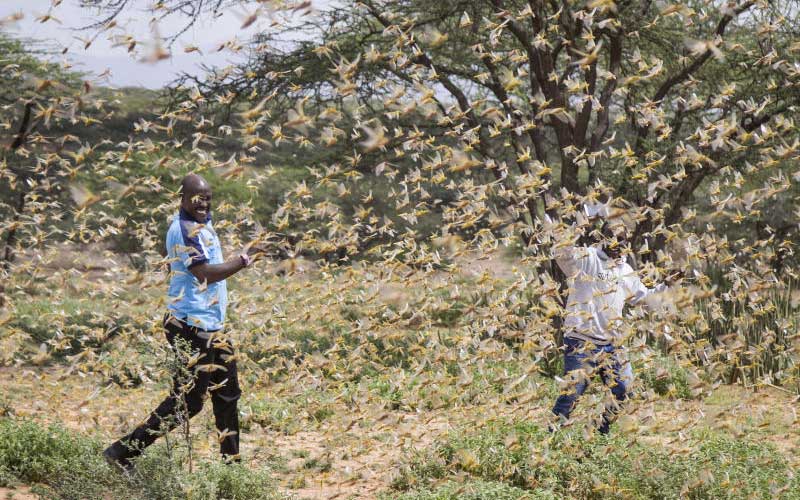 Swarms of locusts have destroyed large areas of farmland and are threatening food security in East Africa. East African countries and those in the Horn of Africa ought to work together for effective control of these destructive insects.
Kenya, Somalia, Ethiopia, South Sudan, Djibouti, Eritrea and Uganda should unite and look for a lasting solution to this attack.
Kenya is reporting its worst locust attack in 70 years according to the Ministry of Agriculture. Billions of these insects have already destroyed hectares of crops across the country. Intense locust attacks have also been reported in Ethiopia and Somalia. The insects have also attacked parts of Sudan, Djibouti and Eritrea.
The United Nations Food and Agriculture Organisation (FAO) has decried the locust foray as East Africa's worst desert locust invasion in 25 years.
In Somalia, the government declared a national emergency. It said the outbreak was presenting a major threat to the already weakened food security situation in the impoverished country. Airplanes have been spaying pesticides to control the locust population.
But officials have said they have limited money and equipment to fight the insects. UN officials have said they are worried that the swarms could spread to central African countries.
They estimate that $76 million (Sh7.6 billion) is needed urgently to widen efforts aimed at preventing further spread. The desert locusts – which grow to be as long as a man's finger - breed rapidly. They fly in large groups in search of food.
The Intergovernmental Authority on Development (Igad,) an East African group, reports that locust swarms can carry 150 million locusts per square kilometre. It noted that "the swarms migrate with the wind and can cover between 100 and 150 kilometres in a day."
An average swarm can destroy enough food in a day that can feed 2,500 people, the group added. UN officials have warned that if the extreme invasions are not controlled, the number of locusts could grow 500 times by June.
Last December, Somalia suffered a locust outbreak that destroyed about 100,000 hectares of farmland. Government officials have warned that a second invasion will be even more destructive.
The current invasions followed one of the wettest years on record in East Africa. Heavy rainfall and warmer temperatures help the locust population grow.
Officials from FAO say that even before the locust invasions, about 11 million people were experiencing food insecurity in Ethiopia, Somalia and Kenya. The agency has proposed an inter-government approach in East Africa as the only way to combat locusts.
Mathew Kipkurui