Couples defy rains, horrid Covid-19 to celebrate love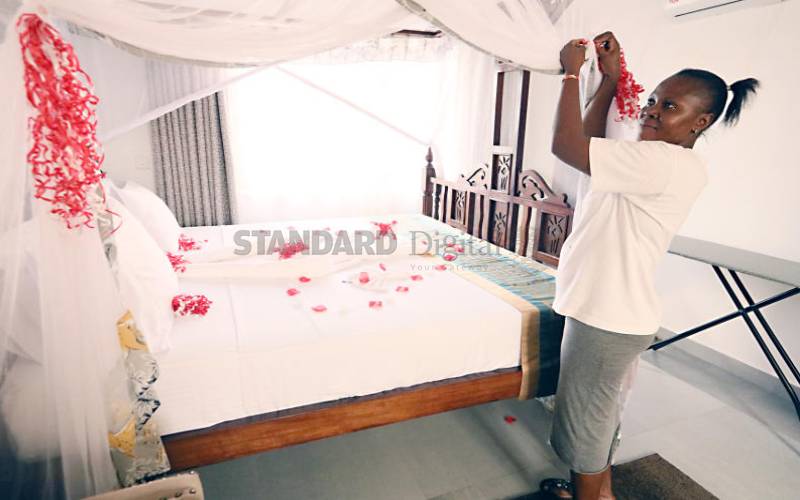 This year's Valentine's Day was tainted by the coronavirus pandemic and rainy weather that persisted most of yesterday.
However, the dampening circumstances did not stop lovebirds, who walked hand in hand by the dozen in the city centre, some wearing red, some carrying roses they had just been gifted, beaming in happiness.
Restaurants enjoyed good sales due to the lovers' day, with couples already trickling in for brunch at CJ's restaurant on Koinange Street.
The popular restaurant had minimal decorations to mark the day, but an outstanding single bunch of red balloons by the staircase reminded clients of the special day.
There was also nothing special made by the chefs, just the usual expansive menu with over 300 dishes to choose from.
"We have stopped reservations temporarily and are only serving clients on a walk-in basis due to Covid-19," Omar Shariff, a manager at the establishment told The Standard.
Shariff said the eatery planned to surprise two of the best dressed couples with a treat, a specially decorated slice of cake that would celebrate them for sharing their Valentine's meal there.
Large numbers
Over at the Sarova hotels, business was booming, with all the lodges being fully booked for valentine's Day weekend.
A source at the marketing department said that different branches offered different packages for Valentine's celebrations.
"At the Stanley Hotel, we are pushing dining more than anything else. But at other branches and especially the lodges, spaces are fully booked. Couples have been coming in large numbers this weekend just as they do each year for Valentine's Day," said a marketing executive at Sarova Hotels.
Packages offered by the hotel included a Sh12,000 five-course dinner inclusive of a glass of champagne, a bottle of wine and a live saxophone ballad, a Sh8,000 dinner for two and its alternative Sh12,000 package to stay the night too at Sarova Woodlands. Both offers included live entertainment and cocktails at subsidised costs, with a 'spending the night' package including breakfast in bed for the couples.
The ArtCaffe branch along Kenyatta Avenue said that business is typically a bit slower on Sundays, and they experienced the same on Valentine's Day yesterday.
"The reservations we have today are all inspired by this day. They are bookings for dinner later this evening. Otherwise, things are pretty slow being a Sunday," said a source at the eatery. The restaurant offered, alongside their usual menu, a red rose flower for each visitor upon entry.
Villa Rosa Kempinski offered brunch for couples at Sh6,500 per person, with an additional Sh2,300 cost to cater for three glasses of wine.
The luxury hotel also offered a body scrub, massage and facial treatment for Sh30,000 per couple for a two-hour service.The flower sales area near City Market also recorded booming business. It was all hustle and bustle for boda boda riders who parked in large numbers near the flower vendors area, receiving orders and transporting them to their different gift-receivers, hoping to make multiple trips.
Sam, who has sold flowers at the area for years said that the day falling on a Sunday exposed those who were in real relationships or marriage, and those sending bouquets to mistresses in their offices.
"I have sold around 30 bouquets since yesterday, and most deliveries are going to homes, not offices. The deliveries are also fewer than other years when it falls on a weekday," said Sam.
According to Sam, most of the orders are from loyal customers who have been going to him on the special day for years.
He sells a simple bunch of red roses for between Sh500 and Sh800 depending on the packaging, and the big assorted bouquets delivered in baskets at Sh1,500. The market was packed, with many vendors looking to have their piece of the pie on this day that meant good business for them.
Ann, who also sells flowers in the area, complained that the weather as well as the day of the week slowed down business. "I am selling a bunch for Sh500, and a basket bouquet for Sh1,000. So far I have only sent out five deliveries, but I am waiting until evening to see if my sales improve," she said.
For Lucy Koech and her husband Joe, who have been married a little over four years, Valentine's Day is just another day, with no plans out of the ordinary.
"We treat each other lovingly each day, and everyday is Valentine's Day for us. I have not put up expectations for him, and knowing him, he has no special plans today. But that is fine. We will just spend the day relaxing at home with the children," said Lucy.
James Omondi and his wife Julia, who are currently separated by long distance due to work obligations, also did not celebrate the day; they wished each other a good day on the phone and left it at that.
"If he was in Nairobi and not away for work, we would definitely have gone to a special lunch or dinner. We always celebrate Valentine's when together, but today, I will have to contend with the situation," said Julia.
Tom Kimani, an entrepreneur based in Nairobi, said he had flowers delivered to his wife at home, and planned to take her out to an early dinner last evening.
"I had her favourite chocolates, wine and flowers wrapped in one basket sent home, and I was there when she got the package. She was over the moon. We will go to dinner early to beat the curfew, and that should make the day memorable," said Tom.?