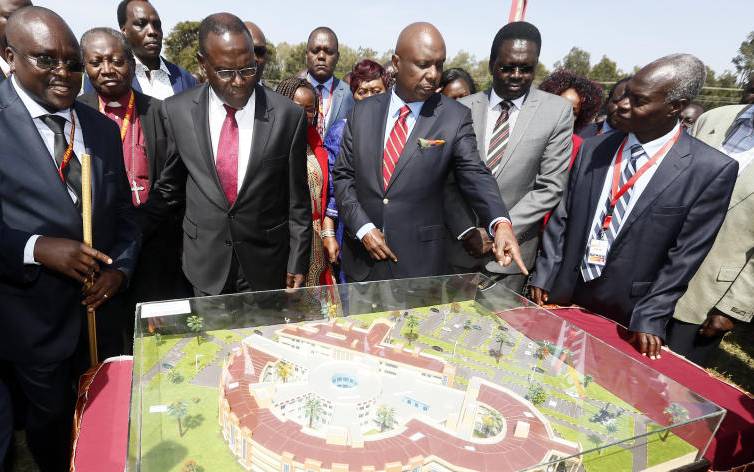 A government pledge to support the completion of a Sh45 billion referral hospital initiated former President Daniel arap Moi was a shot in the arm for mission health facilities across the country.
President Uhuru Kenyatta promised to support the completion of Kabarak University Technical Research and Referral Mission Hospital launched by Mzee Moi at Kabarak in June 2017.
Uhuru made the announcement during Moi's funeral service at his Kabarak home on Wednesday.
"Mzee Moi had his last project. He had begun the foundation of a referral hospital. He wanted it to be a referral hospital for our mission hospitals. He, unfortunately, died before completing the project," said Uhuru.
"We have said as a government that we shall support the project together with our brothers," he said.
Uhuru announced that the government would install solar energy generating facility at Kabarak whose proceeds will be used to construct and complete the 500-bed state-of-the-art facility.
Once complete, the hospital is expected to deliver quality and affordable teaching, research, and referral services to mission health facilities in Kenya and neighbouring countries.
It is also expected to boost the government's efforts to implement the Universal Health Coverage.
The facility is expected to boost services in at least 23 mission hospitals across the country under the Christian Health Association of Kenya.
"Mzee loved environmental conservation; we shall, therefore, work together to set up a solar energy project that will fund the hospital he began," Uhuru said.
The project will be constructed on 100 acres.
The facility shall host a state-of-the-art cancer treatment centre, centre for disease control, critical care department, renal and kidney plant, obstetrics and gynecology section.
In addition, it will have a paediatric area, a biomedical research centre, outpatient services as well as a cardiac centre.
Baringo Senator Gideon Moi welcomed Uhuru's pledge.
"We appreciate your support on the referral hospital," he said.
The US conglomerate, General Electric (GE) Healthcare will provide technology for the project.
The firm will develop infrastructure, technology transfer, education, and training to support health systems and patient outcomes.
In an earlier interview, GE Healthcare Regional Project Development Director Alexander Oketch told The Standard the firm would provide modern, state-of-the-art equipment to offer advanced diagnosis, care, and treatment for the most complicated cases for women and children.
It will also provide stem cell and regenerative medicine and offer teaching, research and referral services in neurology and minimal invasive surgery and nuclear medicine.
"The facility will handle infectious diseases, both communicable and non-communicable, emerging and re-emerging diseases," Oketch said.
The cancer department is expected to be a modern diagnosis, treatment and monitoring centre capable of handling all stages of the disease.
According to Oketch, Kabarak University Technical Research and Referral Mission Hospital is designed to offer mission health facilities across the country a chance to compete with the best.
"They will be able to provide high-quality health care to patients," he said.