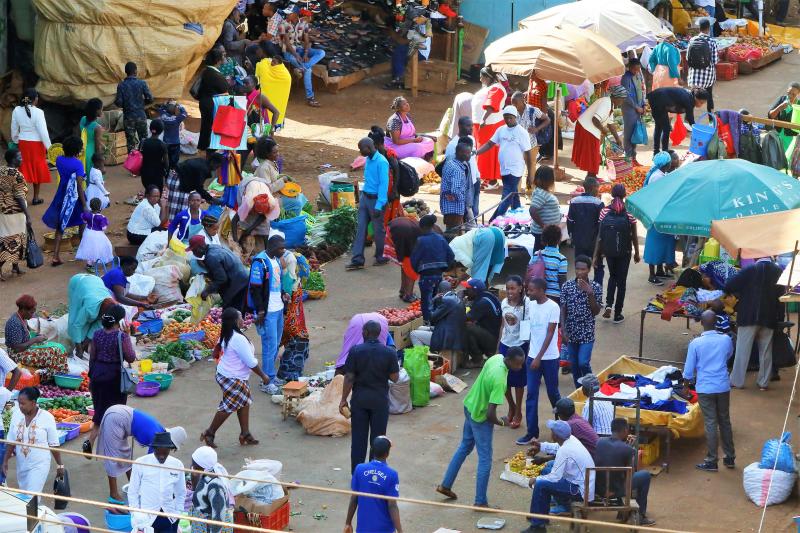 The numbers seem to vindicate Kenyans on the state of the economy in 2019: it was a difficult year.
The economy experienced slower growth between July and September last year than it did over a similar period in 2018, a development that means President Uhuru Kenyatta's work starting this year is cut out for him.
As Kenyans ushered in a new decade, the Kenya National Bureau of Statistics (KNBS) released a report that rained on the parade.
The national statistician noted that the size of the country's economy - which is measured by adding up all the goods and services produced, technically known as Gross Domestic Product (GDP) - expanded by 5.1 per cent in the third quarter of 2019 as key sectors plunged. The economy grew by six per cent over the same period last year.
Read More
Poor weather
Poor weather affected agriculture - the backbone of Kenya's economy - and was to blame for the sluggish growth. The sector expanded by 3.2 per cent during the quarter under review compared to 6.9 per cent in the third quarter of 2018.
The production of tea and volume of cane delivered to millers declined by 9.6 per cent and 21 per cent, respectively. The improved production of coffee and horticulture did little to offset the decline in the agricultural sector.
Other sectors that underperformed thus affecting the economy's overall performance include activities of manufacturing (3.1 per cent), electricity and water supply (4.9 per cent), construction (6.6 per cent), and wholesale and retail trade (4.7 per cent).
All the sectors, save for finance and insurance, experienced slower growth compared to last year.
"Economic performance in the third quarter of 2019 was comparatively slower than in the corresponding quarter of 2018. The deceleration in growth was mainly on account of suppressed growth in most of the sectors of the economy," said KNBS in its report.
This comes at a time when different leaders have echoed Kenyans' view that things were tough in 2019, though most of them voiced optimism that 2020 would be different.
Central Bank of Kenya Governor Patrick Njoroge, in a tweet, described 2019 as a "brutal year all round".
"Still, we accomplished a lot at @CBKKenya, the banking sector, and more widely," he continued.
Austerity measures
Acting Treasury Cabinet Secretary Ukur Yattani said his priority for this year would be to scale up the austerity measures that President Kenyatta unveiled this year.
He is also keen to end the pending bills menace or culture at national, county and State corporations, saying he would make it an "extremely uncomfortable situation for all defaulters".
"I will seek to enforce and sustain public cost containment by expanding austerity measures to all public institutions .... (I) will aspire to see public and State officers inject transparency and prudence in public debt management. We need to address the middle level structure of government bureaucracy to have a change of mental framework in public management, inject efficiency and destroy the cancer of corruption," he said.
Council of Governors Chairman Wycliffe Oparanya said his priority for 2020 would be to fix the economy, support the Building Bridges Initiative (BBI) report due to its provisions on inclusivity in governance and strengthening devolution.
Amani National Congress (ANC) Party Leader Musalia Mudavadi noted that in 2019, the economy took a beating.
"Going forward into 2020, correction of the draining hardship in the country must be prioritised. The government has its assignment properly cut out," he said.
Several reputable institutions - including the Treasury, CBK, the International Monetary Fund, and the World Bank - had projected an under performance of the economy in 2019 compared to 2018.
Some of the factors that have been cited for the poor showing including depressed demand due to a lack of credit, austerity measures by the government as it tries to prevent the country from plunging into a financial crisis, as well as poor weather in the beginning of the year.
On Monday, a new survey had shown that for many Kenyans, 2019 was a year of broken dreams.
The survey by Trends and Insights Africa (TIFA), a research company, showed that close to half of Kenyans found the going tough in 2019.
The few that had amassed some fortunes in 2018 saw their optimism deflated by a high cost of living, massive unemployment and corruption.
A paltry 17 per cent described it as a good year, a significant decline compared to 43 per cent that gave the same response in 2018.
According to the end-of-the-year poll, more than a third of the respondents could not tell whether it was a good or bad year.
"The findings of this study point to a double-edged sword as the proportion of those who feel 2019 was a bad year declined (in comparison to a similar study in 2018) whilst those who say it was a good year declined from 43 per cent to 17 per cent.
"The proportion of those who are lukewarm about the year increased from one per cent to 35 per cent between 2018 and 2019," read part of the report.
Close to 40 per cent cited high costs of living as their most significant challenge in 2019, while another 18 per cent cited unemployment in a year that saw a lot of companies fire workers, even as others issued profit warnings.