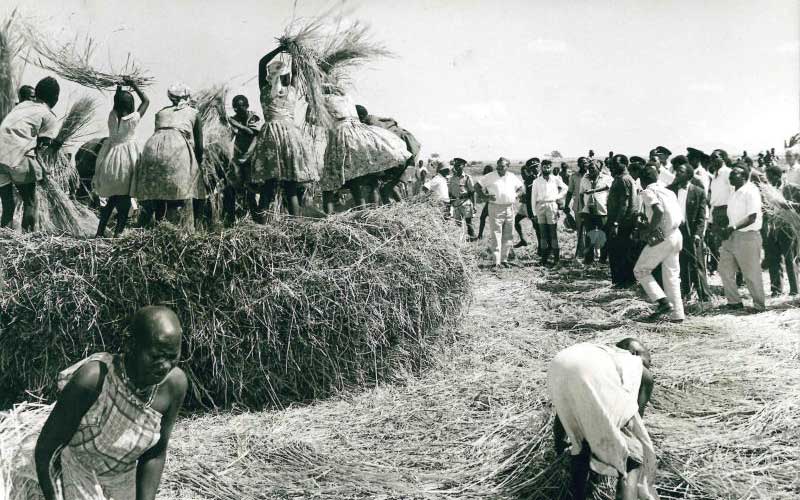 The white driver watched in disbelief as the gaunt black woman painfully took the details of his car at the gate.
He could not understand why the woman, who in his estimation should have been tiling part of the 200-acre estate, was delaying his departure.
It had not dawned on the man that the tide had finally turned.
Seething in rage, the white man stood as the shabbily dressed woman, arms akimbo, planted herself between the vehicle and the gate.
She had an air of authority and the stern look on her face could stop a runaway horse.
Read More
When he asked who the woman was, the answer almost made his heart stop. "I am Mukami Kimathi, Mau Mau, wife of Field Marshall Kimathi wa Wachiuri."
The colonial farmer's mind wildly raced, conjuring up images of unimaginable horror.
He scurried off his vehicle and started pleading for mercy.
Deflated, he then reversed his vehicle, entreated as the African workers unload the tank and for the second time approached the exit gate with his hat in his hand as he begged some more.
When the cloud of dust kicked off by the rapidly exiting farmer who had been caught red-handed stealing a tank from Yorke Davis farm had settled, Mukami finally smiled.
Dark history
And just like that one chapter of Kenya's dark history was closed, another one opened.
"It was poetic justice that I Mukami Kimathi, ended up living on a farm claimed from a British Colonial magistrate, someone who had no doubt passed sentence and destroyed lives like that of my husband and mine…"
However the joy of owning land, which her husband and thousands of other freedom fighters had died for as they battled the colonial administration would later haunt her.
The ecstasy of owning land in the newly independent country was not a preserve for the freedom fighters, the poor or the landless.
Former Secretary to the Cabinet Jeremiah Gitau Kiereini, who at one point was involved in the settlement project, relived his joy when he made his first purchase.
"In May 1964, I bought a small coffee farm in Ruiru from Alan Bocket. It had a nice two bedroom house and there were 20 acres under coffee... It was the same farm I used to pick coffee in 1936 and 1937. It was going for Sh1140,000."
Kiereini, in his memoirs, says he took a loan from Land Bank, now known as Agricultural Finance Corporation. Since the bank could only give him Sh100,000, Kiereni had to settle the balance after selling coffee from the farm for a season.
At that time, he was an undersecretary in charge of provincial administration and was reporting to Oginga Odinga who was the vice president.
Former Provincial Commissioner David Musila has described how between 1968 and 1969 he helped settle hundreds of Africans in Molo.
According to Musila, in his days as a District Officer, he would visit a settler farm, evaluate whether it was suitable for settlement and then give notice to the owners to sell their farm machinery as it was not included in the government purchase.
Like thousands of peasants who had been allocated land under the newly formed African government's Million Acre Settlement scheme, Mukami realised that running a profitable venture in agriculture could be quite challenging.
She explains in her memoirs, Mukami Kimathi, Mau Mau Freedom Fighter: "I was frequently behind my loan repayment. When I could not afford to pay back the loan anymore, the government temporarily evicted me from the land. I promised to pay and signed some papers saying I would. I went back to the land and began farming day and night. I never rested."
It was also ironic that Mukami had been allocated land on the fridges of Aberdare Ranges, in the same forest where her husband had been shot and captured in 1956 as he fought for land and freedom and was ultimately hanged.
Karunaini Forest in Ihururu, Nyeri, where Kimathi had been shot was on the other side of Kinangop, Mukami's new home.
The genesis of the settlement of the landless peasants in the White Highlands where the colonial masters pursued their debauchery and white mischief had started shortly before independence.
When Kenya got independence in 1963, one of the most burning issues was resettlement of millions of Kenyans who had been rendered landless by the colonial governments skewed land system.
Land distribution during the colonial period was such that the most potential land in the White Highlands totaling to three million hectares (7.5 million acres) was subdivided into 3,600 farms comprising of 21,000 square kilometres.
This left the impoverished natives to occupy 84,000 square kilometres of Kenya geographical area of 356,000 square kilometres.
The land holding was such that the average size was between 400 to 800 hectares (900-1700 acres) although white settlers could own up to 20,000 hectares (50,000 acres) in arid areas.
To correct this, the joint government of Kenya Britain and West German conceived a massive land redistribution programme dubbed the Million Acre Settlement scheme, where an estimated 350,000 landless were to be settled.
The cost of the project was Sterling Pound 25 million (Sh.3.2 billion by today's exchange rate), which was a loan to the government of Kenya by the World Bank. It was estimated that 80,000 acres were to be purchased annually in a period of five years.
Peasant farmers
Kenyatta had initiated the scheme to counter an earlier attempt by the colonial government in cahoots with settlers and Kenya Africa Democratic Union who had started a settlement scheme where 73,000 hectares were to be bought and given free to 1,600 yeomen and 6,000 peasants.
The Ministry of Lands and Settlement under the stewardship of Jackson Angaine initiated the Million Acre Settlement scheme, where the government sought to settle about 350,000 families.
Under the massive land transfer programme, the government sought to empower the landless but opted to sell them the land instead of giving it out for free.
The scheme was encumbered by some challenges because some senior government officials and politicians used their offices to be allocated land.
The government also established a controversial policy where 100 acres were to be carved out together with permanent houses erected by previous owners and allocated to prominent personalities for settlement.
A study conducted by the National Lands Commission (NLC), Exploring the Status of Settlement Schemes in Kenya published in 2016 found that in the last 50 years there has been over 400 settlement schemes.
According to the NLC report prepared by Fibian Lukalo and Samuel Odari, from the onset, there were to be two categories of settlement schemes.
One category was for high density zones where squatters with little or no expertise in farming were to be settled on 25 acre pieces, while the other one was meant for those with the experience - they got 100 acres.
"The schemes took on an ethnic identity, and geographical settlement pattern of the Kenyan community leading to the creation of "ethnic enclaves' with Kikuyus being offered land in Central Kenya; Merus and Akamba in Eastern region and the Maasai's and Kalenjins in Rift Valley," the study states.
The oldest allocation of settlement schemes recorded was in 1962, when 20 schemes were allocated.
The pressure on land did not subside, necessitating creation of a special commissioner in 1965, to arrange for settlement of squatters in the so called Haraka schemes. Interestingly, the report found that the number of allocations declined steadily from 14.2 per cent in the 1970s, 11.9 per cent in the 1980s but started rising in 1990s (15 per cent ) and 24.1 per cent between 2000 and 2012.
The size of the land too has been declining because the average plot sizes in conventional schemes by 2016 was 23.03 acres, while that of squatter settlement schemes was 7.72 acres.
In some settlement schemes, the smallest unit of land was 0.5 acres. In some areas bordering urban in centres in the settlement this has further been decimated to 40 feet by 100 feet.
This subdivision of land to tiny, uneconomical sizes is now worrying food security experts and physical planners who are proposing radical changes, such as creation of skyscraper apartments in highly productive agricultural zones where peasants will be moved in.
According to some of the proposals seen by the Sunday Standard, the tiny pieces of land vacated by the peasants will then be amalgamated and leased out to large commercial farmers who will then pay the owners according to the land each family owns.
There are fears that the unchecked subdivision of land has created slums in rural and peri-urban areas where peasants live in appalling conditions with no water, sanitation, roads or even roads and electricity.