Police officer Katitu sentenced to 15 years imprisonment for murder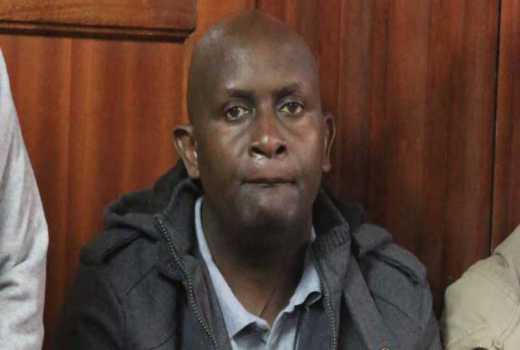 A popular police officer Titus Musila, alias Katitu whose arrest sparked protests, demonstrations and running battles between residents and law enforcers has been sentenced to 15 years imprisonment.
High court Judge James Wakiaga while delivering the judgement Thursday said despite Katitu being a hero to the people of Githurai, he acted against the law by taking a life of an individual.
"I decline to accept the argument that Katitu was loved by residents for his resilient in fighting crime because justice does not recognize popularity," said Wakiaga
In the Judgment, he said that the victim cannot be restored and his family said they were traumatised by the death of their loved ones.
"The family of the victim said they received threats from the convict on August 24, 2014 and they were forced to relocate," said Wakiaga
Wakiaga said that in those 15 years, the convict should spend 3 years in probation and since he has been in custody for 4 years the same should be deducted from the remaining 12 years.
He said the officer, even though was fighting crime, he was expected to protect the life of Kenneth by handcuffing him and taking him into custody instead of shooting him
Wakiaga added that police officers should exercise their powers according to the law and firearm can only be used where there is need.
"No officer has a right to take the life of an individual and in this case the victim cannot be restored," said Wakiaga.
In the judgment, Wakiaga confirmed that there has been an influence of media with the intention of affecting the judgements of the court.
He said that there were some media outlets who were commenting about this matter giving opinions before the matter has been concluded.
After he was convicted of murder in January 7, 2018, Katitu while mitigating he submitted that he has four children who depend on him and that he was very remorseful of what he did.
Through lawyer Cliff Ombeta, Katitu said that he became a hero to the people of Githurai because he was helping them to fight criminals in that area.