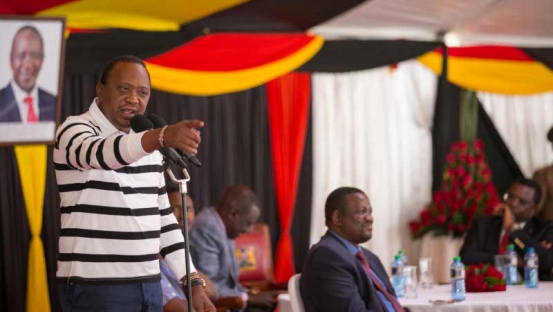 The Law Society of Kenya says President Uhuru Kenyatta is entitled to express his dissatisfaction in yesterday's Supreme Court ruling which invalidated the announcement of his reelection on August 11. LSK commended Uhuru for also declaring that he respects court's decision which he does not agree with. In a press conference on Friday, shortly after the ruling President Uhuru said he disagrees with
Supreme Court ruling
but will respect it. He has urged Kenyans to maintain peace and shun tribalism. "I respect the Supreme Court's decision but I don't agree with it... Millions of Kenyans queued and voted, but six people have decided that they will go against the will of Kenyans… Again I say, the Court has made its decision and we respect it but we do not agree with it," said Uhuru who was accompanied by Deputy President William Ruto. However the LSK, condemned his further attacks towards Judiciary terming the remarks as inappropriate and unconstitutional.
SEE ALSO: Murathe pitch for Raila presidency stirs storm
"Further statements by President describing the Chief Justice and other judges of the Supreme Court of Kenya as '
wakora
' (crooks or scoundrels) and ominously declaring that they should wait for him after he is successful in the coming fresh elections are unfortunate and wholly inappropriate remarks from the head of state who under the Constitution is a symbol of national unity, enjoys immunity from criminal and civil proceedings and must promote and enhance the unity of the nation." Said the Law Society in a press statement. On Saturday, President Uhuru hit out at the Supreme Court questioning the grounds on which his nullification was determined. He
threatened to deal
with the Judiciary if he will be reelected within the 60 days that Supreme Court ordered the Independent Electoral and Boundaries Commission (IEBC) to conduct fresh presidential polls. "Even if you are so stupid, ask yourself something: The people elected an MCA, results were transmitted, and no one asked questions. Those of MPs and senators were transmitted, and no one asked questions and they have been sworn in. Those of governors were transmitted, no one asked questions. Now how do four people and wake up and say there was a technicality in the transmission of the results of the President only? How?" asked Uhuru. LSK urged President Uhuru to respect, uphold and safeguard the Constitution an obligation which extends to respecting, upholding and safeguarding the rights of the Chief Justice and each of the judges of the Supreme Court of Kenya under Article 28 of the Constitution. "Those remarks violate this obligation and are condemned unreservedly by the Law Society of Kenya. And they do not in any way lower, in the eyes of their fellow Kenyan citizens, the high esteem in which the Chief Justice and the judges of the Supreme Court of Kenya are now held, "LSK insisted.
SEE ALSO: Uhuru in surprise city tour