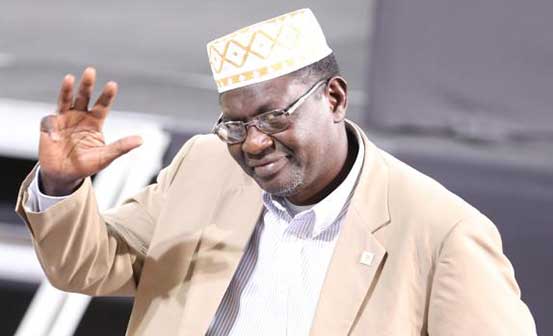 Malik Obama has invoked the wrath of Kenyans on social media following his decision to travel to the US as a guest of controversial Republican presidential candidate Donald Trump.
The half-brother of outgoing US President Barack Obama was Thursday the subject of discussion among angry social media users who castigated him for allegedly betraying his own blood.
His decision to back Trump has also not gone down well with other members of his family or clan elders who on Wednesday labelled him a disgrace.
Malik (pictured) has also trashed President Obama's eight-year legacy and is campaigning to stop Democratic presidential nominee Hillary Rodham Clinton from succeeding him as the President of the world's most powerful nation.
One of President Obama's uncles, Said Obama, accused Malik of accepting freebies to blackmail his own brother.
Read More
And online, some Kenyans left no doubt about how they felt regarding his controversial decision.
@Janet-Kerubo-Machuka tweeted: "Malik should not even come back to Kenya for betraying his own brother. I thought blood is thicker than water until Malik Obama showed his real blood. He should never come back to Kenya."
@Kenya West blamed Malik for betraying his own brother while @KinyanBoy tweeted: "Malik Obama should just be man enough and work for his success and not blackmail Obama. Hate such characters."
Others, however, sympathised with him. @BEAYAHUS wrote: "Why are Kenyans upset at Malik Obama? You don't even know the guy. Besides, it aint like Obama has done so well. Look at his policy in Africa (sic)."
@or_kelvin also did not see the reason for the fuss about Malik's support of Trump: "Malik Obama speaks for himself!! He represents no one... why bother??"
Malik also took to Twitter to explain his decision, blaming Obama for allegedly neglecting his family in Kenya. He wrote: "I tried for years to get my brother to pay attention to his family. Trump pays attention to his family. So he is a good man."
In another tweet, he wrote: "Charity begins at home. My brother and Hillary need to learn this. Trump knows."
Elders' curse
He had previously attacked President Obama in an interview on Fox News with Sean Hannity, for "being unreachable", claiming the Presidency had "changed".
On Wednesday, clan elders in Kogelo village, Siaya County, and Malik's close relatives expressed their wrath following Malik's support for Trump.
One of the US President's uncles, Said Obama, accused Malik of blackmailing his own brother.
"He has no moral authority to wage war against his brother and the President of the US, who is highly respected across the globe," said Mr Said.
"As President Obama's immediate family, we distance ourselves from Malik's relationship with Trump, whose utterances and threats against Muslims and Africans living in the US have shocked the world," he added.