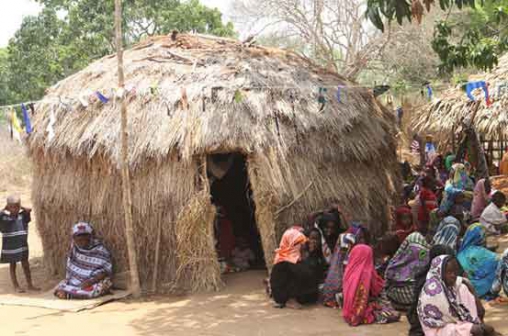 Hundreds of livestock have died as drought continues to ravage the country.
Thousands of people, mainly pastoralists, have also been forced to leave their homes in search of water and pasture for their animals.
In Garissa County, the situation has been worse over the last two weeks as drought threatens both animals and human beings.
Local leaders say the situation has been made worse after most water pans dried up.
"People are now being forced to ferry their emaciated camels, goats and cattle using lorries to various destinations hoping to find water and pasture to save their livestock," said Sangailu MCA Abdullahi Buthul.
Read More
He said residents are now camping at Wakab harey, the only remaining water pan in the entire Hullugho sub-county.
"However, the watering point is fast drying up. It is also getting contaminated due to overuse. In the next two days, the water pan will dry because it's being used by hundreds of people, some trekking from areas as far as 90 kilometres away," he said.
Seven primary schools, two mobile schools and hospitals are on the verge of closure due to lack of water.
"Some of our herders have gone as far as in Boni forest in Lamu County in search of pasture and water. We appeal to KDF who have been working in the area to protect them. They are not a security threat," said Buthul.
In Laikipia County, 100 schools may be closed as parents leave with their children in search of water.
At the same time, stealing of livestock is on the increase in Laikipia North in what is believed to be a restocking strategy as many animals die due to drought.
Most men in Kimagandura, Chumvi and Doldol have left in search of pasture and water, leaving behind wives and children.
Laikipia North MP Mathew Lempurkel said most parents have migrated with their school-going children which has greatly reduced the populations of students in learning institutions.
He called for return of the feeding programme which he noted keeps pupils in school. "The government stopped providing schools with food and this has forced many students to drop out. Most of them have accompanied their parents who have migrated to different areas," said Lempurkel.
"Residents of Mukogodo East have move towards Mt Kenya forest while those from Sosian and Mukogodo West have migrated towards the Aberdares forest. The crisis is serious and we are asking both the county and national government to intervene," he added.
At the same time, the legislator over 60,000 people are faced with starvation in Laikipia North. "Rivers have also dried up and residents are using water from polluted pools," said Lempurkel.
losing livestock
Meanwhile, pastoralists in Narok County are at risk of losing livestock as water and pasture continue to dwindle due to drought.
National Drought Management Authority (NDMA) Information Officer Joshua Mayeku said the food and water that locals have will only last for the next one month if the current dry spell persists.
"Narok South, North, West and Transmara West sub-counties as the most affected, according to recent reports. Among the interventions we have lined up include sinking boreholes. We will also repair existing ones. We will also provide plastic water tanks in selected institutions, including schools," said Mayeku.
Narok County has over 1.4 million heads of cattle, including 1.6 million sheep and 850,000 goats. The county has the potential of being the highest producer and exporter of meat in Kenya.
Mayeku said NDMA will work with the county government to vaccinate over 300,000 sheep and goats against sheep and goat pox.
The initiative that is estimated to cost Sh3 million and will mainly target Narok West sub-county where livestock is highly affected by the ongoing drought.
"Vaccination will prevent livestock deaths during this dry season," he said noting that many livestock have died due to drought.
Meanwhile, Mayeku said prices of maize and beans prices have doubled due to drought, especially over the past two months
"One 90-kg bag of maize is now selling at between Sh4,500 and Sh5, 000. The same bag cost Sh2,500 in August. A 90-Kilogramme ag of beans is now going for up to 7,500," he said.
County Livestock Production Officer Jamin Rutto urged farmers to embrace modern farming methods to make the county food secure.
"For a long time now, most residents have been keeping livestock which do not yield much in terms of milk and beef. They do not fetch good prices in the market either. It is time for change because it is our resistance to change that has immensely contributed to food insecurity in the county," said Rutto.
He also lamented that poor infrastructure is also inhibiting marketing of livestock and its products. County director of Meteorology Peter Runanu said rains are expected in two-weeks time.
"Though the rains will not be as heavy, they will help in sustaining livestock and crops besides being used in home," he said.
Runanu urged residents to set up tanks so they can harvest water before the rains predicted to end on the first week of December start falling.
Elsewhere, a water crisis has hit Tiaty in Baringo County forcing locals to migrate in search of water and pasture. More than 5,000 families with approximately 10,000 livestock are facing a serious shortage of water and pastures after several water points dried up.
The situation has worsened in the last three months and locals are appealing on the government to intervene.
Three primary schools and a secondary school are at the risk being closed after streams of water they have been relying on dried up.
dirty water
"Pupils are forced to drink dirty water for lack of an alternative. They are drinking water from the same holes wild animals drink," said Florence Lomariwo, Chemolingot Primary School headmistress.
According to her, water scarcity has forced most schools to suspend lessons until 11am to allow pupils hunt for the precious commodity from one place to another.
She said the worst affected were Early Childhood Development Centres and urged the county government to consider supplying water in the region.
Frustrated by county's failures to intervene, hundreds of thirsty residents and pupils blocked Loruk-Chemoligot road and matched to the sub-county offices to protest lack of water.
Led by Ribkwo MCA Daniel Tuwit, they castigated the county government which they accused of failing to repair six main boreholes feeding the water reservoir that serves the area.
"The executive is not willing to sort out the water issue in this area. I have been into governor's office 12 times before we decided to protest. About four seasonal rivers have started to dry up and soon even Intex Construction Company would be forced to suspend construction of a major road in this region," warned the MCA.
In a memorandum to governor Benjamin Cheboi, the locals vowed to enhance protests unless the county government addressed the water problem
"Donors such as JICA and the Belgian government which wanted to help provide water in arid areas such as Tiaty have been discouraged from doing do by malicious and selfish individuals in the county government. This has seen water projects taken to other places as we continue to suffer," said Augustine Loribo.
But sub-county administrator, Moses Akeno said water trucks will be dispatched to the affected villages and schools.
"Your concerns are genuine and will be looked into without much delay. The boreholes we have been relying on have experienced countless mechanical problems since April but they are being repaired," said Akeno.
However, the protesters who did not appear satisfied with the administrator's explanation went ahead to give him two days to address their issues failure to which they will camp at the governor's office.
Two other boreholes at Chesakam and Natan developed mechanical problems about four months ago and locals have been relying on water from rivers such as Lieulieu, Chesitet, Chesakam and Cheptunoyo which have since dried up.
A Chesakam resident, Michael Laban, said they are forced to excavate rivers to access water both for their livestock and domestic use.
Last week, he said, a villager was buried alive by sand while digging out water for his camels. Other residents, he said travel for up to 10 kilometres is search of water.