Karangi, Kambi among those picked to head parastatal boards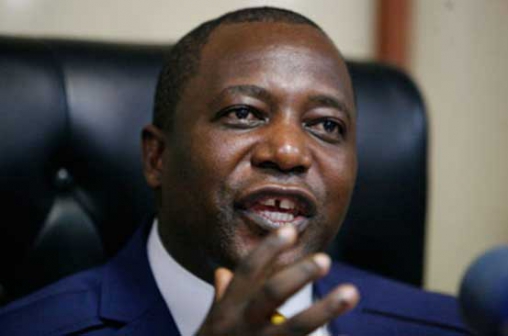 President Uhuru Kenyatta has made fresh board appointments in which he has named retired Chief of General Staff Maj-Gen Julius Karangi to chair the Kenya Airports Authority Board.
The President revoked the appointment of former Inspector General of Police David Kimaiyo, who had barely served for 18 months after his resignation from the Kenya Police Service in 2014.
Immediate former Labour Cabinet Secretary Kambi Kazungu is also back from the cold after President Uhuru tapped him to chair the National Government Constituency Development Fund, formerly known as CDF board. Kazungu will, however, have to be vetted by Parliament.
Former Cabinet Minister Raphael Tuju was appointed as the new non-executive chair of the Lake Basin Development Authority board for a three-year period.
And former Assistant minister Bifwoli Wakoli, whose appointment at the Kenya Water Towers Agency board was revoked by Environment CS Judy Wakhugu last Friday, bounced back as the new chairman of the Agricultural Development Corporation board for a period of three years. Ronald Osumba, who was Peter Kenneth's presidential running mate in the 2013 General Election, takes over the scandal-ridden Youth Enterprise Development Fund board as chairman.
Last week, Youth and Gender Affairs CS Sicily Kariuki constituted a fresh board comprising Hellen Machora, Caroline Oloo, James Kiiru, Julie Waweru, Suleiman Noor, Faith Kibet, Juliet Nyangai and Benson Mutemi. Former Cabinet Minister Noah Katana Ngala was appointed the chair of Kenya National Library Services board.
Former ODM Vice Chairman Ramadhan Seif Kajembe also bounced back as the new chairperson of Kenya Ferry Services board. Another Coastal, Dr Rashid A Aman, landed the chairmanship of the board of Kenyan National Commission for UNESCO. Senior Counsel and former chair of the Committee of Experts Nzamba Kitonga was appointed the chair of the Council of Legal Education for a period of three years.
Potential candidate
Nzamba has been touted in some quarters as a potential candidate for the position of Chief Justice or Supreme Court judge. Lawyer Deboarah Bubi, who sat in the TNA nominations appeals tribunal, was rewarded as chair of the Youth Advisory Board.
Others appointed include former Naivasha MP David Mututho (chair Transport Licensing Appeals Board), former CID boss Dr Francis Sang (chair Betting Control and Licensing Board) and Prof Michael Bowen (chair Industrial Development Bank).
Dr David Wanyonyi is the new chair of Kenya Tse Tse and Trypanosomiasis Eradication Council.
Other appointees are Mwambu Muliro as chair of Utali College Council, Eng Sammy Tangus as chair of Kenya Yearbook Editorial board, Wycliffe Omurwayi as chair of Kenya Plant Health Inspectorate Service and David Muthoga as chair of Kenya Medical Training College.
At the same time yesterday, Uhuru merged the steering committee of New Partnership for Africa's Development (NEPAD) and African Peer Review Mechanism (APRM) Governing Council into one NEPAD/APRM Kenya Governing Council and appointed Prof Michael Chege as the chairperson.
Also appointed into the Council are lawyer Jenifer Shamalla and Michael Muia Kisilu. Mark Dunford made his way into the Utalii College Council, Paul Kenduiywo into Industrial Development Bank Capital board.