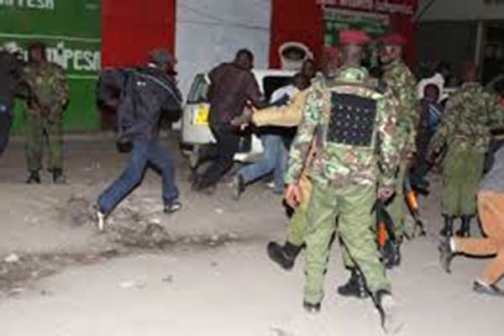 Nairobi, Kenya: Some 114 illegal immigrants were Wednesday night arrested in Ruaraka area, Nairobi in an operation by police.
The men and women drawn from various countries including Nigeria and Ethiopia had been in separate apartments in Allsops area when police who had been tipped off arrived in lorries.
They were all arrested for being in Kenya illegally.
Starehe OCPD Alice Kimeli said they were verifying the aliens' documents before they take them to court for being in the country illegally.
Read More
"We are looking into their documents before we take further action on them," she said.
She added there had been a complaint that some of the immigrants are involved in crime, which is under investigation.
Police say the operation against the immigrants is ongoing in the city and asked those who are here illegally to register with authorities.
The incident is the latest in a series by police. Wednesday, 23 Ethiopians were arrested from a house in Kahawa West for being in the country illegally. Most of those arrested come here to seek for jobs or are on transit.
Police and immigration officials have decried increased cases in which Ethiopian aliens are nabbed in the country while on transit to either Tanzania or South Africa.
Police face difficulties in dealing with the aliens because they cannot speak in Swahili and English.
Cases of human smuggling have been on the rise in the region with hundreds of young men from Ethiopia finding their way into South Africa through Kenya in search of employment.
The majority of them cannot however communicate in English.
What is puzzling is how the immigrants manage to evade many police roadblocks mounted from Moyale border where they use to Nairobi.
There are more than 20 roadblocks on the stretch, which raises the seriousness of the security agents to tame the practice.