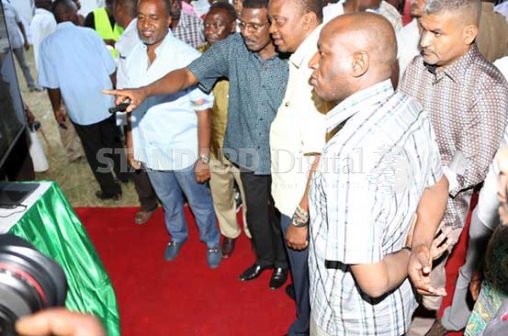 President Uhuru Kenyatta has asked manufactures to reduce prices of commodities to enable Kenyans benefit from the dropping cost of energy.
The Head of State noted that the cost of power has dropped drastically since 2014 and this should be reflected in the cost of goods.
He was speaking yesterday at Makadara grounds in Mombasa during the launch of the national street lighting programme dubbed 'Mwangaza Mtaani' targeting 51 towns and trading areas in the country.
President Kenyatta dismissed those questioning his long stay at the Coast, saying he can work from anywhere in the country. "From Mombasa I will move to work from Garissa, Kisumu, Nakuru and any other place." The President announced that the government will partner with donor agencies to ensure water supply to all schools, adding that power connection to primary schools will be complete by the end of this month. "The Government will keep the momentum so that the tariffs can remain low and we call on the manufactures to lower the prices of the products for the consumers," he said.
24–hour economy
Read More
Uhuru disclosed that the Government will spend more than Sh7.22 billion to put streets lights in major towns and trading centers by February 2017 to propel the country to a 24–hour economy. In phase one of the project 24,494 street lights will be put up in towns and trading centres across the county at a cost of Sh2.5 billion.
The President said the coast for street lighting had been reduced from Sh11.24 to Sh4.35 per kilo/hr to enable county governments to light up trading centres.
Yesterday, the President launched the street-lighting project for major towns in Coast, Nairobi, Western, Nyanza and Central region, and promised that other towns will also benefit from the initiative.
The Government will spend Sh224 million to light up Mombasa, Old Town, Nyali, Likoni, Majengo, Bondeni, Mbaraki, Changamwe and Kongowea.
In Kilifi County Sh94 million has been set aside to roll out the project in Malindi, Watamu, Timboni and Gede.
While in Kwale County, Ukunda, Diani and Tiwi will have street lights installed at a cost of Sh62 million.
"We are rolling out the programme to facilitate the 24 hour economy. We want to make sure that the have put street lights in all towns and trading centres to make sure that we transform the country into a 24 hour economy," said the President.