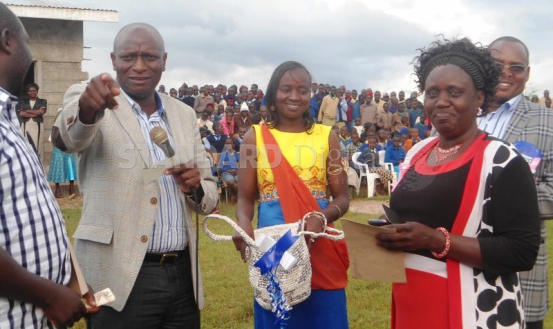 Jubilee legislators from Rift Valley have called on the International Criminal Court (ICC) to immediately drop the case against Deputy President William Ruto and radio journalist Joshua arap Sang.
The leaders said since the ICC Chief Prosecutor Fatou Bensouda has admitted her lack of sufficient evidence in the Kenyan cases, there is no point of keeping the two at The Hague-based court.
Kericho Senator Charles Keter said the ICC prosecutor should stick to the facts and agree that there is no case against Ruto.
"The court has nothing against the remaining two and should close the files immediately," said Keter.
The leaders spoke during a fundraiser in aid of a school administration block at Kombatich Secondary school in Keiyo south constituency.
"The case at The Hague should now end, why should they keep the two when Bensouda herself recently said she lacks sufficient evidence. The matter should be dropped just like President Uhuru Kenyatta was vindicated," said Keter.
Elgeyo Marakwet Senator Kipchumba Murkomen accused ICC of crucifying Ruto and Sang to carry other people's crosses.
"It is shameful for a prosecutor of a court of that caliber to say that she will use recanted evidence after she found no grounds on current testimonies," said Murkomen.
"ICC should remain to be a court of justice and be fair in all aspects instead of tying down innocent people. It freed other four accused people for lack of strong cases and the remaining two should be set free," he added.
The senator revealed that the Pan-African Parliament recent meeting in South Africa resolved to establish a regional court that will free the continent from colonial chains.
"As Africa we are steadfast in establishing our court that will fairly handle our issues," he said.
Marakwet East MP Kangogo Bowen said the witnesses that the court relied on have blatantly admitted to giving false testimonies that canNot sustain the matter.
"In a few months our Deputy President and Arap Sang will be free as the court based its case on false witnesses, it will be a joy for the entire country," said Kangogo.
Keiyo South MP Jackson Kiptanui said the admission by Bensouda is a clear indication the case was founded on falsehood and coaching of witnesses.
"We had expressed our reservations about the cases at ICC after the charges were confirmed. Time has vindicated us that the cases were not properly investigated," Kiptanui said.
His Uasin Gishu counterpart Isaac Melly observed that many people rivaling Ruto prayed that he be jailed by ICC but the truth is slowly setting the DP free.
Marakwet West MP William Kisang reiterated that ICC cases were poorly investigated and the revelation by Bensouda shows there is nothing against Ruto and Sang in that court.
"There was no truth by the witnesses, some recanted their testimonies and others have failed to give valid justification of their case and ICC should be brave enough to end the remaining cases," said Kisang.
Those in attendance also included MPs Moses cheboi (Kuresoi North), William Kisang (Marakwet West) and Elgeyo Marakwet Women Representative Dr Susan Chebet.
The leaders who spoke during the funds drive also pledged their full support to the Jubilee leadership.