Tears of joy as Shabaab captive reunites with kin
By MOSES MICHIRA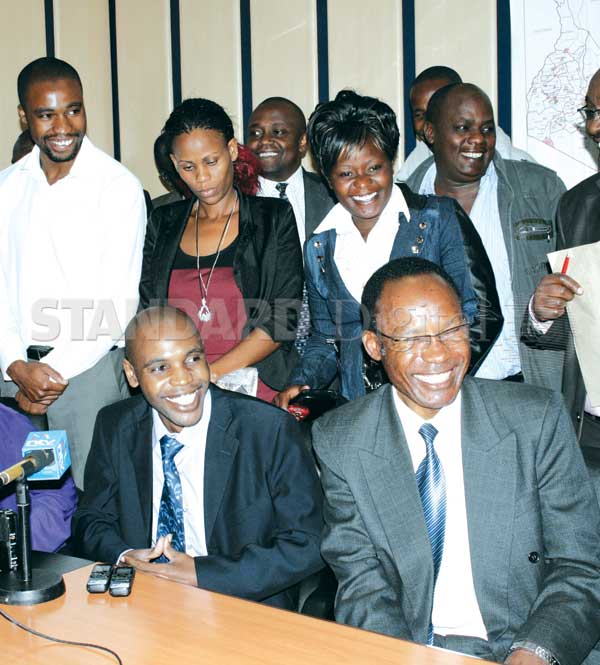 Edward Yesse Mule with his father Yesse Mule and relatives who came to receive him at Harambee House, Thursday. [PHOTOS: COLLINS KWEYU/STANDARD]
KENYA: The energetic and plump DO Mule Yesse who fell into the hands of al-Shabaab militia nearly two years ago, is not the same. The captivity has taken its toll on his body and left him wrinkled and generally frail. Now he needs help to walk!
On Thursday, Mule was received by his family in Nairobi's Buru Buru estate amid weeping and tears of mixed joy and agony as he was reunited with his relatives after 566 days in captivity in war-torn Somalia.
Openly, his father and wife Mona could not hold tears back. They broke down and wept in joy as they remembered how they nearly gave up on hope of seeing him alive.
The reunion was like no other as Mule narrated his ordeal at the hands of the brutal militia, which started under a hail of gunfire opened at them by more than 80 armed men in Gerille, Wajir County on January 11, last year.
His is a horror story punctuated with bouts of malaria, cholera and dysentery in a life in the dark, literally, where the captives were always blindfolded and their hands chained to their legs.
Edward Yesse, Mule's dad, wailed uncontrollably before father and son embraced for over five minutes amid praise songs from equally emotional kin and kith.
"Today, I have cried for my son, it has happened twice before," said Yesse as he narrated his family's experience since the capture.
Mule, then serving as DO in Gerille, survived execution by a split second after his capture alongside another civil servant Irungu Wainaina.
"As he (a militiaman) was about to pull the trigger, their commander — a corporal, ordered them to stop," said a terrified Mule who needed the support of his father, mother and wife to keep upright.
Deafening gunfire
Tears flowed freely as he spoke of the emotional and psychological torture he underwent, though he was able to gather some courage to savour a joke about the ordeal.
Yesse has even sought early retirement from his job as a public pension manager at NSSF in what close friends link to the torment occasioned by his son's kidnap.
Every minute of the 19 months since that fateful Wednesday felt like his last moment. At the time of capture, four policemen in uniform were killed in the heavy gunfire which left Mule deafened by the blasting that nearly fell the walls of the dispensary they had taken cover in.
The two survivors who escaped without a single bullet hitting them were dragged from their bullet-ridden cover and ordered to strip naked, before the supposed execution that was a microsecond too far.
However, just before the soldiers came into the heavily damaged dispensary, Mule and his compatriot baptised each other and even confessed their sins, as their deaths seemed definite.
"It is unbelievable we are alive but at that moment, we baptised each other before they 'killed' us," he said.
That was the start of the journey to deep inside Somalia that took the hostages to 13 different locations including the seat of government in Mogadishu. And even then, Mule was a prized prisoner for the renegade group.
Al-Shabaab soldiers were looking for the DO in the brutal attack, and had now captured him alive. After a brief celebration by the militiamen over the 'successful attack', the hostages in blindfolds and chains were loaded onto armoured vehicles, marking the start of a long journey into the wild.
Search begins
Mule remembers the militiamen prepared a meal before they set off, but the captives were not invited. And for many more weeks and months, meals would come in far between and in small portions, served under very unhygienic conditions.
Two days after the kidnap, the hostages were sighted far inside Somalia, which served as confirmation for Mule's family that indeed the duo might never return. That was one of the most difficult times for Mule's wife, who had been living with him in Gerille. She was airlifted to Nairobi to join the Yesses as the search for her husband began.
"I was terrified and could never imagine what the gangs were doing to him. I was walking dead," said Monah on Wednesday, a day before Mule was finally released by the military officials who were holding him since Sunday.
The emaciated Mule narrated that he owes his survival to his cellmate of 19 months Mr Wainaina, 57, who was more affected by the kidnap as he fell sick more often.
"We could hug when we were served with milk tea, which was very rare," says Mule.
Now the tormented Mule, with sunken eyes and thin bones, can afford a smile after an eternity of tears, darkness and prayers.
"The most meals we had in a day were two," he says. "They consisted small servings of either rice or pasta, with soup made from goat meat. A few times though, the soldiers could share a piece or two of the meat."
Mule arrived home Thursday in a new navy blue suit and brown shoes, several sizes smaller than his original size owing to the weight lost in hostage.
He now thinks of the al-Shabaab as ordinary people but with a misplaced ideology. "I can confirm they are human actually. We saw it when we fell sick. They even gave us special diets while on treatment."