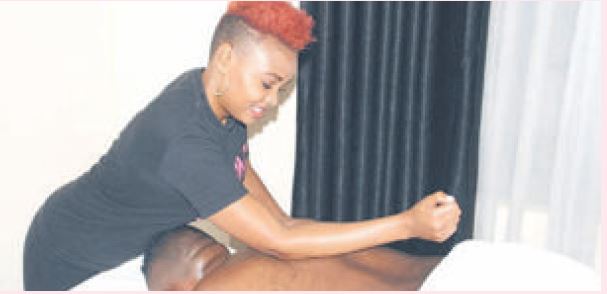 Growing up, Sonnie Kamau was always fascinated by the bevy of beauty products her mother carried in her handbag.
She admired her style and wanted to become like her.
"I would throw a tantrum when my mother was doing her nails and she would apply clear polish on my nails to calm me down," says Sonnie.
In school, fellow students coined her Miss Beauty due to the fact she was conscious of her looks.
In high school, Sonny says she felt like nothing was worse than having pimples. Students made fun of colleagues who had acne, blackheads, whiteheads or cysts. "It touched me to see fellow girls and boys struggle with a condition that was brought by hormonal changes, something that made them lose self-esteem despite it is treatable. Because of this, I concluded that I wanted to study something that would help me assist them in overcoming their fears and boost their self-esteem," says Sonnie.
After high school, she joined Vera Beauty College to study Cosmetology for three years. She ended up advancing on skincare and product knowledge.
"My friends, tutors and even the principal would often compliment me on my smooth skin – something which gave me a sense of pride. I decided I wanted to become a model. With the support of the principal, I tried it out and eventually became a commercial model."
Later, she got a job at Linton's Beauty World as a hair and makeup specialist.
While there, she got a chance to be trained by a professional dermatologist from France who visited the country during her tenure. From that experience, Sonnie saw the need to upgrade her skills in cosmetology. "I mastered the skills so well that I was appointed an ambassador for a French hair product, Black Up. From then on there was no looking back."
Running a start-up According to Sonnie running a start-up business has not been a walk in the park.
Many times she would be forced to work ridiculous hours just to be able to meet the demands of her clients some of whom are busy and can only find time late in the evening or at night including keeping a 10-hour shift on most days.
Other things involve embarking on thorough research to enable me to be at par with my job besides introducing new ideas.
There are times when I have to stay awake the whole night doing this.
Although it has been a year and two months of hard work, Sonnie owes her success to God.
Sonnie Touch Spa (STP) is more of a clinic where most clients' needs are met to the fullest ensuring that they not only leave feeling relaxed and satisfied but 'healed' as well.
For instance, most clients who come for massage complain of a stiff neck, swollen muscles, lower back pains, muscle pains, headaches, fatigue, etc.
Unlike the misguided notion by many that massage is an entertainment thing it is a treatment recommended for all of us at-least twice a month in order relieve tension, reduce stress, relieve anxiety, improve sleep, and promote relaxation throughout the entire body, as well as many other benefits.
It also keeps people well physically and emotionally.
"I always make sure my clients get the best treatment and follow up to know how they are progressing. My latest investment is the YouTube channel which will help me reach out to a larger audience besides giving me more insights on my career," she says.
Tip
She advices anybody intending to start up a career similar to mine to do more research and know what the market is thirsty for before they can make a move.
"If you have a vision start with whatever you have. Depending on how well you are able to meet the demands of your clients they will keep coming and bring many more on board."
"Involve God in all your plans and learn to trust the process and pray through the process – that has always been my business motto."
"They must understand that being an entrepreneur a calling. One must dedicate, commit and sacrifice where need be. Other qualities include being passionate, selfless, a good listener, have patience with clients and a rich heart."
Her business is a year and two months old with a start-up the cost of Sh150, 000.
The turnover in the next two years should be something close to a million plus.