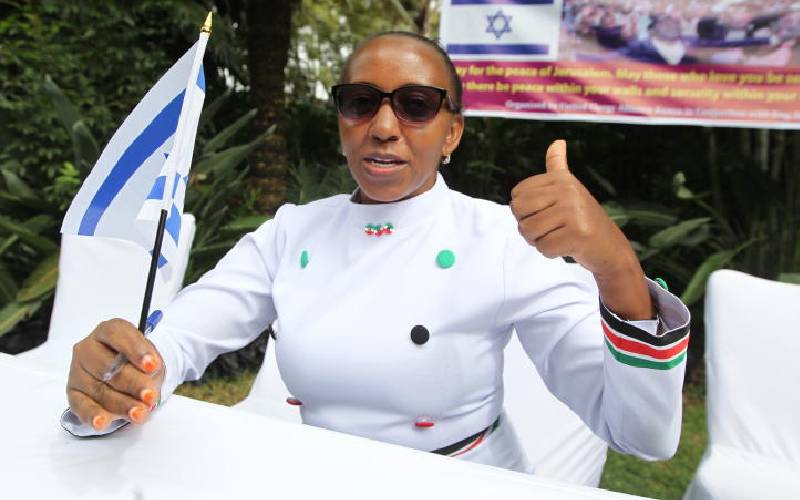 This week's Amnesty International findings and conclusions that Israel is an apartheid State and has committed gross human rights violations comes days before President Kenyatta and 54 other Heads of States physically attend the African Union Summit this weekend.
The report must inform how Kenyan and African Governments respond to the recent admission of Israel as an observer to the African Union. Imagine coming from an ethnic or racial community where your identity card prevented you freely travelling across Kenya, locked you out of essential services and increased the risk of forced evictions, arbitrary detention, torture and death. Imagine your identity being the very basis for segregating, discriminating, and oppressing you.
Now in their 70s and 80s, only Kenya's First Liberation generation could possibly re-create the experiences described in this week's 276-page Amnesty International report. However, most Kenyans quickly identified the danger of ethnic cleansing in post-colonial Kenya in our visceral public reaction to Senator Mithika Linturi's reckless "madoadoa" remark recently.
The report graphically documents the collective experience of 6.8 million Palestinians living in Israel and the Israeli occupied territories of Gaza, West Bank and East Jerusalem. A staggering 49 per cent of Palestinians are registered as refugees by Israeli authorities elected by an Israeli population of 8.3 million. A carefully calibrated set of legal, policy and administrative measures restrict movement, underinvestment in services and enable forced evictions, arbitrary detention, torture and unlawful killings of Palestinians.
Two wars in 1947-49 and 1967 and Israel's ongoing military rule of the Palestinian territories have separated Palestinian communities from each other and segregated them from Jewish Israelis. Fragmented politically and geographically, Palestinians experience discrimination based on their status and where they live. For several decades now, Palestinians in the West Bank and Gaza have been stateless, requiring ID cards from the Israeli military to live and work in the territories. Unlike Jewish Israelis, Palestinian citizens in Israel are denied nationality. In areas like Negev Naqab, East Jerusalem and elsewhere, authorities deny building permits to Palestinians, forcing them to build illegal structures which can be arbitrarily demolished.
Jewish Israeli settlements today cover 10 per cent of the West Bank and 38 per cent of Palestinian land in East Jerusalem. More recently, Sheikh Jarrah, has become the site of frequent protests over the last year as families battle to keep their homes. Each wave of relentless migration privileges Jewish Israelis with more land and resources and minimises Palestinian presence and rights.
Military checkpoints, 700km fences and other barriers restrict Palestinian travel into Israel or abroad. With 90 per cent having no access to safe drinking water, 47 per cent unemployed and 56 per cent living in poverty in Gaza, Israeli policies are causing a humanitarian crisis. Protest is also costly. Nearly 10 per cent of the 4,236 Palestinians currently in Israeli prisons are being held without charge or trial. 4,868 Palestinians, two-fifths of them children, have been killed in armed conflict over the last few decades.
Israeli authorities and Jewish groups in the US and across Europe swiftly condemned the report as biased and "anti-semitic". The US Administration, Israel's most powerful ally, is still studying it. The report will fuel a South Africa led a continental campaign to reverse the unilateral decision by AU Commission Moussa Faki to controversially admit Israel as an observer to the AU last year.
There are several reasons why the Kenyan Government should support Amnesty's recommendations and the revocation of Israel's observer status. They include Kenya's own experience of settler colonialism, our two-state solution position, and our current critical role in the UN Council. Lastly, let us not provoke another domestic terrorist attack based on misguided foreign policy positions.
Jews and Palestinians have an equal right to self-determination and to be called Jewish and Palestinian states. Let us not betray our own historical struggle for freedom, commitment to stateless people and Kenya's role as an international player at this juncture. Solidarity is a verb, let's consistently practise it globally.