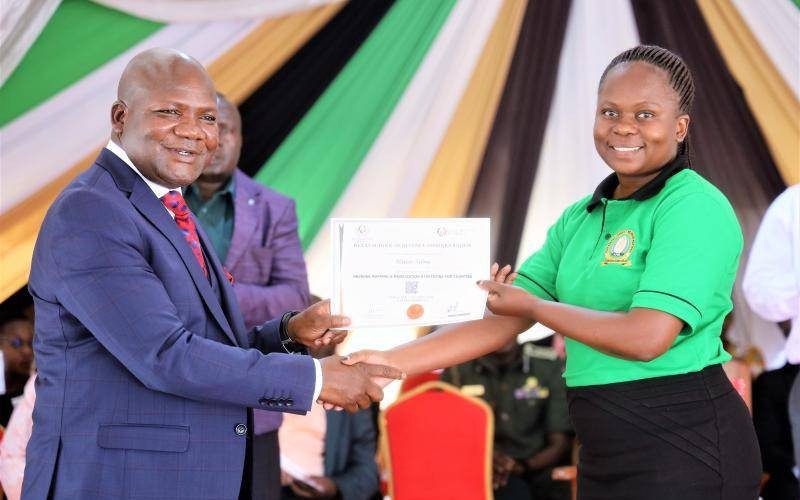 Kakamega County Government will spend Sh6 billion to finance development projects this financial year. From the budget estimates, Sh11.199 billion representing 64.47 per cent, will go to recurrent expenditure while Sh6.171 billion (35.53 per cent) will go to development.
The Sh17.73 billion budget is an increase of 5.47 per cent from the expenditure in the current financial year.
"The budget has prioritised expenditure on completion of county flagship projects spread across various sectors," said Livingstone Imbayi, the County Executive Committee Member in charge of Finance and Economic Planning.
The health sector will get the lion share of 26.75 per cent representing Sh4.646 billion, out of which Sh3.971 billion will go to recurrent expenditure and Sh674.90 million will go to development.
The Public Service and Administration department has been allocated 10.52 per cent translating to Sh1.827 billion with Education, Science and Technology docket getting Sh1.625 billion.
The county has allocated Sh1.432 billion to Transport and Infrastructure department while Agriculture, Livestock, Fisheries and Co-operatives will get Sh1.408 billion. The County Assembly has been allocated Sh1.335 billion, which will majorly go to recurrent expenditure.
The Social Services, Youth and Sports docket will get Sh1.280 billion while the department of Trade, Finance and Economic Planning has been allocated Sh932 million with that of Industrialisation and Tourism getting Sh850.8 million.
The Lands, Housing, Urban Areas and Physical Planning department will get Sh685 million, Water, Environment and Natural Resources will get Sh573.5million and Office of the Governor Sh473.49 million. The ICT, e-government and Communication has been allocated Sh220m.
The budget is aligned to Governor Fernandes Barasa's six-point development agenda, with emphasis on health, food security, infrastructure, wealth creation, clean and safe water and education sectors among others.
On health, the county targets to equip all health facilities and complete the level-six referral hospital and strengthen the Universal Health Coverage and community health projects.
Governor Barasa also seeks to enhance citizens' access to clean and safe water from 71.3 per cent to 90 per cent and connect residents with piped water under the 'Amatsi Khumuliango', which means water at the doorstep.
Mr Barasa said he would seek local and foreign partners for resource mobilisation.
This comes as the county government kicked off the recruitment of county martial officers who will be attached to county tax collectors to enhance efficiency.
Related Topics