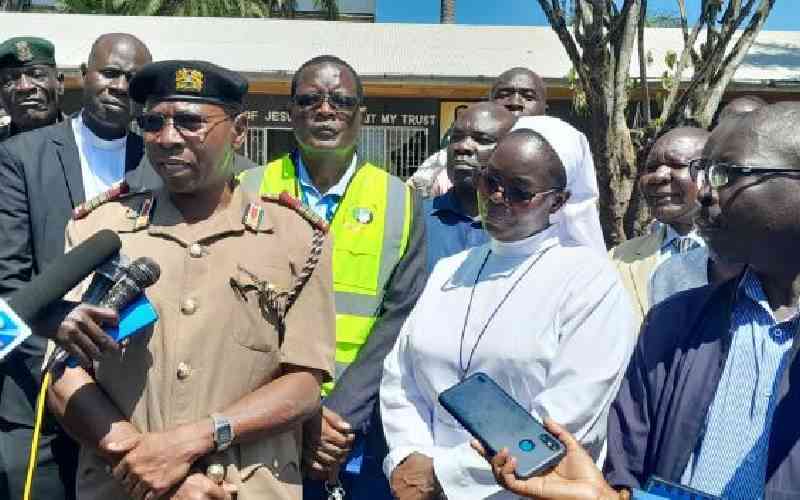 The government has restored normalcy at the Sacred Heart Mukumu Girls High School after two months of uncertainty following a disease outbreak that killed three students and a teacher.
Education Cabinet Secretary Ezekiel Machogu and his Health counterpart Susan Nakhumicha closed the school after at least 500 students fell ill.
The CSs later formed a multi-agency committee, led by the Western Regional Commissioner Irungu Macharia, to oversee the implementation of recommendations by the two ministries.
Most of the students have already reported back to school, and learning has resumed.
"We have restored the supply of clean water, installed a new board of management, repaired the sewer system and purchased new grains and oversaw an overhaul of the sewerage system," said Mr Macharia.
"I want to dispel rumours in mainstream and social media that we have another outbreak at the school. Don't cause panic to our parents and students. The learners are safe. We have a few students who reported back while they were still sick, and they have been treated."
Sister Jane Mmbone, the new principal, said that out of the 2,018 learners, 1,860 have reported back.
William Olaka, the Kakamega County director of public health, said 88 students had been taken ill at different times since the school was reopened.
"We are human beings. When someone comes to school and feels something strange, being aware of what happened in the past, the person will obviously panic. Some of the students reported back suffering from urinary tract infections, malaria, tonsillitis, gastritis, and pneumonia," said Olaka.
"Nine students are still in hospital. Four of them were admitted on Tuesday. They are out of danger."
Olaka said all their recommendations had been adhered to by the school management, save for the sewer system, which he said needs an overhaul.
Related Topics