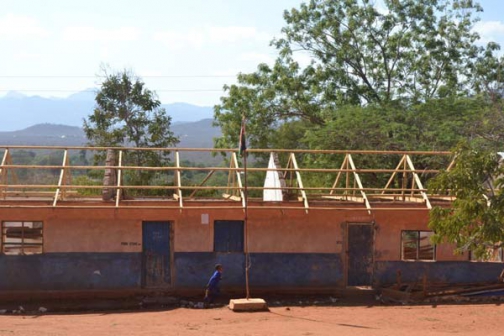 The vastness of Taita-Taveta County, colonised by stubby shrubs, makes a beautiful silhouette before the early morning sun.
It is 6.30 am and 13-year-old Veronica Saisi is already in class. Next year, 2018, she will be sitting for her KCPE.
"Someday, I want to be the president of Kenya," she says.
Saisi is a class seven pupil in Sungululu Primary School located on the precincts of Wundanyi town, the capital of Taita-Taveta County. She joined the school last month – as the new year begun.
"My aunt took me in. I live with her in her house. She is the one who pays my school fees and provides everything else I need," Saisi says.
The little girl would have cherished living with her parents, "just like my peers," she says. For now though she has to find comfort under her aunt's care.
"I am doing well now. I have not missed a day of school since joining Sungululu," she says.
Her life before this had been troublesome. Saisi could not maintain a constant presence in class because of fees arrears. Never mind that the Kenyan constitution says every child has a right to free and compulsory basic education.
"I was constantly being sent away from school because I had so much school debt. I would stay home for four days or a week then sneak back. The teachers would find me and send me home – again and again," she says.
"Why couldn't your parents pay your fees?" I ask her.
This question, as innocent as it sounds, causes the little girl to break into a flood of tears. She trembles as her voice cracks with emotion beyond her adolescent understanding.
"They cannot," is all she can say.
I get to learn from Saisi's teacher, Teresiah Mkungu, that the girl's parents are both disabled. Her father, Thomas Saisi, has been blind throughout his life and begs for a living in Wundanyi. Her mother is deaf and can only communicate via sign language.
Her aunt, Elizabeth Mawondo, explains her niece's plight in one word — poverty.
"This situation is not unique to just Veronica, Taita-Taveta has many children who cannot get an education because of the frustrations of poverty," she says.
Veronica is one among thousands of pupils in Taita-Taveta who, at one point in their primary school life, cannot maintain perfect attendance in school.
The county's Education Executive Philip Wambua, blames student absenteeism on "pupils having low interest in education".
Philip, though only two months into the job, does not deny the challenges that face the county's education sector.
He explains: "Our students have little interest in education. We have challenges, like under staffing, in our schools. But it should also be noted that parents' attitude towards education is negative and this is not making the situation any better."
According to a recent report titled 'Citizen report card on services delivery in public primary schools', which analysed seven counties, among them Taita-Taveta, found the county has the worst school attendance rate.
Only 68 per cent of pupils in Taita-Taveta said they attend school regularly, compared to 100 per cent in Nairobi, 94 per cent in Kilifi, 91 per cent in Busia, 88 per cent in Mombasa, 86 per cent in Baringo and 78 per cent in Kajiado.
The report is from a survey conducted by the Institute of Economic Affairs with the support of Action Aid International Kenya.
It is also in Taita-Taveta that parents expressed the highest dissatisfaction with the education their children receive in school, with 55 per cent disapproving of it.
"That brings me to my point – many parents here do not believe in education and they would, therefore, have no difficulty asking their children to stay home instead of going to school," Philip says.
Two days later, on a Sunday, we meet Mzee Thomas Saisi. He is from a church service – where he sings in the choir. After church he does the only thing he believes earns him a living: Begging along the streets of Wundanyi.
"I have so many troubles in my life – only God knows how I survive," he says. "I am, however, fine so long as I can get something to eat."
The old man has never earned from any kind of employment. His daughter, Veronica, has lacked money to fund her education, something that has only allowed her intermittent presence in class and prolonged absences.
"I have other children who are older. They finished school because the church paid for their fees. Veronica was, however, not as lucky," Mzee Thomas says.
The little girl had the option of attending Sungululu Primary School from her parents' home in Mwogoh village. But her parents could barely manage to feed her, that coupled with the distance to school, made it a difficult option.
"That is why I took her in," Elizabeth says. "So that she can walk to school from my house."
Nearly an hour and 30 minutes' drive from Wundanyi, at Gimba Primary School, Pricila Makeo sits in a class with some empty desks.
"I too miss school on some occasions. I could be sick, there may be dangerous wild animals blocking my path, water may be scarce at home and I have to travel long distances to fetch it, or the distance to school could be too much on an empty stomach," Pricila says.
"This is a hardship area. These children walk very long distances to reach school," Mary Ngure, one of Pricila's teachers, confesses.
She too finds it difficult to fathom walking the same distance the class seven pupil has to contend with every day.
"By the time the pupil arrives at school they are too exhausted to sit and listen to a teacher during a lesson," opines Mary.
On the days she makes it to school, Pricila is always late, arriving at 8 am instead of 6.45 am as stipulated in the school's rules.
"I leave home at 6am. It is the earliest I can start the journey to school because of my safety," the little girl says.
Lack of water has meant that pupils carry their own water to school in jericans.
The first week of this term Pricila missed school to go scout for water for domestic use in her home.
Elija Mwashengu, a class 8 pupil, has a somewhat similar story as Pricila. "With all this trouble it is difficult to concentrate with education, leave alone attending school," Elija says.
In the 2016 KCPE results, Taita-Taveta County emerged at position 42 in performance, with a mean score of 217 marks, only five places ahead of the bottom counties, Mandera and Garissa, which had 183 marks mean score.
"I cannot say I am surprised by these results," Philip says. "I have been told of three pupils who used to score less than 250 marks while studying in Taita-Taveta but now score higher than 350 marks after moving to a different county."
In Wongonyi village, on the arid slopes of Voi, Hudson Mwachongu, 12, has been out of school for two weeks.
Hudson survived a cobra bite to his right arm when he was three. It however, left the arm dysfunctional — in a tight lock — and slightly deformed.
The boy, his mother says, has not had an easy time since the bite. In the last four months he suffered from two bouts of flu and fever which forced him to stay home for weeks.
The distance to school is long. The journey is tiresome in this arid environment.
Hudson's mother only allows him to attend school when she is confident that he is in the right state of health to make the journey.
The IEA-Kenya report cites that pupils in Taita-Taveta (and Kajiado) walk the longest distances to school. But unlike Taita-Taveta, Kajiado emerged fourteenth nationally with a mean score of 258.
Perhaps it is the empty desks. But whatever it is, Taita-Taveta's education is a tough and painful reality.
Philip hopes to fix it.
Related Topics