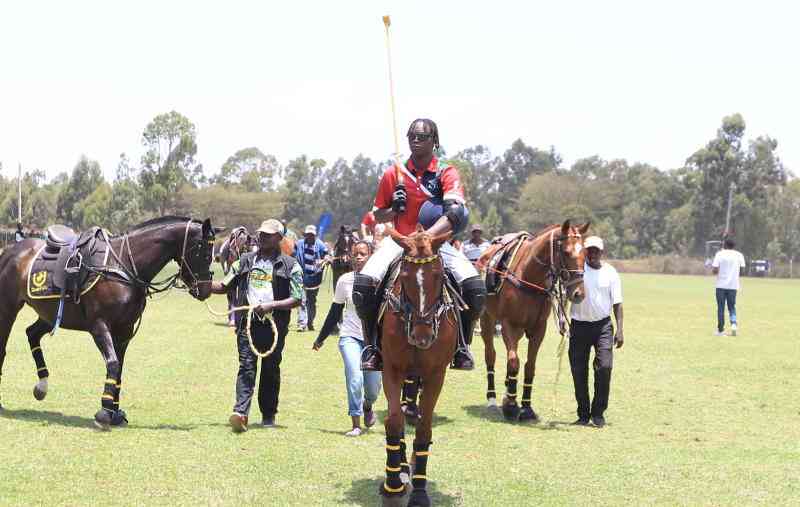 A good show by talented rider Jadini Nzomo scored where he crucial goal and provided a number of assists led Kenya to defeat Zambia 3-2 in the Nairobi Internationbal-9-Goal championships at Nairobi Polo Club on Sunday.
Players of both teams were youngsters being prepared to become future international stars.
The first chukka ended in a barren draw as no team had put through the ball setting the pace for a mouthwatering second chukka, which saw the Zambians take the lead through handicap 3 Harry Millar with good assists from Darryl Higgins (2), Jamie Hendersen (3) and Nels Rojsen (1).
That goal awoke the homeboys and it was Jadini who restored parity in the third chukka from a solo move with his teammates Archie Voorspuy (3), Joss Craig (2) and Ben Stonewigg (2) on vantage positions to defend the score.
Millar was on the mark again for the Zambians to take a 2-1 lead before Voorspuy equalised for the homeboys in the same chukka setting the pace for a do or die duel in the final chukka.
It was Kenya who had the last laugh as Voorspuy scored the winning goal for the big trophy to remain on home soil.
"It was a tough match and the Zambians are a good side and I must also thank my teammates for the teamwork that saw us win. Our performance should be reflected in our next international matches," Jadini told Standard Sports in a post-match interview.
In the Gillies Turtle championships, Jamie Murray scored seven goals and Meggan Griffiths the other in SBM Bank 8.5-7 win over Tusker Malt to bag the title.
Casimir Gross (four) and Craig Millar (three) replied for Tusker Malt.
In the Fat Hippo championships, Primarosa won the title after a 3-3 draw with Team 24.7 with maximum five points as Live Wire defeated Capital FM 7- 4.5.
Related Topics