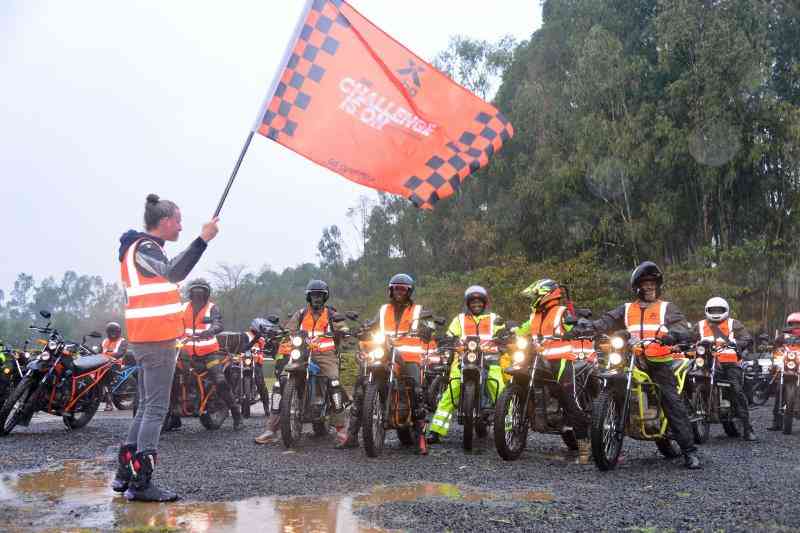 300 bikers took part in the third edition of Kibo Ride Like A Champ challenge held between Nairobi and Naivasha at the weekend.
The 90km endurance test was flagged off at the Carnivore Grounds before the finishing point at Sawela Lodge in Naivasha.
The riders took grueling six hours to cover the tedious off-course route which tested their might and skills while providing them with an unforgettable experience.
The event featured Kibo bikes in 150cc, 160cc and 250cc categories making it the biggest ever corporate ride in Kenya.
Themed 'The Challenge is On', the event took the bikers through varied terrains, giving them a chance to test the limits of their bikes, their riding skills and knowledge of road and safety protocols.
The contest has been growing ever since its inception in 2021, with number of participants doubling this year as compared to the 2022 edition.
"We are thrilled to have had such a great turnout for this year's event, which points to the growing interest amongst riders to be part of this challenge.
"Through the initiative, we have consistently proven that riding is a thrilling, fun and safe engagement.
"We look forward to the event growing into a larger experience that draws more participants in subsequent editions," Kibo Africa CEO Huib van de Grijspaarde said.
As part of the challenge, Kibo offers a range of training programs aimed at novice and experienced riders, designed and led by industry experts focusing on developing crucial riding skills, road awareness, and defensive riding techniques.
Additionally, Kibo showcased a range of advanced safety features that have been integrated into their second and third generation range of motorcycles. These features include state-of-the-art braking systems, LED displays and lighting and more efficient engines.
Currently, Kibo Africa has an annual capacity of 10,000 bikes, with a plan to increase the number to 50,000 bikes per year in the next three years.
Besides, the company has successfully transferred technology locally to manufacture 38 components of its bike in Kenya, aiming to achieve 30 per cent localization of elements within the same period.
To achieve these, Kibo plans to partner with local manufacturers to transfer the manufacturing of critical components such as mufflers and exhaust by the first quarter of 2024.
Related Topics