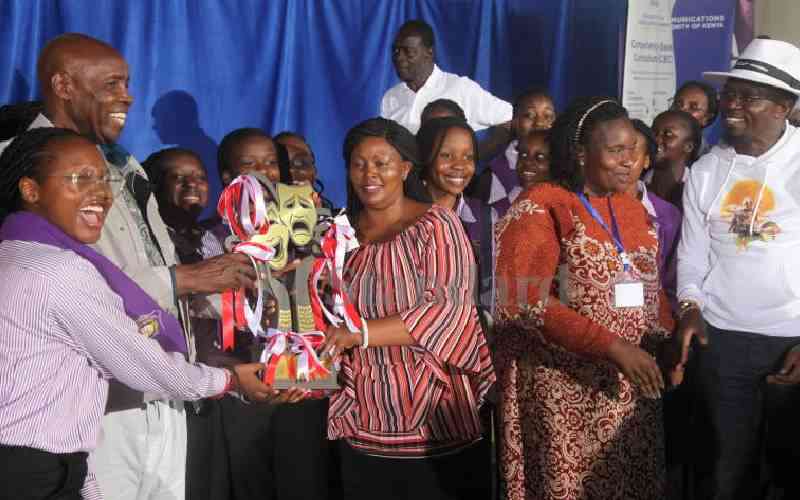 The 61st edition of the Kenya National Drama and Film Festival came to an end yesterday after seven days.
Top performances from the more than 2,000 learning institutions were awarded in the biggest festival of its kind in the region. More than 15,000 learners took part.
Riara Springs Girls' had the best play with a well-executed item by Justin Ong'wen. The play, 'The Eyes Have It', was themed around body-shaming.
"I am happy for the school and we are grateful for the parents and students who put a lot of time into the production of the play," said Ong'wen after receiving the trophy.
Nyali School won with the 'Tick Tack Challenge', which depicted a youngster engaged in a dangerous internet challenge with a fatal end.
Migosi Primary from Kisumu danced themselves to victory with the best creative dance in the primary section with the piece 'Dota' produced by Roselyne Gwada and directed by J. Orwa.
Sabatia TVC was a surprise winner in the dance and play category. They sang and danced with Arts CS Ababu Namwamba as he joined them in celebrations.
'Esese' directed by Edwin Shivugu depicted a young man who fails to attain his dream of joining the University but never gives up. He grapples with what nature and man have provided for him, taking advantage of the new Competence Based Curriculum to succeed.
Their play directed by Dennis Akoyo and produced by Gilbert Mwavali is about Sylvester, with avaricious tendencies, and takes advantage of the internet and social media platforms to make money.
The Communications Authority of Kenya (CA) had partnered with the involved ministries by being the theme sponsor "Fostering Digital Transformation Through Theatre and Film".
CA Director General Ezra Chiloba was represented by the Principal Administrative Secretary Eric Kiraithe.
"The Communications Authority has in place the Child Online Protection (COP) initiative, which is a long-term multi-stakeholder programme designed and executed along the guidelines developed by the International Telecommunication Union (ITU), the UN agency for ICTs, to promote awareness of childsafety online," Chilobas said in a speech delivered by Kiraithe.
University of Nairobi won with a play directed by Dr Kimingichi Wabende as Eldoret National Polytechnic won with a Comedy by Cleophas Kiprotich and directed by Paul Kisali.
The festivals culminate in performances for the Head of State who is the patron of the Kenya National Drama and Film Festivals. This year the KNDFF Secretariat had planned to have the performances at the Mombasa State Lodge.
Related Topics