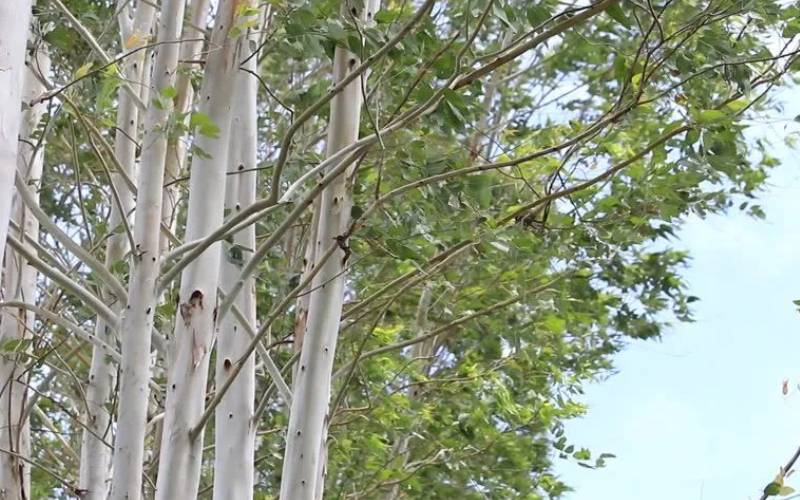 Plant a tree, save the Earth, or so the thinking goes. But what if it's not the right kind of tree? Study shows the sequel could be undesirable; in fact, it might be the polar opposite of what's good for the environment.
In Kenya, severe ecological degradation has taken place because of the uncontrolled clearance of vegetation both for agriculture, fuel and construction purposes.
The indigenous trees, which sustained soil health, biodiversity and rural economy, have ended up as firewood. The result of this wanton destruction? Floods and prolonged droughts.
When the late Nobel Peace Laureate professor Wangari Maathai launched the Green Belt Movement in 1977 promoting the planting of indigenous trees, she feared that the introduction of exotic plant species will negatively affect the balance of the ecosystem.
Enter the eucalyptus tree. When it comes to land degradation, one of the tree species that is often cited is eucalyptus.
In a recent story published by FarmKenya Initiative, farmers said eucalyptus has badly affected the groundwater as it is water-intensive, and reduces water availability for other species. The impact of eucalyptus is so severe on rivers, streams and catchments that some have witnessed a serious drop in their volume due to the rampant cultivation of the tree around their sources.
Such negative effects prompted Kisii County Governor James Ongwae to sign an executive order compelling the county government to cut down eucalyptus trees planted on wetlands and marsh areas in a bid to reverse the negative impact on the environment.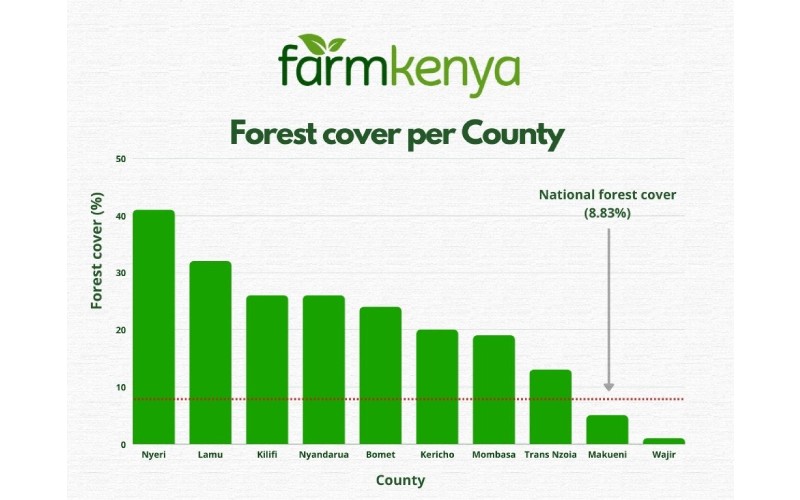 Kenya's Forest cover data
According to the National Forest Resources Assessment report 2021, Kenya's national landmass area of 59.2 ha, has 5.2 ha of tree cover, which makes up 8.83%.
The report also shows Nyeri County has the highest tree cover at 45.17% while Marsabit has the least with 2.06%.
The distribution of forest cover across the country shows that central, western, and coastal regions are the most forested parts of the country.
Other Counties with a high tree cover include; Lamu 44.06%, Vihiga 35.92%, Kirinyaga 30.39% and Elgeiyo Marakwet 29.95%.
Nationally, the result further shows that up to 10 counties have tree covers less than the constitutional target of 10%.
But just why is eucalyptus so popular?
According to environmentalists, eucalyptus wood is easy to work with and incredibly practical. It's also less expensive than traditional hardwoods like mahogany and cherry woods.
Eucalyptus is classified as a hardwood providing structural support for buildings says AmaZul Inc, a company in construction business. The tree also has some health benefits that makes it desirable.
Health benefits
According to WebMD, eucalyptus leaves and oil is consumed, chewed, and applied to the skin for many conditions.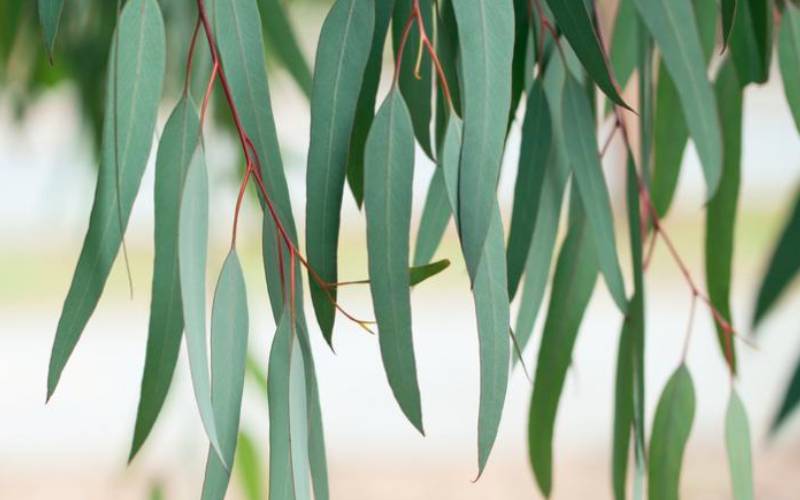 The tree contains many different chemicals. People use eucalyptus for many conditions including asthma, bronchitis, flu (influenza), and many others, but there is no good scientific evidence to support these uses. However, WebMD warns that it is unsafe to take pure eucalyptus oil by mouth. Taking only 3.5 mL (less than one teaspoon) of the pure oil can be fatal. That is where the good ends. The downside of eucalyptus tree is massive.
The bad: Land degradation
One of downside of eucalyptus is that it depletes the soil of nutrients rendering it unfit for any future productive use.
According to data by the United Nations, human damage to the planet's land is accelerating; with up to 40 per cent now classed as degraded, while half of the world's people are suffering the impacts. Land which has been depleted of natural resources, soil fertility, water, biodiversity is classified as degraded land and is found all over.
Growing food on degraded land becomes progressively harder as soils rapidly reach exhaustion and water resources are depleted. Research shows that trees have enormous potential to soak up and store carbon, and for that simple reason, many countries have embarked on aggressive tree-planting campaigns to boost their forest cover in a bid to fight climate change.
Forests are key in efforts to recover biodiversity and combat climate change. Sadly, eucalyptus does the opposite to the environment.
Farmers experiences
Elias Mugo, an elderly farmer from Kirinyaga has a first hand experience on how eucalyptus tree degrades land.
"I have been a farmer from 1968, planting beans, maize, oranges, bananas among others, I planted the tree because it looks like a good forest but it affects the soil," says Mugo.
"I only plant it because it is a hot sell for construction companies, carpenters and we also use them to build houses."
Farmers are also investing in it as a way to diversify their incomes given that maize no longer fetches good money.
"In earlier years, one acre of maize gave us 30-35 bags, right now, it hardy reaches 10 bags of maize because of the soil is degraded," says Mugo.
Environmentalists say that the oil-rich eucalyptus leaf litter makes the soil toxic for seed germination and plant growth and thereby reduces the yield potential of most agricultural crops.
Dr Robert Nyambati, a chief researcher at Kenya Forestry Research Institute (Kefri) says lack of information on eucalyptus tree has led to massive growing by Kenyans.
"Because of lack of information, farmers and communities grow the wrong tree in the wrong place. We have done research on species site mapping and for eucalyptus, there are areas that is a no go zone - for example in catchment areas, swamps and around rivers," he says.
There is a reason that this tree has been labelled an environmental terrorist.
"When you look under a eucalyptus tree there is no plantation, meaning it affects biodiversity. The reason why it does this is because of Allelopathy, a biological phenomenon by which an organism produces one or more biochemicals that influence the germination, growth, survival, and reproduction of other organisms," Dr Nyambati says.
Effects on Climate
​Retired Bishop Permias Muchina who is now a farmer thinks the tree is the reason why water levels have dropped.
"There is a huge difference because we had so much water sometime back, but right now the water levels are very low. Eucalyptus trees are reducing water levels," he says.
Because of their high evapo-transpiration rate, which may lead to a lower water table, one of the criticisms against eucalyptus plantations is that they may cause a change in the local climate.
According to Food and Agricultural Organisation of the United Nations, this high rate of soil water loss affects local rainfall levels, resulting in possible desertification of the area.
Planting a tree is a matter of choice and eucalyptus is no exception.
As we mark World environment day, a careful analysis of the ecological and social implications should be undertaken before planting new fast growing tree species because some of the perceived problems with eucalyptus can be avoided by applying sensible management practices.
Related Topics