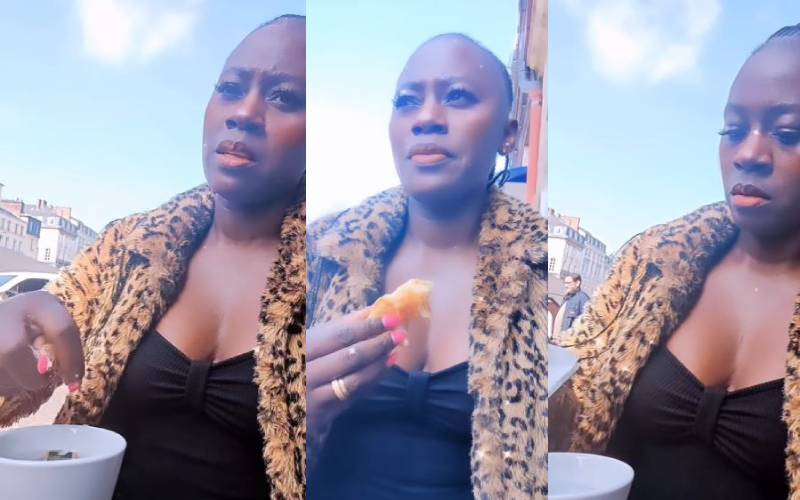 Musician and entrepreneur, Akothee was left surprised after she was barred from using her own tea bag at a French restaurant.
Sharing her experience in a series of Instagram stories, the mother of five who was on a date with one of her daughters, was ready to enjoy a cup of tea when a waiter approached their table and asked her not to use her own tea bag.
"Mr Man what is your problem? I want to buy your tea but I will also drink my tea from Kenya. When I drink your tea here in France it give me headache. So how much is your tea, I want to pay for the tea and also pay for your hot water but I will still drink my tea from Kenya," said Akothee.
Her daughter, however, felt that her mother should just comply with their policy to prevent the matter from escalating, borrowing from the famous quote, 'when you go to Rome, do what the Romans do'.
"To avoid problems, if you go to Greece, you do what the Greece people do. Also tell yourself that now since we are in a white people country, we are not in Kenya, if you want to avoid racism and all that comes with it don't put yourself in a position where you'll be confronted," advised Fancy.
View this post on Instagram
A post shared by AKOTHEE KENYA (@akotheekenya)
The singer was however unimpressed and stated that she would not want to live in Europe for such reasons.
"So now because of their rules I can't take tea, they are making taking dry mandazi without tea. That why I can't live in Europe," she voiced.
Trying to encourage her mother Fancy assured her that she would fit in perfectly only if she dropped some Kenyan traits.
"I think you can, it's just that there are things you do back at home that you cannot do here. He has explained that carrying your own food to the restaurant is like bringing your own meat, you see?" added Fancy.
A determined Akothee went ahead and used her own tea bag and asked that whoever wanted to call police on her should do so. According to her, carrying your own tea bag to a restaurant when you want to buy everything else the restaurant menu is not a crime.
In her defense, whenever white people visit our country they carry their own things from cigarettes to cheese and should therefore not judge her.
"Is carrying something as small as a tea bag even equivalent to carrying meat. So now I have to choke on this bread because he has refused to give me water. Does he know I'm a superstar? What is the worst that they can do? I want to know the worst they can do. Call police? What will they say? That I'm not following their rules? Which rules are those? That I have carried my teabag from Kenya? They also carry their own cigarettes when they come, I don't see anyone smoking Sportsman. They even carry their own cheese. Next time I will not allow anybody cheese," said Akothee.
Related Topics