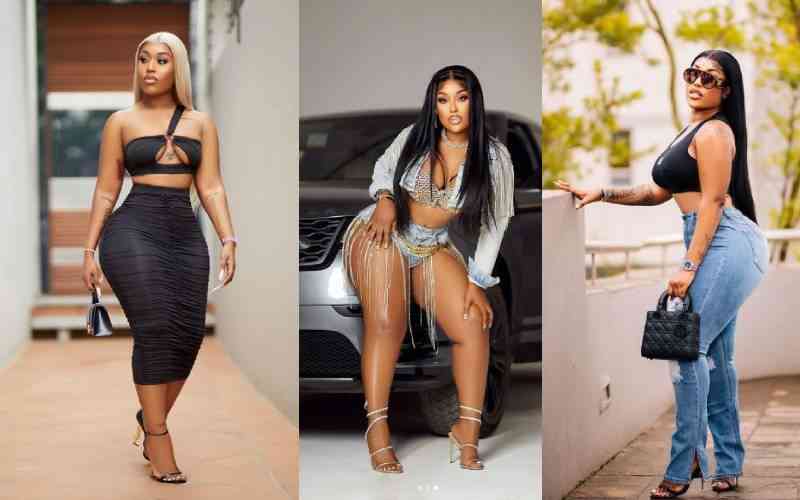 The reality show that had everyone talking, Young, Famous & African, premiered in mid-May 2023, revealing a twist in the love lives of Tanzanian superstar singer Diamond Platnumz and Ghanaian singer Fantana.
The show took viewers behind the scenes of their collaboration, exposing a scandalous affair that left fans and industry insiders astounded.
Born on July 3, 1997, in Atlanta, Georgia, Fantana's Ghanaian heritage and musical talents shaped her destiny. She was raised by her Ghanaian parents, Joseph Lawrence Ashun and Dorcas Affo-Toffey, while cultivating her passion for music and fashion.
After gaining popularity through social media, Fantana's unique style and powerful vocals earned her recognition in the industry.
View this post on Instagram
A post shared by CAPO TANA ? (@iamfantana)
Diamond Platnumz, known for his undeniable talent and magnetic stage presence, found himself entangled in a web of desire. During the filming of Young, Famous & African in South Africa, the charismatic artist began flirting heavily with Fantana, who admitted to enjoying the art of seduction.
As their on-screen chemistry heated up, their conversations took a steamy turn, delving into the realm of intimate encounters and bedroom secrets.
In a surprising turn of events, Diamond confessed that he had never experienced such passion until he kissed Fantana.
"I thought I was the best at kissing until I kissed Fantana," he declared, his words echoing with a mix of admiration and desire. The Tanzanian heartthrob went on to describe their encounter as something beyond a simple kiss, saying, "She wasn't kissing me, she was eating me!"
View this post on Instagram
A post shared by SIMBA..!? (@diamondplatnumz)
However, Diamond was far from single during these illicit moments with Fantana. Reports suggested that he was still in a relationship with his fellow Wasafi Records signee, Zuchu.
The rising Tanzanian songstress was left heartbroken and blindsided by Diamond's actions on the reality show. The news of his romantic escapades with Fantana sparked a wave of emotions, leading Zuchu to vent her frustrations.
When Diamond's cousin and official DJ, Romy Jones, playfully asked Zuchu if she had watched Diamond's steamy scenes on Young, Famous & African, she responded with a burst of anger. Zuchu retorted, telling Romy to deliver an explicit message to Diamond.
View this post on Instagram
A post shared by ZUCHU (@officialzuchu)
As the drama unfolded, Zari Hassan, the South Africa-based businesswoman and socialite who shares children with Diamond, took to social media to address her ex-partner's lies and manipulations.
In a lengthy Instagram post, Zari expressed her disappointment and called out Diamond for using her name for personal gain.
Zari clarified that Diamond's claims of wanting to have another child with her were false and a calculated attempt to boost his own image. She firmly asserted that she had moved on and held no desire to rekindle their romantic relationship.
Zari also criticized Diamond for allowing other women to disrespect her as the mother of his children, warning him to stop involving her in his attention-seeking antics.
Zari warned him, saying, "You continuously permit these so-called 20-year-olds to disrespect me just to satisfy your desires. As Diamond, you can be with anyone you want without involving me. I am currently married, and your actions have not sat well with my marriage. The selective editing by the show is absurd."
View this post on Instagram
A post shared by Zarithebosslady (@zarithebosslady)
In response to Zari's statement, Fantana entered the fray, engaging in a heated exchange with the South African socialite.
Fantana discredited Zari's self-proclaimed billionaire status, questioning her true wealth and mocking her alleged attempts to emulate Fantana's physical appearance. The Ghanaian artist also threw shade at Zari's current relationship, insinuating that her partner was a high school boy.
The war of words between Fantana and Zari intensified, with both personalities trading insults and accusations. The online feud added another layer of complexity to an already tangled web of relationships and emotions.
As the story continues to unfold, the love triangle involving Fantana, Diamond Platnumz, Zari, and Zuchu remains a spectacle that has captivated fans and industry insiders alike.
Related Topics