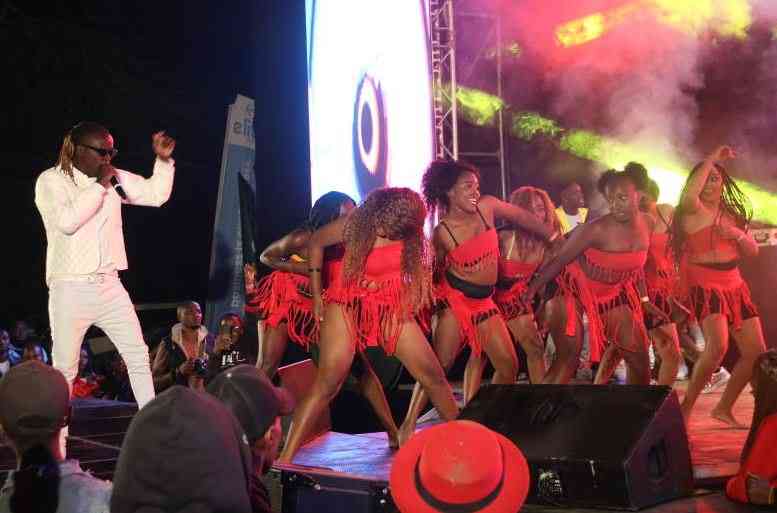 This is a controversial topic. Do we support our own or we are just happy to entertain foreigners?
More often than not, West African artistes, especially Nigerians, have been seen as taking over the Kenyan music scene.
Barely a week ago, Tanzanian singer Ali Kiba blamed fellow musicians for allowing Nigerians to dominate the East African music scene.
Ali Kiba lamented Kenyan and Tanzanian creatives do not support each other. He said Nigerian musicians support each other, adding their unity is the reason their music is popular across the globe.
"To sell music, you need a crowd. Nigerians are proud of their country and their music, that is why their music has been spreading," he said.
Back home, the push to play Kenyan content is at an all-time high with comedian Eric Omondi at the forefront of the conversation.
But artistes and fans have different opinions on what ails the industry.
Some blame our content for not being on par with international standards, others think Kenyan fans are sellouts who do not appreciate their own.
Today going to a club deep in some hidden village you will not be surprised to find the DJ playing Amapiano, a South African genre of music, all night. And Kenyans will dance to the rhythmic beat all night and even fill their concerts without blinking twice.
But for Kenyan artistes, the reception is lukewarm.
Except for the likes of Nyashinski and Sauti Sol, few local artistes can command a concert worth writing home about.
On the other hand, the likes of Davido, Wizkid, Burna Boy, and Tiwa Savage have been idolised in millions of Kenyan households.
These musicians have made millions from sold-out performances.
Wizkid, for example, sold out the O2 Arena in London, a 20,000 seating capacity. Davido, another Nigerian artiste, through tours and concerts across the globe, sold out the House of Blues Arena, in Boston, and the Irving Plaza in New York and the 02 Arena in London.
No Kenyan artiste has ever achieved such levels.
And when Beyoncé combed the continent for talent to feature on her critically praised Lion King: The Gift album, no Kenyan act made it.
And when Ed Sheeran, Chris Brown, or Justin Bieber looked for a well-known African song whose remix they could hop onto, they almost always went to West Africa.
Again, no Kenyan singers are chosen when festivals like Lollapalooza, Glastonbury, Coechalla, Rolling Loud, and Made In America look for African singers to flesh up their lineup in their star-studded stadium shows.
And when the Grammy Awards, the BET Awards and even the BRIT Awards throw around nominations to tens of African singers and groups, year after year, again Kenyans not only sorely fail to make the nominations cut but even when, by a stroke of luck, they get the shot they terribly fail.
When Kenyans go and do shows abroad they only pull a handful of a crowd.
"We do not have authenticity as Kenyans, we have no unique sound like other countries. The big radios and clubs are currently accepting Nigerian sound because of consistency and unique cultural sound. If we took pride in our artistes they would go places. I have personally brought Nyota Ndogo twice to Austria and they loved her voice," says Jay Mau Mau, a rapper and promoter based in Austria.
These sentiments are echoed by Kenyan-based Nigerian promoter Seun: "The Kenyan community in diaspora is not strong or supportive enough like ours. As for Nigerians, once we meet outside Nigeria, in diaspora no matter the tribe you are from, we are brothers and sisters and support each other, even if we are not on good terms back home."
Even outside our borders, Kenyan artistes struggle to make an impact.
"Had a couple of friends visiting and we took them to a couple of places to listen to music; one place for two hours did not play a single Kenyan song till I had to go ask the DJ to play some," Blinky Bill posted in the past.
The tweet immediately got questions asked as to what exactly ails our industry.
Comparing the Nigerian sector to the Kenyan one, Seun says, "Nigeria has good songs and posh videos with a good storyline, which helps in getting songs more acceptable worldwide, but on the other hand, Kenyan artistes and celebrities focus more on things that do not bring substance but rather focus on clout chasing."
But things looked to be making a turn for the better with the 'Gengetone wave'. It reignited the love for Kenyan music among fans.
With the meteoric rise of Gengetone, media houses also took notice of consumers' shifting tastes and began adjusting their playlists accordingly.
But armed with a few thousand shillings, the 'star' mentality got the better of the overnight celebs.
Most of them adopted a different arrogant persona.
Before long, corporates, who aimed at capitalising on brand influence with the newly acquired fame that was attracting millions, were met with a different face with most complaining of the artistes' inability to deliver or honour agreements.
One year down the line, we were only left with embers of dying smoke. Nothing to write home about.
While Afrobeats superstars are cutting big checks Kenyans went back to soul searching.
"I would say the language barrier is our main problem even before focusing on the content. We have had this conversation even with other stakeholders in the US, how we can help our brothers and sisters reach the global appeal, but still, it is a hard nut to crack," says DJ Cuts, a promoter based in the US.
"Most Kenyan artistes do not take their craft seriously, and actually ask for a lot of money with the mentality people know them here and this blocks a lot, out here people do not even know them," says MauMau.
He adds that the media fraternity is also another pain as they seem to support mediocrity and do not show genuine support where it is due.
Two weeks ago, promoter Seun Sharp complained about how Nigerian artistes are taking advantage of the situation and riding like they are A-list celebrities.
"You can see newbie Nigerian artistes making a (killing) while even an experienced lot in Kenya struggles to pull through. This is mainly because Kenyan music lacks proper promotions. Taking a glance, you will realise that in any country or at least the majority of the countries, there were at least three to four Nigerian promoters pushing for our culture, creating connections for our artistes and networking for Nigerians through events," says promoter Sharp.
While Gengetone was on its knees, entered Amapiano. And Kenyan music entrepreneurs started their own, "Amapiano Tours", and have been going around various Kenyan towns, playing this South African house-inspired music to sold-out, open-air concerts nationally.
Related Topics