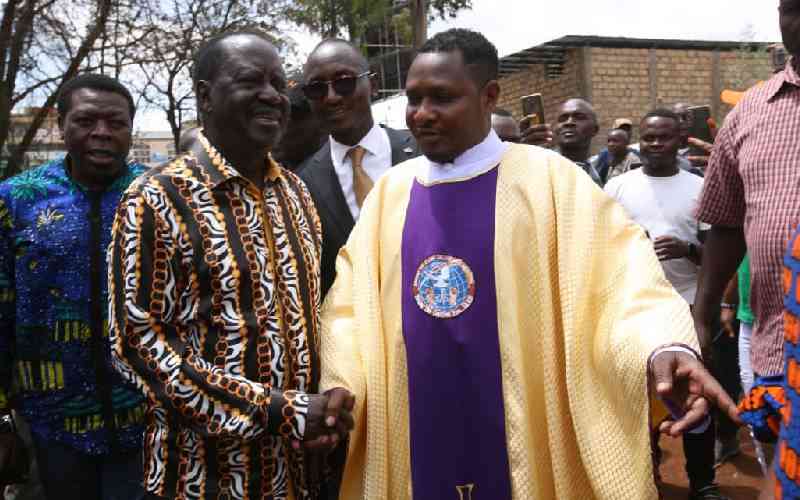 Residents of Uasin Gishu County have urged the Azimio political coalition leadership to consider suspending tomorrow's mass protests aimed at harming the country.
A section of local leaders and residents termed the protests as a 'deliberate plan to sabotage the economy' even as parents raise concerns over their children's safety as they resume school after their half-term break.
Governor Jonathan Bii said there was no need to hold demonstrations that could affect the peace currently enjoyed in various parts of the country.
Uasin Gishu County Gospel Ministers' chairperson Bishop Wilson Kurui also urged opposition leader Raila Odinga to desist from protests, saying that leaders of goodwill should instead embrace dialogue rather than demos that can cause chaos and violence.
"Whatever differences that exist between the former premier and the ruling Kenya Kwanza coalition can be solved through dialogue and not demonstrations. We want our leaders to be patriots and show that by putting the country first and choosing peace over acts that can lead to violence," said Bishop Kurui.
Kalenjin Council of Elders Chairman Alex Mursi said such demonstrations would affect the country's economy, adding that the opposition should instead give the current regime more time to execute its mandate.
Mursi said that although the region has experienced peace over the past years, mass action has no benefit for the residents.
"We urge Odinga to play his opposition role and not incite Kenyans against the ruling government, which might lead to loss of properties and lives," Mursi said.
He said president William Rutos's government is currently dealing with drought and hunger situations affecting parts of the country, thus bringing in political issues will be a double tragedy to the nation.
"As of now, we are tackling calamities such as drought and hunger and we have no time for the mass action you are planning to hold," Mursi said.
Parents whose children are set to resume school after half term have also expressed fear over their children's safety as they travel back to school.
A parent whose son is studying at Kanga school in Migori County said that he was still deliberating whether to send his son to school today or not given that the region, which is Raila's political bedroom has recently witnessed demos accompanied by chaos as demonstrators block major roads.
"Our children broke for their half term on Friday last week and are set to resume school on Monday. However, I am afraid I might send him to school a day after the mass action, which would be later after the scheduled date. I feel like allowing my son to travel today, is putting him at risk because what happens if the students are caught up in demos or lack public transport to get to school?" questioned the parent.
Another parent whose daughter studies at Butere girls said that the school had to reschedule its opening day and were asked to report on Sunday for all students for fear of today's planned protests.
The school which has about 3,000 students had earlier split the students to report on two days, Sunday and Monday- due to the high number. However, the school later asked parents to ensure all students report to school on Sunday to avoid any incidents that could affect the students during demos.
"In the past, police have used teargas to disperse youths.Guns have also been fired in the air to disperse demonstrators. We do not wish our children to be involved in such. We also ask the security units to be careful and ensure that demos are peaceful and normal operations are not disrupted," said the concerned parent.
Mr Paul Rotich, the Kenya Union of Post Primary Education Teachers (Kuppet) said the government should consider rescheduling resumption of schools after half term to Wednesday.
"Students travelling back to school might not be safe due to the mass action. The government should issue a statement and move school resumption to Wednesday," stated Rotich.
Related Topics