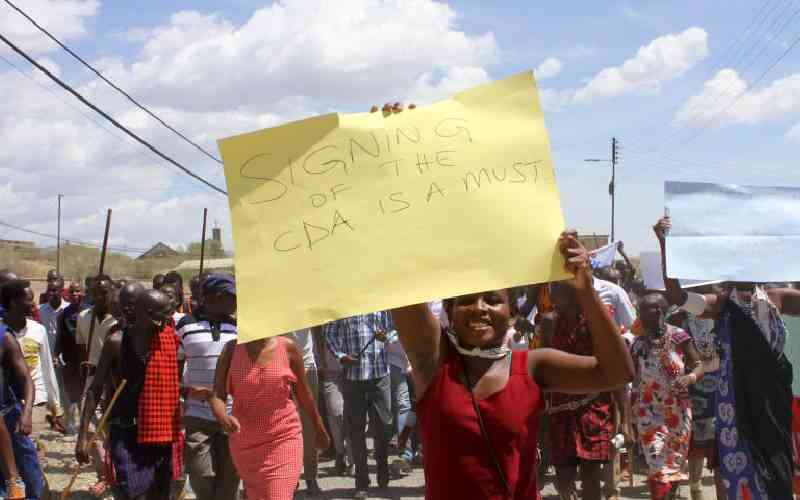 One of Africa's top soda ash miners is facing an uncertain future following a protracted two-pronged battle for survival effectively jeopardising livelihoods of more than 3,000 households, among them employees.
For five years now, Tata Chemicals Magadi Ltd, which mines soda ash in Lake Magadi in Kajiado County has been battling a land lease dispute with the County Government of Kajiado.
Additionally, the land lease dispute has been aggravated by a long-winding claim of Sh11.4 billion in unpaid land rates. Governor Joseph Ole Lenku has rejected an application for the renewal of the land lease by the company giving a condition of full payment of the accrued billions since 2016.
Although it prides itself as a top exporter of soda ash with a capacity of 350,000 tonnes of exports every year, the company moved to court and submitted that it was not capable of paying the land rates because it has been "recording losses in its business".
In March, the firm applied for a new lease arguing that it was aware that the court had suspended implosion of land rates. "This is pending the outcome of the consultative process between the parties and we confirm that the process is yet to be concluded," stated Tata Chemicals directors Subodh Srivastav and Titus Naikuni in the application letter.
However, Lenku's administration rejected the renewal request and accused the company of acting in bad faith over an arbitration process that had been initiated by former Kajiado High Court judge Reuben Nyakundi.
Talks to for an amicable solution collapsed after representatives from Tata Chemicals allegedly walked away claiming the arbiter was an interested party. The refusal to renew the land lease and the continued agitation by Lenku for the company to pay land rates or ship out of Kajiado is threatening the Tata's business ventures.
Matters have been made worse as the local community has started turning hostile towards the salt manufacturer.
"They have been making billions of shillings as exporters of soda ash toIndia and the Middle East. They may have been used to compromising the former government, but under my regime, they must pay up because everyone is paying land rates including individuals," stated Lenku.
On Thursday, Srivastav came out to defend the company saying the firm was doing a commendable Corporate Social Responsibility (CSR) programme through water trucking besides offering relief food to needy households and school going children.
"We are a family and we shall continue to share what we have. We have provided food to 400 households in the four neighbouring group ranches," said the director adding they were also offering medical services to expectant and lactating mothers.
However, the local community does not seem convinced going by their voting patterns in the last elections. Governor Lenku was overwhelmingly voted in Magadi and his MCA candidate Isaac Kiresian of ODM, also a critic of the company, ousted the former MCA, Joseph Masiaya who contested on a UDA ticket. Masiaya has been supporting the firm's activities in the area.
Related Topics