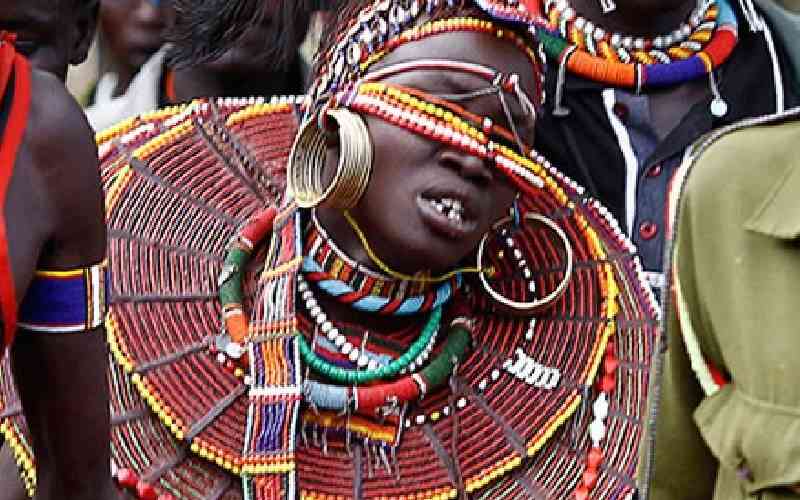 It is a sunny Wednesday morning in Kongelai, North-West of Kapenguria, West Pokot County's administrative hub.
The centre is teeming with people going about their business. It is a school day and, a few times, we spot pupils in uniform. You would expect that majority – if not all – teenagers, or those who look the part, would be in school uniform.
But no. We spot more than a dozen girls decked in ''home clothes'', often with babies on their backs.
"That one is married!" our guide would say with just one look.
What distinguishes married girls from unmarried ones is a conspicuous set of bronze-coloured bangles on the right arm. "The more the bangles, the more the cows paid as bride price to her parents," the guide, who did not want to be named, says.
We bump into 16-year-old Long'aren* wearing three shiny bangles. She is shy. But her style of communication is crisp.
"I sat my KCPE exam in March this year," she says. "Then I was married off."
She attended school at Mtembur Primary School, located just off the Kapenguria–Kacheliba road.
"Would you like to stay married," we ask her.
"No. I wouldn't mind going back to school," she says.
Each bangle, we were informed, represented 10 cows on average. Whoever married Long'aren might as well have parted with at least 20 cows. Long'aren had her eyes trained on becoming a doctor or a teacher. But now, she says, she is waiting to get pregnant and start a family.
Dropping out of school
In June this year, two months after the 2021 KCPE candidates took up their Form One slots, about 4,600 learners in West Pokot county had yet to report to school.
The number was so alarming that County Commissioner Apollo Okello directed chiefs to make follow-ups to move transition rate to 100 per cent.
"We have not done well on 100 per cent transition. We are at 74 per cent," Okello told a Standard reporter back then.
Long'aren is among the learners who had not transitioned into high school from primary, and it seems she might never do.
Such is the fate of many girls in West Pokot. Culture has made it less beneficial for a girl to be educated.
Uneducated girls, we learnt, are 'hot cakes'. Suitors line up hundreds of cows for such a girl's hand in marriage. The converse is also true – little to no cows for Pokot girls graduating from university.
Mercy Tumkou, who was part of our entourage in Kongelai, has a university degree. A good education has enabled her to be the project manager of a UN Women empowerment project.
However, in the eyes of many local men, Tumkou has lost her allure and wouldn't feature anywhere on the list of eligible spinsters. "I wouldn't give many cows to marry her," Moses Korinyang*, a Pokot man we met at the Kongelai livestock market, said in reference to Tumkou.
Demand for the uneducated
Korinyang says he would pay an arm and a leg to marry an uneducated young girl. "Such a girl knows how to look after livestock and take care of the family," he said, much to Tumkou's amusement.
"But a learned woman like me can hold a good job and still help the man feed the family," Tumkou responded, trying, in vain, to convince him.
Korinyang made it clear that he wasn't going to take his daughters to school, saying that if he did, "livestock would be lost from the homestead". Girls in Pokot are viewed as a cog in the economic wheel of a traditional household. "A girl means wealth. The currency of wealth here is cattle. The more daughters a man has, the richer he will be.
"In fact, the fine for a man who impregnates a woman out of wedlock increases if the baby born is a girl. They will pay four head of cattle compared to three head if the baby was a boy.
"A girl is therefore an income source; she will bring cows to the homestead," says Roseanne Kashor, from Kacheliba.
Since rich suitors with hundreds of cattle prefer uneducated girls, a father – like Korinyang – is inclined to keep his daughters away from school.
Proud mothers
Susan Chepkukat* and Mary Churian*, aged 15 and 16, said they were proud to be married and bearing children. Both have never been to school and are second wives to their husbands.
"What is the importance of school?" posed Chepkukat. "Nothing, really. Education is not important. I don't want to go to school."
An uneducated woman, says Leah Chebitwey of Pokot Women's Empowerment Organisation (Poweo), will follow her husband's commands.
"She will do as her husband instructs," Chebitwey says. "At the same time, she will work hard – looking after the livestock (which belong to the man), watering them, feeding the children and making sure household needs are catered for. And that is the wife a traditional Pokot man wants."
Equality
Status quo is not going unchallenged. Brave voices are rising against such practises. Milcah Chepkemoi, from Kalemrekai village, is one such voice.
She says: "I do not want my daughters to suffer the same fate I suffered -- dropping out of school to get married against my wishes."
Chepkemoi is the chairperson of Asoyon Business Savings Group; one of over 100 women groups that have been trained on gender equality through a programme funded by the Korea International Cooperation Agency (KOICA), and co-implemented by UN Women and Food and Agricultural Organisation (FAO).
"We train them on gender equality, economic empowerment, and climate smart agriculture," says Tumkou, who is the programme's project manager.
One of the beneficiaries, Chepkemoi, says she will ensure her two daughters stay in school. Having received training, Chepkemoi is now active economically. She earns a living running a posho mill, as well as farming goats, sheep and chicken.
Related Topics