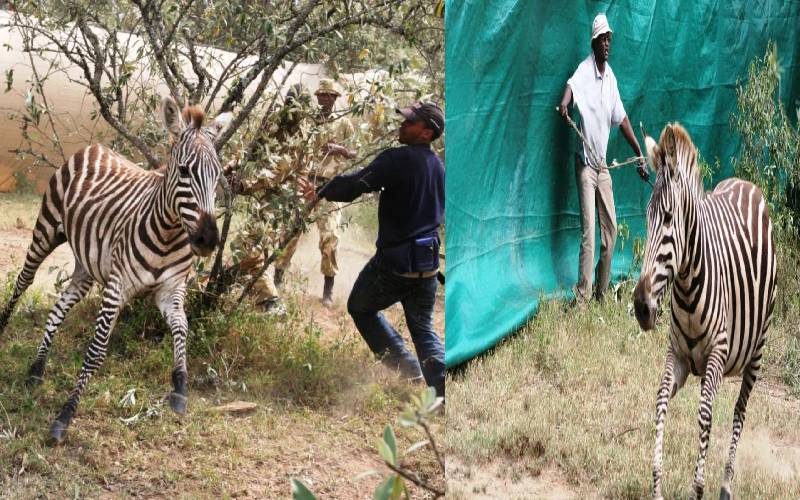 The ongoing drought that has hit parts of the country has pushed tens of wildlife into farms and homes.
As a result, crops worth thousands of shillings have been destroyed, with many people being injured by the wild animals. School going children have also kept off classes for fear of attacks.
In some villages, men have been forced to keep vigil to ward off the wild animals that have been pushed out of the parks in search of water and pastures.
The most affected are villages neighbouring Mt Longonot and Hells Gate parks.
This came as residents of Kiambogo in Longonot held a peaceful demonstration over the wild animals that have destroyed their crops, leaving them to source for food rations from the government.
According to Naivasha East MCA Stanley Karanja, the attacks have left area residents in fear.
He lashed out at KWS officers accusing them of failing to compensate the affected farmers.
"The animals have injured a student and a motorcycle operator and the residents have been reduced to paupers who are now begging for food," he said.
Karanja attributed the problem to failure by KWS to fence the parks and ranches which dot the constituency, which has left the animals free to venture into the farms and homes.
One of the affected farmers Jane Wairimu said her son had stopped going to school after a buffalo chased him while on the way.
"In the process, he fell and broke his hand. What is worse is that we don't have any food in this area as all crops have been wiped out by the animals," she said.
Her sentiments were echoed by David Mwangi who said that the marauding buffaloes had left area residents in fear as they could not venture out early in the morning or late in the evening.
"Farming is our only source of income in this area but all the crops have been destroyed by the animals and KWS has failed to compensate us," he said.
The animals, according to another farmer Joseph Kuria, stray into the homes and farms as early as 6pm forcing residents to scamper for safety.
"We have already recorded several incidents where area residents have been attacked but luckily no death has been reported in this area," he said.
Speaking during a tour of Kihoto estate in Naivasha, KWS assistant director in charge of South Rift Dickson Ritan attributed cases of human-wildlife conflict to closure of game corridors.
"Many wildlife corridors have been blocked by investors but we also have a department of compensation that is addressing cases of attacks and destruction of farm products," he said.
Related Topics