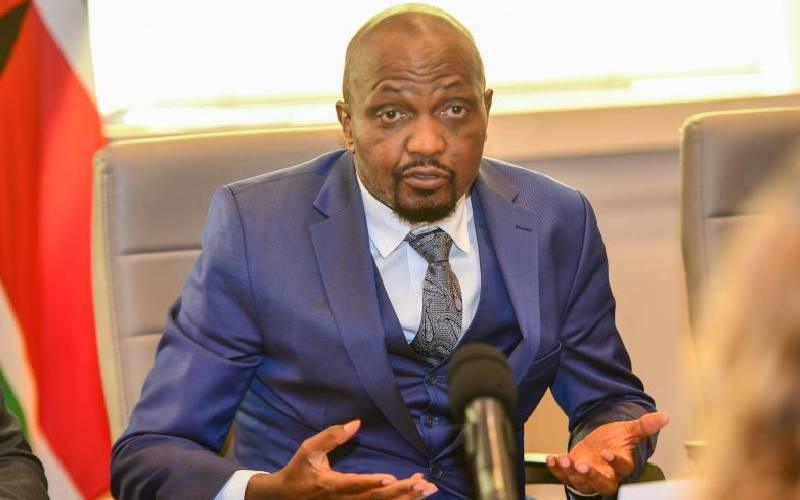 The public spat between embattled Trade Cabinet Secretary Moses Kuria and Deputy President Rigathi Gachagua has exposed the soft underbelly of Mt Kenya politics and started a battle in the President's party many fear could snowball into an all-out war.
Whereas it was borne out of the recent remarks on the rise in fuel prices and the skyrocketing cost of living, the war of words point to a brewing power struggle.
President William Ruto has been asked to call his Cabinet Secretary to order however the louder the calls grow the more acerbic his pronouncements become.
Hours after being told by to leash his tongue by the Deputy President and after Kakamega Senator called for his sacking Kuria took to Twitter to apologise.
In his apology he said he had been advised by Dr Khalwale and his master that his remarks were incorrect and insensitive.
"Dear Kenyans. On Friday 15th September I made some comments indicating that the price of fuel is likely to go up in the coming months owing to global dynamics. I have since been advised by people like Dr Boni Khaleale(sic) and his master that the statement was incorrect, insensitive and arrogant. I am made to now understand that the price will come down. I apologise profusely since to err is human," the CS posted on X.
However, while in Kisii County yesterday, Kuria blamed the noise around fuel cost on Kenyans being broke.
"Ukipata pesa leo kuna mtu atalalamika juu ya bei ya mafuta? Shida sio bei shida ni kwamba hamna kitu kwa mfuko. (Should you get money today; will you complain about the high cost of fuel? The hiked price is not the problem, the problem is that you are broke)," he said during the ground-breaking ceremony of Kisii Industrial park.
"Kutoka leo staki kisirani na mtu. Nimewaambia ukweli na hamtaki kuskia. (I don't want to draw controversy any more. I have told you the truth but you don't want to listen)," he added.
Khalwale has dismissed the "sarcastic" apology to Kenyans by the CS for his recent slur on social media over cost of fuel in the country.
Responsible leaders
It all started when Kuria posted on X: "I repeat. Petrol will be Sh260 by February. And El Nino is coming in three weeks that will last till March. These are the global and climate change driven. Responsible leaders ought to tell the truth to prepare the people. You can throw stones at me all you want."
The Deputy President waded into the debate after he landed from Colombia last week saying decorum and empathy is the hallmark of leadership a statement that was not well received by the former Gatundu South MP who wrote in his X account: "August fuel stocks will land in October. The cost is well known and its scientific. September shipments will land in November. Costs are also known. From there we move to Winter in the US and expected stock piles. And then the bilateral arrangements between Saudis and Russia on the one side and China and India on the other hand plus ongoing oil cuts. As Minister responsible for Private Sector mine is to advise business based on science not truthful voodoo."
Gachagua repeated his call yesterday during a tour of Mombasa where he said government officials must address the Kenyans over the economic hardships with decorum and empathy.
Addressing the 36th General Conference of the International Scientific Council of the Trypanosomiasis Research and Control in Mombasa, the DP said that President William Ruto's government was people-centric.
"Addressing Kenyans currently facing problems with decorum and respect is the hallmark of humanity. Those given the responsibility by the President must remain calm and address challenges facing the people," said Gachagua.
Speaking to The Standard, Khalwale said although he was mentioned in the apology, he chooses not to engage Kuria.
"I refuse to engage a CS through social media I did not use social media to get to him. I did that via main stream media where reports are usually credible. Let him do the same. I have not seen any apology," he said
The senator maintained that he still stands by his advice to President Ruto to fire the CS and some members of the economic advisory council.
"I still stand by what I said. Kuria should be fired and the economic advisory council should be reconstituted," he said.
"The cost of living is not a thing to joke about that is a very serious matter. Economy is not child's play,'' Khalwale added.
Senate Minority Leader Stewart Madzayo also called on the President to sack Kuria.
"Ruto should distance himself from the comments by Kuria or any other minister that is bringing shame and if he should fire anyone let him start with Kuria when he jets back. matamshi yake yalikua ya kusikitisha sana sio matamshi ya mtu mwenye cheo cha waziri," he said
President Ruto's Economic Council Chairman David Ndii has also come under heavy criticism over his utterances on Kenya Kwanza's economic recovery strategy.
In one of his posts on X (formerly Twitter,) when asked whether the economic policies will work, Ndii said: "Maybe better maybe worse, who knows. We do what we think can work if it doesn't too bad. doctors lose patients all the time despite their best efforts. I don't believe politicians, and I don't trust government. If you do either you are a sucker."
Related Topics