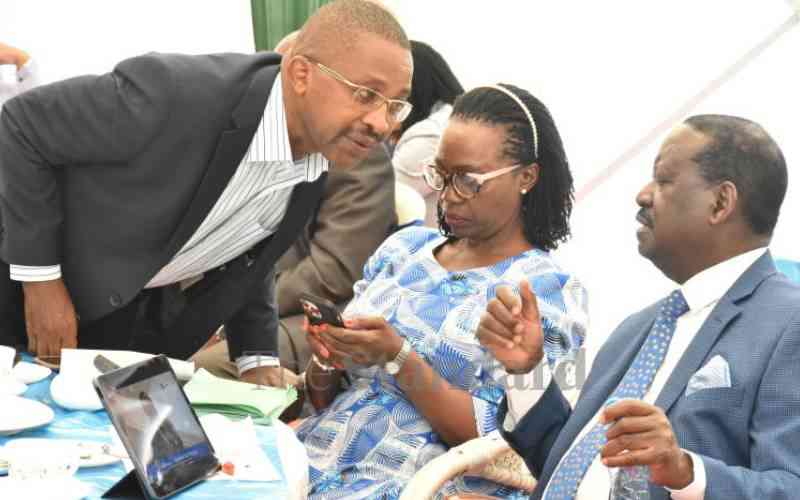 The passing or rejection of the Finance Bill 2023 will have political implications for both President William Ruto's Kenya Kwanza administration and Raila Odinga's Azimio la Umoja One Kenya coalition.
President Ruto will be keen to ensure it passes to enable him to collect enough revenue for the implementation of the many promises he made and the pledges he continues to float, among them the enhanced Hustler Fund, affordable housing and infrastructure programmes.
The Bill has to pass for the government to allocate expenditure for the next financial year although the opposition now says it will reject it in total despite them not having the numbers in Parliament.
Political analysts argue that although the Bill has gone through robust public participation to identify offensive and overreaching clauses for amendment or removal, it has turned into a political tool that Azimio is also using to settle political scores.
Asked if President Ruto can take anything less than what has been proposed in the Bill, given the determination and uncompromising position he appears to have taken, the Centre for Multi-Party Democracy (CMD) Director Franklin Mukwanja had the following to say.
He described Ruto as a quintessential pragmatic politician who, because of his position, is soaring higher than the pigeons, playing the eagle high up in the skies alone with a clear eyesight of his political interests.
"Although he is determined to get his way, Ruto needs to do a balancing act from that vantage position because he has to perform with a keen eye on 2027 but also knows that he cannot harm the voters so much," says Mukwanja.
Any missteps will mean beginning the campaign early to mend the situation instead of focusing on delivery and that is why he must be scratching his head as the government navigates through the current twists and turns.
Mukwanja also thinks that by insisting that the Finance Bill currently being scrutinised by the Finance and National Planning Committee chaired by Molo MP Kimani Kuria goes through as it is, the president may be taking advantage of the time he has before 2027.
"He is also taking advantage of the early days because he understands that Kenyan voters are forgetful, forgiving and compromising in terms of political choices as time goes and so I see a Ruto who is going to bring uncompromising and punitive measures now and then recover later," says Mukwanja.
That means voters will have gotten used to the measures put in the Bill within three or four years and will only be associating with the good things in it by the time they are in year five when he will be seeking re-election.
Contentious Bill
The opposition, however, is also rubbing its hands in glee because of the opportunity it has gained thanks to the contentious Bill, especially when it needed to re-energise its current campaign for electoral and governance reforms that was running out of steam.
Mukwanja thinks they will take advantage of what they consider punitive tax proposals because their supporters are going through economic hardships and in so doing hold onto their support base because the Kenya Kwanza presidential election victory of 0.49 percent was razor thin.
The president is fully aware of the political ramifications because the majority he currently enjoys in Parliament is also a makeover that is still being furiously contested by the Azimio leadership who accuse him of buying their MPs.
"It is about controlling supporters. I think what the opposition is doing is to make their regions excited by reminding them that we told you this guy will fail you. And because the president has gone for their MPs, they don't want him to find it easier in their bases," added Mukwanja.
But lawyer Stanislus Murunga holds the view that blocking the Bill could boomerang on Azimio because essential services such as health and education will grind to a halt and they will be blamed for it.
"Such serious business always requires sober debate which ends in a give-and-take agreement because nobody benefits when the ordinary citizen is suffering," said Murunga.
Prof Gitile Naituli of Multi-Media University also describes the Bill as a double-edged sword for the government because although it will help in raise money for expenditure, the political consequences could be dire.
His argument is that parts of that Bill are anti-business and a majority of those it will hurt are in the Mt Kenya region, Nairobi and retail markets around the country that are populated with women and youth from the region. He points at the turnover tax and fuel tax as areas that will seriously impact on businesses, same to landlords who will dig deeper into their pockets to pay more on their rental income.
"So ideally this is anti-mama mboga (vegetable vendor) law but when you kill these businesses, you are also killing Kenyan small and medium enterprises as a whole because you can't separate these people from the rest of the country," he says.
The challenge for President Ruto and his MPs from the Mt Kenya region, therefore, is that the bill could return to hurt them come 2027 and do to them what the voters did to former President Uhuru Kenyatta and his Jubilee candidates in 2022.
Lawyer Dr Brian Mutie has also advised President Ruto to consult widely, give people space to contribute more and capture their views for Kenyans to see that they will get value for their money as they carry out their mandatory duty of paying taxes.
"If we were to see value for money, people would not be complaining but this is also political because the Bill came when the country had a charged political atmosphere," said Mutie.
He argued that the current toxic exchanges could not have occurred in the handshake era of President Uhuru and Raila Odinga because both sides could have held a more sober debate.
Another lawyer Jevas Bigambo also blamed disinformation and misinformation by politicians who are engaged in populism and grandeur just for the sake of scoring political points, instead of telling the public how proposals in the bill will impact on their lives.
He urged leaders to make difficult decisions for the sake of the people because they have enormous responsibilities on their shoulders.
"We need to help our leaders implement policy and decisions by encouraging them not to do it by thorax because doing that will not encourage public participation which is bad," he voiced.
Rally members
The Azimio leadership this week announced that they will rally their members in Parliament to reject the Bill and oppose all efforts to pass it with amendments because it completely flawed.
Nairobi Senator Edwin Sifuna told the media on Monday that the coalition will do all it can to ensure that the Bill fails on the floor of the House.
Mukwanja, however, thinks such hardline positions are not helpful because MPs are supposed to act independently and not as either part of the executive or a particular political divide while exercising their mandate.
Parliament is a house of debate. The MPs have the mandate to legislate, oversight and represent. They need to individually listen to what those who elected them say and articulate those issues on the floor of the house," says Mukwanja.
He argued that the president equally being a politician has an agenda to push and cannot therefore be restrained when trying to convince the 348 MPs to support his policies but cautioned MPs against hiding behind the executive overreach.
Given that the Bill will be voted for clause by clause, the MPs should also not be herded like sheep into making a blanket decision but should instead look at the merit of each item in the Bill keenly next week.
He also faulted Azimio for not coming up with an alternative Bill instead of just rejecting it or alternatively supporting those reworked and presented by KPMG and ICPAK because as things stand there is only one template.
Prof Naituli thinks the MPs especially those from Kenya Kwanza and Jubilee are already operating in silos after threats from the president that he will be watching how they will vote.
In his opinion, threats against MPs are uncalled for because it casts parliament in bad light and also makes it look as part of the executive, thus making mockery to the separation of powers doctrine provided for in the constitution.
"The president should have called the MPs and threatened them in camera instead of doing it in public but the opposition will now take full advantage of this and use it to their advantage relentlessly because they now have another platform," he added.
Azimio MPs agree with those arguing that the Bill is a gamble the president is taking because he urgently needs enough money to pay debt and also finance his programmes which he cannot get through the formal taxation.
They say although it is not clear how money from the housing levy will be managed, the government thinks if it shows it can collect more, then it will have a better balance sheet to use as guarantee for the house developers, who will also have been given free public land to construct the houses.
Related Topics