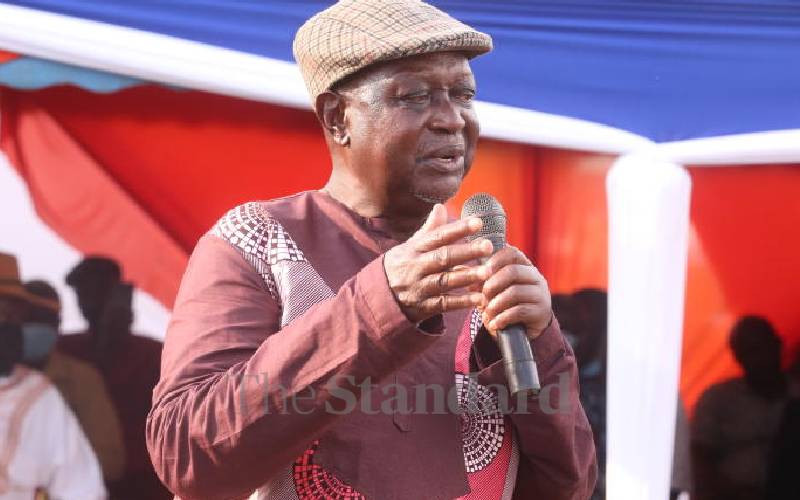 Siaya Senator Oburu Oginga has raised concern over the escalating wrangles between Governor James Orengo and Deputy Governor William Oduol.
Oburu advised the deputy governor to assist his boss to run the county instead of fighting him since they had pledged to work together for residents.
The senator who addressed journalists at Parliament Buildings in Nairobi on Wednesday, said that he met Oduol and asked him to stop making unsubstantiated allegations against Orengo but he has failed to heed his advice.
"It is wrong for Oduol to make some wild claims against Orengo. This is an abomination and not acceptable at all. He must desist from going to the Press to worsen the situation, he was elected to help Orengo run Siaya county and not to engage him in unnecessary wars," he said.
Oburu regretted that Oduol appears keen to escalate his differences with the governor despite efforts to bring harmony to the county by local leaders.
He challenged the deputy governor to resign if feels he cannot work with Orengo since the wrangles were affecting service delivery in the county.
The senator said that the Siaya Members of the County Assembly had begun the process to impeach Oduol and that they are waiting to see the outcome.
"I have tried my level best to solve the Siaya leadership conflict between Orengo and Oduol but the deputy governor has gone against the advice I gave him, I now surrender and keep off the matter which is now before the Siaya Members of County Assembly who will make a decision," said Oburu.
Siaya Woman Representative Christine Ombaka revealed that the local leaders are embarrassed by the wrangles between the governor and his deputy.
Ms Ombaka said that Oduol should have engaged the governor privately instead of taking their grievances to the media.
She said should the deputy governor survive impeachment he must toe the line and respect Orengo for the sake of Siaya residents.
"Oduol's behaviour in the past few months has displayed gross misconduct which would have warranted summary dismissal in other jurisdictions, he should respect his boss and listen to other leaders who mean well for Siaya County residents," said Ombaka.
Related Topics