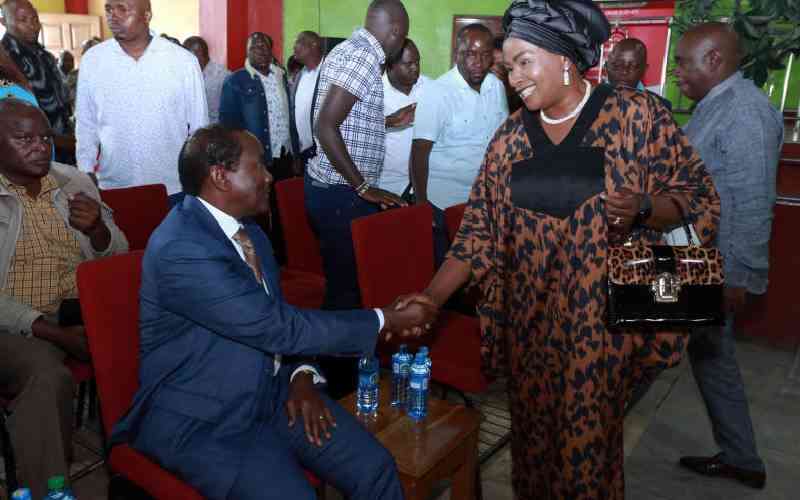 Wiper leader Kalonzo Musyoka has said he has no confidence in courts to handle cases challenging the proposed taxes.
Kalonzo, who was attending a service at Africa Inland Church (AIC), Kasina in Mlolongo, instead backed mass action to resist the proposed new taxes contained in the Finance Bill 2023.
He was accompanied by Machakos Governor Wavinya Ndeti and Embakasi South MP Musili Mawathe.
He said although the Constitution grants every Kenyan the right to seek court's intervention over any constitutional subject, he was not convinced that justice would be found through the courts.
The Wiper leader said Busia Senator Okiya Omtatah's decision to move to the High Court to challenge the Bill should not be misconstrued as the only option for Kenyans to fight off oppressive taxation.
"Omtatah has every right to challenge anything in court. However, on taxes, I don't trust anyone. I will only trust the sound judgment of the Kenyan people because with the courts, it is possible for the petitioner or even the judges to be compromised thereby betraying the majority of Kenyans," said Kalonzo.
The former vice president affirmed Azimio coalition's position that the proposed new taxes offended the Constitution and if passed as proposed, would expose Kenyans untold suffering.
"We are telling those who are in power that no country has ever developed through overtaxing its citizens. The only remedy is for the citizens to stand firm and resist these proposals," said Kalonzo.
Invoking the constitutional right to demonstrate and picket, Kalonzo also defended his participation in the mass protests called by the opposition saying: "I am a law abiding citizen and there is no way I can invite the people to act in defiance to the law. Mass protests are protected under the constitution provided one is peaceful and unarmed."
His sentiments were echoed by Wavinya who noted that majority of Kenyans have been condemned to poverty due to overtaxation coupled with high cost of living. "If you look around, you will realise that life has become tough everywhere and majority of the people can hardly meet their basic needs. We are asking the government to rethink its policy on taxation and if possible get rid of taxes that overburden the common citizens," said the governor.
She urged the government to shelve the controversial taxes until such a time that Kenyans will recover from the prevailing economic turmoil.
Wavinya outlined her development record since assuming the office of the governor last year, urging residents to support her in implementing her development agenda.
"I am telling the people of Machakos that the season of politics is long gone and this is the time to work. My government is fully committed to delivering our pre-election pledges to the people and we ask for your support as we walk this journey."
Related Topics